Persecution Continues in Brainwashing Centers in Jiangjin District, Chongqing
February 23, 2014 | By a Minghui correspondent in Chongqing
(Minghui.org) The persecution of Falun Gong is ongoing, despite the much-touted dismantling of the forced labor camp system in China. The Chinese Communist Party (CCP) continues its brutal repression by ordering police, prosecutors, judicial system staff, and local officials to continue with the same policies of arbitrary arrest, detention, and brainwashing. The same physical and spiritual torture methods, designed to force practitioners to renounce their beliefs, continue to be employed in brainwashing centers in Jiangjin District of Chongqing.
The Jiangjin District 610 Office has confirmed to upper level officials its goal to "transform" 200 practitioners, or all local practitioners under the age of 80.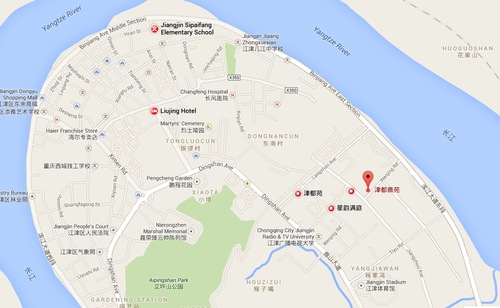 Current location of Jiangjin District Brainwashing Center, which had multiple locations prior to 2010. (Source: Minghui.org and Google Maps)
Over a Decade of Persecution in Jiangjin District Brainwashing Centers
Many Falun Gong practitioners, including 30 since 2009, have been detained in brainwashing centers in Jiangjin District. These practitioners include Zhao Quanbi, Zhao Kairong, Su Zuming, Wu Zhongrong, Liu Jiaqin, Zhou Zhonglian, Liu Guangzhi, Zhang Fuming, Zhu Wanshu, Jiang Youfang, Lai Yuanchang, Lai Yinshu, He Daqun, Xia Zhaoyin, and Yang Wumei.
Ms. Zhao Quanbi was unlawfully imprisoned in Yongchuan Prison for four years. She was subsequently taken to Wangxiangtai Brainwashing Center and Aipingshan Brainwashing Center several times. Both centers are in Jiangjin District.
Ms. Zhao was detained in Wangxiangtai Brainwashing Center for a total of three days the first time and was charged 120 yuan (about $20) per day for living costs. She was later detained for more than 20 days in Aipingshan Brainwashing Center, and released after the authorities extorted 2,000 yuan (about $328). Because her son is a lawyer, Ms. Zhao is being closely monitored by local officials and police.
Ms. Zeng Fanshu, a teacher at Xiangtang Middle School, in Shuangfu Township, Jiangjin, died as a result of torture in Dongmen Brainwashing Center on January 25, 2001. Her daughter was only nine years old at the time.
Ms. Zhao Kairong was detained in a brainwashing center for more than a month, during which time the center staff placed nerve-damaging drugs in her food. Ms. Li Yuanqi, a primary school teacher, was detained in a brainwashing center above the Jiangjin Slaughter House for seven months in 2002-2003. During her incarceration, she had 5,500 yuan (about $902) illegally deducted from her salary.
Mr. Huang Chaosheng, an employee at the 3533 Plant, was abducted on June 10, 2004 by a group of people including state security agent Gao Baoxiong, plant security staff person Liu Guangfu, and police officer Yi Zhihua from the Jijiang Police Substation.
Mr. Huang was detained in a Jiangjin brainwashing center for 15 days and released after the authorities extorted the equivalent of $10 per day. He was dismissed from his job at the plant. Mr. Huang was close to retirement, having worked there for 37 years. His wife Gu Quanrong was also illegally arrested and fired from her job. She was detained for seven months and later sentenced to three years in prison with a four-year suspension.
There are still many undocumented cases of persecution. The Jiangjin 610 Office has extorted more than $16,500 from Falun Gong practitioners over several years of persecution.
Brainwashing Centers in Jiangjin District
Several brainwashing centers had been set up in rental houses in Jiangjin District prior to 2009. There was a location at Aipingshan during the first half of 2009.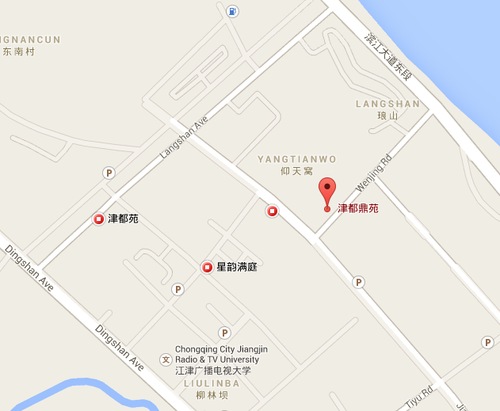 The current location of the Jiangjin District Brainwashing Center is on the first floor of the Jindudingyuan Condominium Complex in Jiangjin District. Wenjing Road is just outside of the window. Jiangzhou Avenue is to the south and Wenjing Road to the North. (Source: Minghui.org and Google Maps)
The brainwashing center has, since 2010, been located on the ground floor of a building at the Jindudingyuan Condominium Complex. The unit is about 130 square meters (about 1,400 square feet) with three bedrooms, one living room, a kitchen, and a bathroom. One bedroom is used as the office and two bedrooms are used as confinement rooms where Falun Gong practitioners are pressured to renounce their beliefs.
Two beds (one twin and one double) are in each confinement room. The twin bed is for a practitioner and the double bed is for the two brainwashing center staff members who are assigned to monitor the practitioner. There is a video camera in each room for staff outside the room to monitor the practitioner. Once a practitioner is locked in the room, he must press a button to call a doorkeeper to open the door if he needs to leave for any reason, including to use the restroom.
Practitioners are frequently cursed at and beaten in the brainwashing center. Nerve-damaging drugs are frequently put into practitioners' food. Practitioners are also deprived of food at times. They are at the mercy of the doorkeepers, who sometimes don't allow them to go to the restroom at night. They instead have to use a small container beside each bed, which is emptied the next day.
In each room are books and brochures that slander Falun Gong and its founder Master Li. Most of the books were published in Beijing, and the brochures were prepared by the Jiangjin 610 Office. Brainwashing center officials and staff constantly repeat the contents of the books and play videos that slander and defame Falun Gong and Master Li.
Personnel at Jiangjin Brainwashing Center
Wan Fenghua (万凤华), male, deputy secretary of the Jiangjin Political and Law Committee. He has collected most of the extorted money totaling more than $16,500: +86-13883114366 (mobile), +86-023-47566835
Qiu Chunfei (邱纯飞), male, main staff person in the district 610 Office: +86-023-3883963589, +86-023-47555890
Huang Yan (黄艳), female, director of the district 610 Office: +86-13996352818 (mobile)
Chen Qiang (陈强), male, member of the Jiangjin Political and Law Committee. He has participated in almost all ransacking of Falun Gong practitioners' homes: +86-13668019129 (mobile)
Liu Zenghuai (刘增怀), female, director of the Jijiang Neighborhood Administrative Office. She is specifically engaged in the persecution of Falun Gong. She patrolled the farmer's market in the summer of 2013 to identify Falun Gong practitioners who were talking to people there. As a result, three practitioners were arrested and detained for days before being transferred to the brainwashing center. Liu is also involved in monitoring Falun Gong practitioners in the neighborhood: +86-023-47927559