Policeman Extorts over Two Million Yuan from Falun Gong Practitioners and Their Families
February 16, 2014 | By a Minghui correspondent from Liaoning Province, China
(Minghui.org) Bai Ning, Domestic Security Division team leader in the Jinzhou City Police Department, Liaoning Province, has extorted over 2 million yuan from Falun Gong practitioners and their families. After illegally arresting practitioners, he takes advantage of their family members' desperation to get them released by demanding exorbitant sums of money.
The price started as 10,000 to 20,000 yuan per person and has been as high as 100,000 yuan per person. During his tenure, Bai has arrested over 100 Falun Gong practitioners, which makes 2 million yuan a conservative estimate. For practitioners whose families refuse to comply with his illegal demand, he simply sends them to labor camps or prisons.
Since Bai Ning's crimes have been exposed to the public, his extortion has become more secretive. He has repeatedly threatened practitioners' families not to tell others about the extortion, going so far as to re-arrest practitioners who have publicly exposed his illegal activities.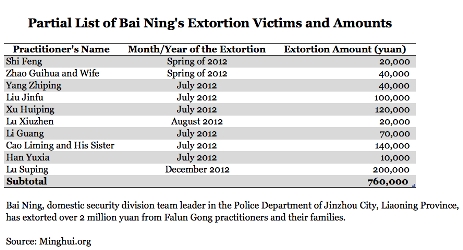 60,000 Yuan from Three Practitioners
In the Spring of 2012, Falun Gong practitioners Shi Feng and Zhao Guihua, and his wife from Liulonggou Village, Yi County, Jinzhou City were extorted for 60,000 yuan by Bai Ning, 20,000 of which came from Shi Feng and the rest from the Zhao couple. Bai Ning and other police officers also ransacked the couple's home and took away a printer and two brand-new computers, one of which belonged to the couple's son.
40,000 Yuan from Yang Zhiping's Family
On July 12, 2012, police from the Kangning Police Station, Jinzhou City broke into practitioner Yang Zhiping's home with the excuse of checking the residential registration. Two other practitioners were also at Ms. Yang's home. The officers then called Li Meishan from the Jinzhou City 610 Office and Bai Ning. They ransacked Yang Zhiping's home and took away Dafa books, a photo of the founder of Falun Gong, three inkjet printers, one printer toner cartridge, three computers, and five mobile phones. The police arrested all three practitioners.
At the city police department, the officers interrogated Yang Zhiping and the other two practitioners. At 3:00 a.m. the next morning, the practitioners were sent to the city detention center. Bai Ning, Li Meishan and others continued to interrogate Ms. Yang.
The policemen used a variety of tactics to try to extort money from Ms. Yang. Bai Ning threatened, "I really may kill you." Another policeman pretended to be nice, "If you confess your guilt, you will be sentenced to three years. Otherwise you will be sentenced to seven years." Soon Li Meishan came in and threatened Yang Zhiping, "You will learn a lesson after we sentence you to a few years in prison." Then another police officer said that if Yang Zhiping paid money, she could get out of any prison sentence.
Twenty-six days after Ms. Yang was arrested, she was finally released. She was told that during her detention, Bai Ning and Li Meishan broke into her mother's house and threatened her mother and sister. They also forcibly took away her mother's computer and extorted 40,000 Yuan from the family. Yang Zhiping's mother went into shock during the home invasion and became ill. She was hospitalized for 20 days. Yang's sister also suffered a lot of stress.
100,000 Yuan from Liu Jinxu's Family
At 4:30 a.m. on July 19, 2012, policemen Bai Ning, Shan Xuezhi, Sun Tao and others from the Xingshan Police Station broke into Falun Gong practitioner Liu Jinfu's home in Sijiazi Village, Xinshan Developing District and extorted 100,000 Yuan from his relatives. Just three days after Liu Jinxu's release, they tried to arrest him again. Mr. Liu had to leave his home to avoid the possibility of further arrest.
120,000 Yuan from Xu Huiping's Boss
Also on July 19, 2012, Bai Ning and Li Weishan led a group of officers and broke into practitioner Xu Huiping's home through a window and arrested her. They extorted 120,000 yuan from her boss. After Ms. Xu left the detention center, she dared not go back home and has become homeless and destitute. On January 16, 2013, Xu Huiping was arrested again by Bai Ning after having been homeless for over five months.
20,000 Yuan for the Release of a Non-Practitioner Family Member
On July 31, 2012, Bai Ning led several police officers and broke into practitioner Lu Xiuzhen's home at the Manhadun Community in Jinzhou City. At that time Lu Xiuzhen, her oldest daughter and her grandson were at home. Bai Ning took away three printers, two DVD burners, two computers, about 10,000 DVDs, one electronic book reader, an mp3 player and Dafa books. They also took away Ms. Lu's family members' very treasured personnel belongings. They arrested Lu Xiuzhen and her daughter (who is not a practitioner) and detained them at the detention center.
The next day, Lu Xiuzhen became ill and was hospitalized. Bai Ning took this chance to extort money from Ms. Lu's son-in-law, saying that his wife would be charged with obstructing public affairs. In the end, family paid 20,000 yuan for the release of Ms. Lu's daughter.
70,000 Yuan per Person
In July 2012, Bai Ning arrested practitioners Li Guang, Cao Liming and his sister (not a practitioner). He extorted 70,000 yuan from each person (totaling 210,000 yuan) before releasing them. Bai Ning also extorted 10,000 yuan from Han Yuxia in Shengli Village, Taihe District, Jinzhou City.
200,000 Yuan from Lu Suping's Family
On December 8, 2012, Falun Gong practitioner Lu Suping from Linghai, Jinzhou city, her son Jiang Nan, her sister-in-law, sister Lu Suying and fellow practitioner Wang Hongli (a teacher) from Shuangyang Town drove to Jinzhou City on personal business.
Immediately after they entered Jinzhou City, their car license plate number was picked up by the surveillance system. When they were about to leave the city, their car was stopped by police officers led by Bai Ning and Li Meishan and all were arrested. Later, the police extorted over 200,000 yuan from their family before releasing Lu Suping's sister-in-law, sister and Wang Hongli. Lu Suping and her son Jiang Nan were detained at the Jinzhou City Detention Center.
On August 2, 2013, the Linghai Court secretly placed Lu Suping and Jiang Nan on trial. According to a witness, Jiang Nan was handcuffed and shackled during the trial. He had become very thin and walked slowly and with difficulty. Later, their family members inquired at many places and finally found out that Lu Suping and Jiang Nan had been illegally sentenced to three and a half years and three years, respectively, in November.
Bai Ning has extorted a huge amount of money from Falun Gong practitioners using vicious methods. His actions violate the Criminal Law Code, Article 239 "kidnapping" and Article 274 "extortion."
Telephone numbers of responsible parties:
Jinzhou City Police Department:
Bai Ning(白宁), team leader of the domestic security division: +86-13700068341 (Mobile), +86-15698703071 (Mobile), +86-416-2135511 (Home)
Jiang Long(姜龙), deputy chief in charge of persecuting Falun Gong: +86-13841659777 (Mobile), +86-416-2361181 (Home), +86-416-2572155 (Office)
Li Meishan(李嵋珊), head of the 610 Office: +86-15698704590 (Mobile)
Niu Weigong(牛伟功), deputy team leader of the domestic security division
Qin Shouzhi(秦首智), police: +86-15698703386 (Mobile)
Shan Xuezhi(单学志): +86-15698705200 (Mobile), +86-13604969630 (Mobile)