Maori Chief: My Heart Is Always with Falun Gong Practitioners
February 10, 2014 | By a practitioner from New Zealand
(Minghui.org) Amato Akarana, a local Maori chief in the Auckland area of New Zealand's North Island, visited Mt. Eden on the afternoon of January 27, 2014. There he met with local Falun Gong practitioners who had set up there to introduce this peaceful spiritual practice and the persecution it faces in China to tourists and others who had come to enjoy the view.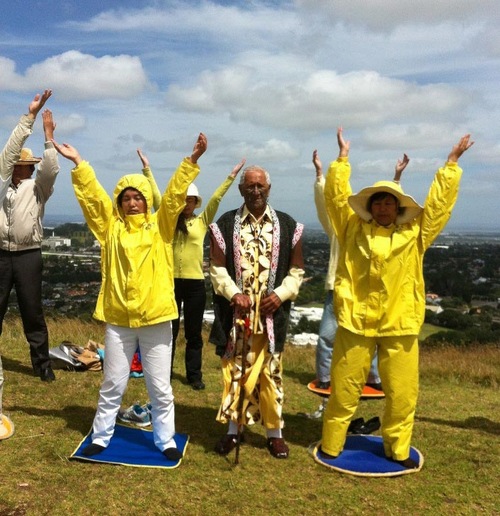 Amato Akarana, hereditary Maori Chief, visits Falun Gong practitioners on Mt. Eden. He said, "My heart is always with Falun Gong practitioners!"
Mt. Eden, 196 meters (643ft.) above sea level, is the second highest natural point in the Auckland area. It provides good views of the city in all directions. Since 1999, Falun Gong practitioners often go to Mt. Eden to clarify the truth about Falun Gong to the many tourists who visit the scenic area.
Amato Akarana sincerely expressed his gratitude to the practitioners for introducing him to Falun Gong and for continuously exposing the persecution in China. He has been a long-time supporter of Falun Gong. He said that the reason he came this day was to let practitioners know that the suffering faced by fellow practitioners in China is also his pain. "My heart is always with Falun Gong practitioners," he said.
The chief said that when he was young, his father once told him, "Amato, remember, one day in future if a group of Chinese people being persecuted seeks your help, you must support them." He finally understood the meaning of his father's words when he first met with Falun Gong practitioners years ago.
The 80-year-old Maori chief was deeply moved when he learned about the organ harvesting atrocities against living Falun Gong practitioners in China. He said that anyone with a conscience could not tolerate such savagery. He has spoken out publicly about organ harvesting to other Maori elders and his people. Everyone he speaks to about it is shocked and many support various efforts to stop the persecution of Falun Gong.