Falun Gong at Christmas Parades in Markham and Mississauga, Canada (Photos)
December 04, 2014 | By Zhang Yun, Minghui correspondent in Canada
(Minghui.org) Falun Gong practitioners participated in the annual Christmas parades in Markham and Mississauga, Canada on November 29 and November 30, 2014.
The Falun Gong procession, which included the Divine Land Marching Band, a waist drum troupe, lion dancers, and a lotus arts group, was warmly received by thousands of spectators in both cities. A number of Chinese spectators chose to quit the Chinese Communist Party and other Communist organizations after speaking with Falun Gong practitioners.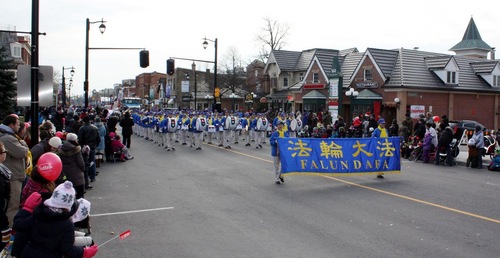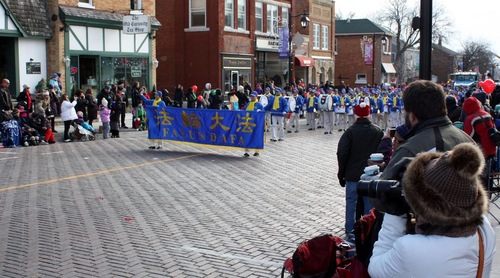 The Divine Land Marching Band in the Markham Christmas parade on November 29, 2014.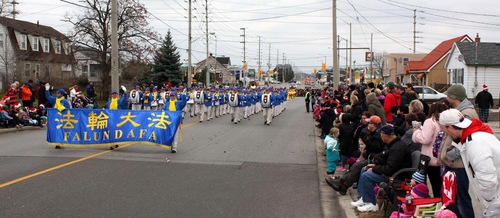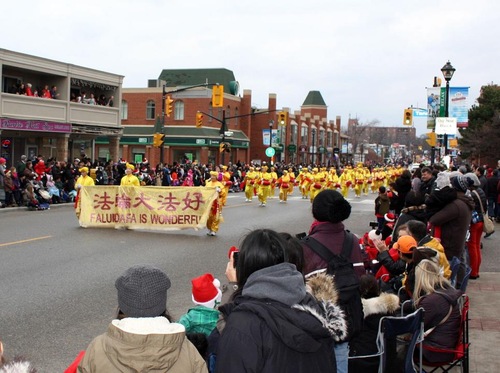 Falun Gong procession in the Mississauga Christmas parade on November 30, 2014.
A Chinese spectator named Ms. Liu was impressed by the stamina of 72-year-old Falun Gong practitioner Ms. Shen, who is a member of the waist drum troupe. She told Ms. Shen, "You look so energetic!"
"Practicing Falun Gong gives me a lot of energy," Ms. Shen replied. "I'm 72, but I'm not the oldest in my waist drum troupe. Many of them are older than 75, but all of them are energetic. We have to dance all the way through the parade!"
"I wish I was like you," Ms. Liu told her. "My back pain has made me lose interest in life."
Ms. Shen suggested that she sincerely repeat the words, "Falun Dafa is good. Truthfulness, Compassion and Tolerance are good." She also told Ms. Liu about quitting the Chinese Communist Party and its affiliated organizations. Without hesitation Ms. Liu agreed to quit. She grasped Ms. Shen's hands and said, "It's so kind of you. I'm so grateful to Falun Gong!" She said she would also like to learn Falun Gong.
Another spectator, Ms. Li from Dalian, China, has watched the parade over the last couple of years. She said she was greatly moved by Falun Gong's magnificent procession each time she saw it.
When practitioners told Ms. Li about the extent of the persecution in China, Ms. Li said she wanted to quit the Communist Youth League and the Young Pioneers.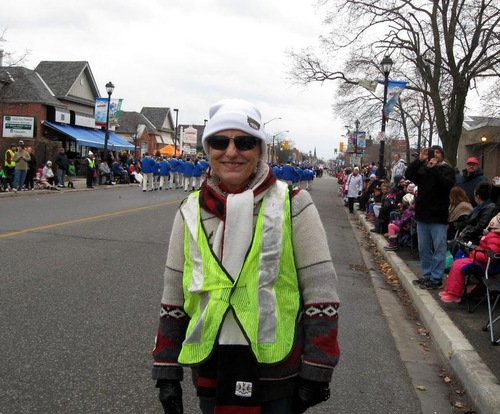 Security guard Mary thoroughly enjoyed the Falun Gong procession
Mary, who was a security guard during the parade, clapped excitedly to the Divine Land Marching Band's music. She said the band was spectacular, the music was beautiful, and all the band members looked like they were in high spirits. She told practitioners that she looked forward to finding out more about Falun Gong.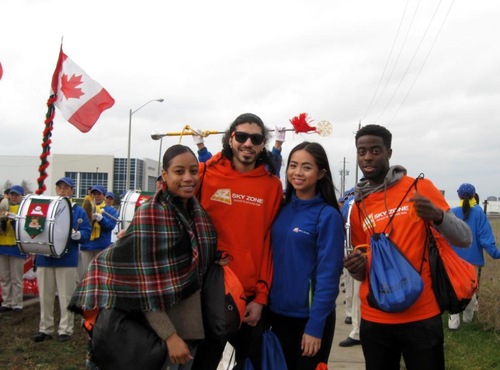 Other parade participants had complimentary words for the Divine Land Marching Band.
Lisa was part of another group in the parade. Their group was right in front of the Divine Land Marching Band. She said she watched the band rehearse before the parade.
"This band is very powerful and well-disciplined," she said. "They practiced the whole time we were waiting. Their costumes and music are beautiful. I have been enjoying it."
Local residents Roger, Linda and their daughter Sara enjoyed the Falun Gong procession.
Local residents Roger, Linda and their daughter Sara watched the parade from outside their house. Roger said, "We appreciate this group for bringing such a beautiful performance to our town. We enjoy watching them every time." Sara added that the music was "very inspiring."