New Taipei Mayor Orders Police Chief to Protect Falun Gong Practitioners
December 28, 2014 | By Minghui correspondent Zheng Yuyan in Taipei, Taiwan
(Minghui.org) On his first day in office, Taipei's new mayor, Dr. Ko Wen-je, took a clear stance on protecting Falun Gong practitioners, stating, "If Falun Gong practitioners are assaulted again, I will replace you [police chief of Xinyi District]."
On his way to the City Council after the inauguration ceremony on December 25, Dr. Ko saw a commotion in front of the Taipei 101 skyscraper. Lee De-wei, police chief for the Xinyi District, which includes the Taipei mayor's office, City Government, and Taipei 101, was accompanying him. Dr. Ko turned to him and made the above declaration.
This was captured and broadcast by several media including Next TV, ERA News, FTV News Channel, and SET News. The new mayor's statement won support and applause from netizens and people in and outside of Taipei.
Netizens posted online comments, including, "All those who assault people should be arrested." "It's really a shame that we allow people from the Patriotism Association to use violence in downtown Taipei."
These comments are in reference to long-existing abuse and attacks against Falun Gong practitioners outside the Taipei 101 skyscraper by members of the Concentric Patriotism Association.
Association members have been driving a van around Taipei 101 and shouting verbal abuse at Falun Gong with a loudspeaker. They have also threatened or violently attacked Falun Gong practitioners, as well as some passersby.
Their disruptive behavior has threatened the safety of pedestrians and the quality of life in Taipei. This led to the association being listed among the top ten "2014 bad people" by an online poll. Several association members are currently facing lawsuits.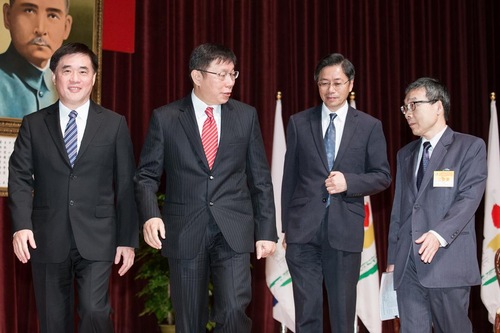 New Taipei Mayor Dr. Ko Wen-je (second left)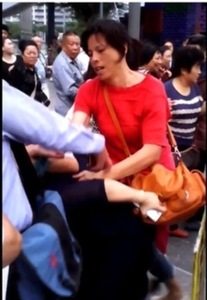 Zhang Xiuye (in red), a member of the Patriotism Association, assaults Ms. Tsai, a tourist from Chiayi City, on December 27, 2013.
Taiwan Citizens Voice Support
A college student expressed her support for Mayor Ko's stance during a media interview: "I feel it's great – how can we allow them [the Concentric Patriotism Association ] to attack our Taiwanese people this way?"
A young man echoed, "Of course, they should be dealt with for using violence."
"It's not right to persecute people," another young lady said.
Ms. Zhao, a high school teacher in the Taoyuan area, said that she was impressed by Falun Gong practitioners' peaceful meditation as she passed by the Taipei 101 one day. She was also moved by their gentle and polite manner when passing out informational materials and cleaning up the area before leaving.
She said that she was disgusted by the Patriotism Association members' assaults, and that she is pleased at how the mayor is handling it.
Ms. Zheng, a retired high school employee from Xinbei City, said, "Taiwan values human rights and freedom. Everyone can hold different opinions, but no matter what, if someone maliciously harasses and even beats others, that should be punished."
Taiwan Falun Dafa Association Commends the New Taipei Government's Respect for Human Rights and Freedom
Ms. Chang Ching-hua, director of the Taiwan Falun Dafa Association, commended Dr. Ko's stance and affirmation that the new civil leadership team is serious about freedom of expression.
"We support the police protecting freedom of speech, the rule of law, and peaceful expressions of freedom," said Ms. Chang.
"Falun Gong practitioners raise awareness of the Chinese regime's state-sanctioned organ harvesting [of living prisoners of conscience] and other issues at the square outside Taipei 101," said Ms. Chang. "It touches upon serious issues such as severe human rights and ethics violations, and endangering people's personal freedom, health and life."
"It is important for Taiwan, as a free society, to show concern over such issues," she added.
Ms. Chang said she believes that the police chief will truly uphold freedom of speech.
Background:
The Concentric Patriotism Association is a Taiwanese political group founded in 1993. The group has frequently used violence or intimidation to advocate its philosophy. It also publicly waved the Chinese Communist Party (CCP) flag and voiced support for the CCP.
The association has been active outside the Taipei 101 skyscraper since October 2013. Members have driven a van around the truth-clarification sites of Falun Gong practitioners. Association members verbally abused Falun Gong. They have threatened and even violently attacked Falun Gong practitioners and some passersby.
Association members:
Chairman: Zhou Qingjun (周庆峻), from Guangdong Province, China. He was smuggled into Hong Kong in 1970 and relocated to Taiwan.
Secretary: Zhang Xiuye (张秀叶), from Shanghai
Other members: Xiao Qin (萧勤), Qiu Xiaxin (丘厦新), and Su Ansheng (苏安生), Zhang Jinde (张金德), Wang Meidun (王美敦)
Zhou Qingjun, Zhang Jinde, Wang Meidun, Zhang Xiuye and Qiu Xiaxin were once sentenced to two months of jail for assaulting Falun Gong practitioners. Xiao Qin was prosecuted for coercion, public humiliation and destruction of property in July 2014 upon attacking reporters from New Tang Dynasty Television and pedestrians in front of Taipei 101.