Taiwan: Divine Land Marching Band Makes Big Impression at Chiayi City International Band Festival
December 23, 2014 | By practitioners in Taiwan
(Minghui.org) For the fourth year in a row, Falun Dafa practitioners were invited to field the Divine Land Marching Band at the International Band Festival in Chiayi City in southwestern Taiwan, an annual event since 1993. The band, composed of 250 Dafa practitioners, was warmly cheered by spectators on December 20, 2014, during the festival's opening parade. Awed by the sheer size and positive energy of the band, several spectators commented, "This is the most spectacular group in the parade."
Enthusiastic Audience
Leading the band were four practitioners carrying a large banner emblazoned with "Falun Dafa." The two-mile parade route, starting from Zhongshan Road and ending at Chiayi Stadium, drew much attention. Many people came out to watch and some even stood on chairs to take pictures.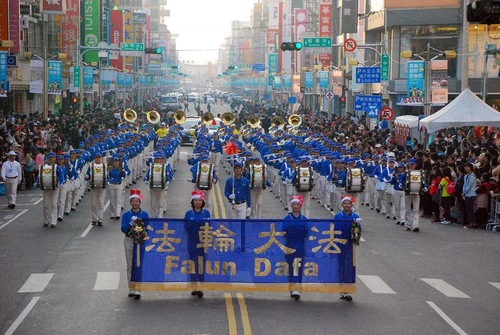 The Divine Land Marching Band in the opening parade for the Chiayi International Band Festival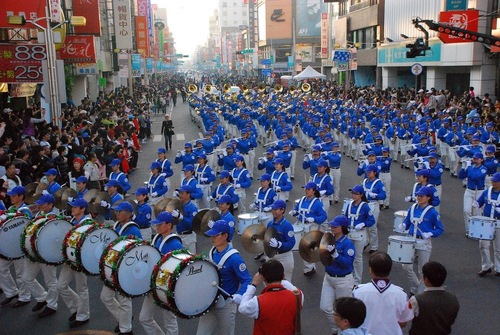 The Divine Land Marching Band
In addition to their signature songs "Falun Dafa Is Great," and "Delivering Treasures," the band also brought traditional holiday melodies including "Joy to the World," as well as the popular song "The Evergreen Mountains."
The ensemble's conductor shared the mission of the band: "We hope people will feel the compassion and purity in the melodies, and gain a deeper understanding of Falun Dafa and the principles of Truthfulness-Compassion-Forbearance."
As the Divine Land Marching Band passed Central Fountain Circle en route to City Hall, the excitement in the air was palpable. Spectators remarked, "What a great lineup!" and, "The music is so soothing!"
Mr. Du, who works at the Taiwan Railways Administration, experienced the Divine Land Marching Band for the first time. "It's magnificent!" he exclaimed. "Especially the drumming. Very energizing, with great momentum." Du said that the band's performance was the highlight of the entire parade.
Mr. Wu, a police officer from Yunlin in central Taiwan, was impressed as well. "I really like the music and the harmonies. It's awesome." He said that he has some friends who are Falun Dafa practitioners. "I am so happy they brought such beautiful music here today," he said.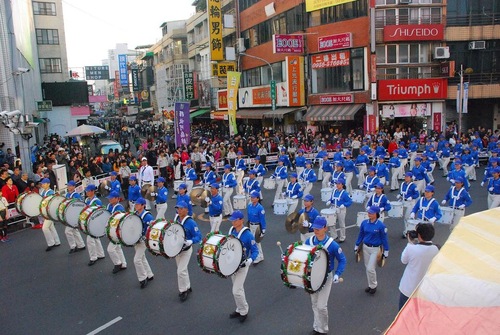 The Divine Land Marching Band made a big impression at the International Band Festival in Chiayi City
"Positive Energy in the Music"
As the band entered Chiayi Stadium, another round of applause arose. Ms. Ye Yuhan, who plays cymbals in the band, said that she and other members have participated in such events for the past seven years. "I've studied music since I was very young, and I am glad to contribute what I've learned to such a great band and share it with the public." She said that many people were touched by the music and gave them the thumbs-up as they marched by. "They could feel the positive energy in the music," she remarked.
Ms. Huang Liyi, a retired school principal in his 60s, looked very energetic as a saxophone player. "The Chiayi City International Band Festival is a big event. I am fortunate to be a member of the band. Because the majority of the music we play was composed by Falun Dafa practitioners, it is profound, pure, and pleasant."
The band members hail from all over Taiwan. After Falun Dafa was introduced to Taiwan in 1995, the number of practitioners increased quickly. There are currently hundreds of thousands of practitioners in Taiwan, from all walks of life.