With Mother Dead and Father in Prison, a Daughter Seeks Justice (Photos)
December 18, 2014 | By a Minghui correspondent in Liaoning Province, China
(Minghui.org) Falun Gong practitioner Ma Jiang from Dadong District of Shenyang City, Liaoning Province was tried and sentenced to three years in prison by the Dadong District Court on December 4, 2014. Mr. Ma plans an appeal of the verdict and sentence.
His wife, Ms. Wu Shuyan, also a Falun Gong practitioner, was persecuted to death a year ago. Mr. Ma's daughter just graduated from college and lives with her grandfather, who is in his 80's. Having lost his daughter and with a son in prison, the grandfather feels frustrated and helpless.
During the trial, the prosecutor presented interrogation transcripts and a "confession" by Mr. Ma that were forged by the police. The charge was "using a cult organization to sabotage the enforcement of law."
Prior to the trial the authorities accused Mr. Ma of "inciting subversion of state power." This charge was used to deny all requests from Mr. Ma's lawyer to meet with his client.
Mr. Ma Jiang, in his 40's, had worked at the Liming Company in Shenyang City. His wife, Ms. Wu Shuyan, was sentenced to seven years in prison in 2006 for telling people about Falun Gong. After seven years of maltreatment in prison and continued harassment after her release, she suffered severe ascites and passed away on June 2, 2013.
Seven months later, on the afternoon of January 7, 2014, police officers from the Chang'an Police Station in Shenyang City arrested Mr. Ma and his daughter from their home and confiscated computers, printers, and other personal belongings.
His daughter was released after midnight. On August 5, 2014, Mr. Wu Shuming, Mr. Ma's brother-in-law who had been helping take care of his family, was arrested from work and has been detained since then.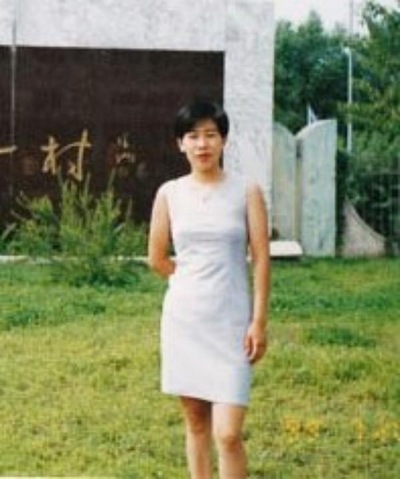 Ms. Wu Shuyan before the persecution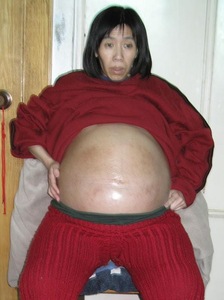 Ms. Wu after the persecution, suffering from severe liver ascites
Mr. Ma's daughter continues to work for the release of her father. Below is her appeal letter.
The CCP's Persecution Brought Death, Imprisonment, and Breakdown of My Family
My parents practiced Falun Gong and benefited greatly from it. Before the practice, my mom quarreled with my father's mother all the time. The conflict resolved itself completely after my mom started practicing Falun Gong and conducting herself according to the teachings of Falun Gong. My grandma kept telling others, "My daughter-in-law is even better than my own daughter."
My dad had been a model worker in his company. He would volunteer to work on the weekend without pay whenever there was a need at work and others were not willing to step up. Our whole family was bathed in harmony and happiness because my parents practiced Falun Gong.
After the persecution started in 1999, my mom was arrested as she told people in the street about Falun Gong. From then on, our family life was turned upside down. They took away our computers, printers, and Falun Gong books.
My dad was also taken to the police station for interrogation, which lasted for two months. At the time I was 14 and in the second year of middle school. I was too scared to go to bed with the lights off. Oftentimes I would lie in bed, staring at the ceiling and letting tears stream down my cheeks.
But I knew my parents did nothing wrong by practicing Falun Gong and believing in the principle of Truthfulness-Compassion-Forbearance.
My mom was later sentenced to seven years in prison. My dad had to shoulder all the responsibilities of the family, making a living, raising a daughter, and caring for a father-in-law. Every month, the three of us would visit mom and send some money for her daily use. I lost count of how many times we traveled back and forth along the rugged and bumpy road leading to the prison.
Six and a half years into mom's prison term, she suffered ascites from the ill treatment in prison. Her belly was swollen like a woman eight months pregnant. Prison authorities feared she would die in the prison and released her.
Although malnourished and with a huge belly, Mom did not rest a single day before starting to cook and wash clothes for the family; she returned to reading Falun Gong books and telling others about Falun Gong.
I did not hear a word of complaint from her. I knew her Falun Gong practice gave her the strength and support that she needed. Her health kept improving and her belly swelling subsided day by day. I felt hopeful that our family could live together in peace and happiness again.
However, the police would not leave us alone. They kept coming to harass my family. They threatened my mom that they would take her back if they found her in contact with other practitioners. Mom was under tremendous pressure and her ascites grew worse.
Her legs started to ulcerate and had to be wrapped in gauze. The gauze needed to be changed frequently because the pus would seep through after a while. Later, she could not even turn her body on her own while lying in bed for the whole night. Dad had to stay awake by her bedside at night and then go to work during the day.
No words can describe my feelings after seeing my mom suffering and getting weaker and weaker every day. She left us forever on June 2, 2013. My dad did not say anything and continued to go about his daily routine as usual, but I could feel the pain and sorrow he was holding inside.
Our family's tragedy did not end there. The police came to our home on January 7, 2014 and arrested my dad, taking our computers, printers, Falun Gong books, and all the cash we had at home.
I returned home that night and was arrested myself by policemen, who were waiting for me. I was interrogated until after two o'clock in the morning before I was released. When I got home, I saw a group of policemen standing around waiting to catch other practitioners. My grandpa, who suffered from dementia, looked scared and confused. My home was a mess: papers were scattered all over the room, the vinyl floor was covered with cigarette ashes, and muddy shoe prints were left by the police.
With my mom dead and my dad arrested, I did not know what to do except to contact my uncle, who was out of town at the time. He returned immediately so that he could care for me and Grandpa. But this did not last.
On August 5, 2014, my uncle was arrested from work for practicing Falun Gong. The police ransacked his home, too and took his computer and Falun Gong books. I felt as if the sky was falling on me. I hired a lawyer for my dad's defense. The lawyer went to the detention center to meet with my dad, but was always denied a meeting by the authorities.
Without proper preparation and meeting with his lawyer, my dad was put on trial on December 4, 2014. I saw him in court for the first time in 11 months. He was so thin that I did not recognize him at first.
The prosecutor read a lot of falsified interrogation transcripts and a confession. I heard my dad say, "My wife just passed away. My child and father-in-law are left unattended. But I don't hate you because I believe in Truthfulness-Compassion-Forbearance." At 2:30 pm after an hour of trial, they sentenced my dad to three years in prison.
As a hard worker and law-abiding citizen, how could my dad sabotage the enforcement of law? Just for practicing Truthfulness-Compassion-Forbearance, my dad was sentenced to three years!
I will appeal for my dad no matter the cost or difficulty. Since Mom passed away, Dad has been the most important person in my life. I don't live a moment without wishing my dad was back at home.
I don't know what else I can do to protect my family. But I do know it is not wrong to practice Falun Gong and to believe in Truthfulness-Compassion-Forbearance!
Those who are still persecuting good people like my parents and uncle must awaken to their conscience. Good is rewarded with good and evil is met with retribution. No evil deed can escape eventual judgment.