Taiwan Lawmakers Weigh Amendment to Help End Killing for Organs in China (Photos)
December 15, 2014 | By a Minghui correspondent in Taiwan
(Minghui.org) The Falun Dafa Association of Taiwan held a press conference in Taiwan's Legislative Yuan on December 9, urging lawmakers to pass a proposed amendment to the "Human Organ Transplant Ordinance" enacted in 1987. Legislator Ms. Tien Chiu-Chin urged fellow lawmakers to pass the amendment as soon as possible.
The amendment, which imposes criminal penalties for organ tourism and trafficking, has passed the Social Welfare and Environmental Hygiene committees and is ready for general voting.
The event came ahead of International Human Rights Day and condemned the 15-year-long persecution of Falun Gong in China. After the persecution began, Falun Gong practitioners imprisoned in China have had their organs forcibly harvested by the Communist regime for profit.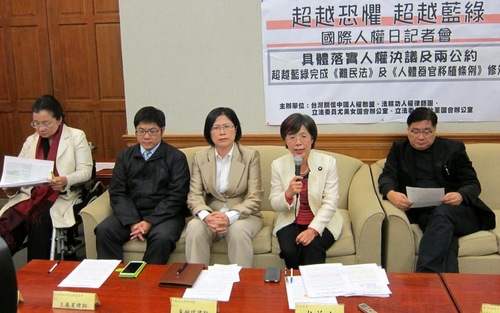 The "2014 International Human Rights Day Press Conference" was held in Taiwan's Legislative Yuan on December 9, 2014. From the right: Director of Taiwan Cares China Human Rights Federation, Mr. Yang Sen-Hong; Legislator Ms. Yu Meinu; spokesperson of Falun Gong Human Rights Legal Team, attorney Teresa Chu; attorney of Taipei Bar Association's Human Rights Committee, Mr. Wang Chan-Hsung; Legislator Ms. Tien Chiu-Chin.
Legislator Ms. Tien Chiu-Chin urged her fellow lawmakers to pass the amendment quickly. "It is scary to think that some Taiwanese citizens can't wait [for an organ to become available] and go to mainland China to accept an organ harvested from a living person. When they return, they will use the national health system to take care of themselves. It is like making everyone in Taiwan an accomplice of the Communist regime's organ harvesting crime," she said.
Ms. Tien has been working to form a coalition of legislators from other political parties to pass the amendment.
Ms. Teresa Chu, spokesperson of the Falun Gong Human Rights Legal Team, said that the Communist regime's forced organ harvesting crime became the top issue on the list of world human rights violations after the EU Parliament and Canadian Parliament passed resolutions condemning the atrocity in 2013 and 2014, respectively.
The first "Parliamentarians Against Forced Organ Harvesting" (PAFOH) league was established in Taiwan and Hong Kong on April 20, 2014. The organization has since expanded to Europe, Australia and the U.S.
Twenty-seven legislators from Taiwan, more than one-fifth of the entire legislature, have joined the league.
At the beginning of the press conference, all attendees watched a trailer of the documentary "Transcending Fear: The Story of Gao Zhisheng," which tells the story of a prominent human rights lawyer who was tortured by the Chinese Communist regime while his family was held hostage.
Director of the Taiwan Association for China Human Rights (TACHR) Mr. Yang Sen-Hong said that the legislature had already passed a resolution drafted by Ms. Yu Meinu as well as 16 other lawmakers from several parties. He believes it is time for the government to work on the release of 4,303 prisoners of conscience in China, including Gao Zhisheng, Falun Gong practitioners and Tibetans.
General Manager of Beijing Spring magazine, Mr. Xue Wei.
Imprisoned in China for ten years before being rescued to the United States, Beijing Spring magazine general manager Mr. Xue Wei says he sympathizes with Falun Gong practitioners and others who are persecuted by the Communist Party.
He said state-sanctioned organ harvesting is the cruelest crime in history and severely violates human rights.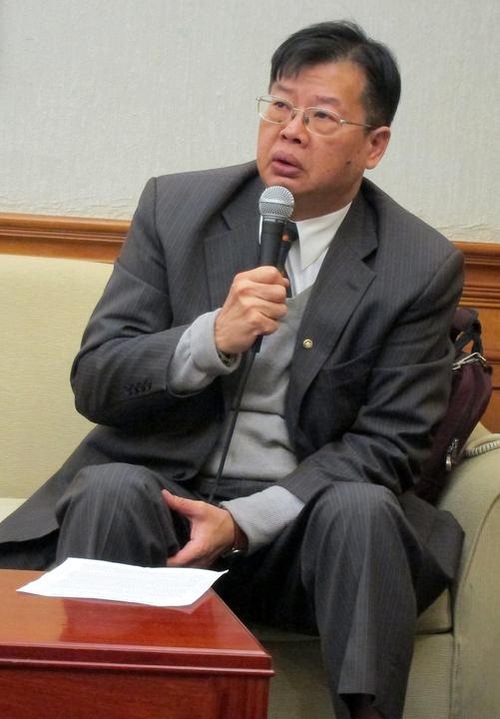 Former director of Taiwan Association for China Human Rights and attorney Wei Chien-Feng.
After watching the trailer for Gao Zhisheng documentary, the former director of TACHR and attorney Wei Chien-Feng said that lawyers in Taiwan can be elected to the Legislative Yuan, and they can support the human rights lawyers in China. In contrast, many human rights lawyers in China are thrown in jail. "Are you claiming China has risen? It's ridiculous," he said.