Three Yunnan Practitioners Arrested, Family Harassed by Police
November 08, 2014 | By a Minghui correspondent from Yunnan Province, China
(Minghui.org) Mr. Zhu Zhongfu (朱忠富) was telling people about the persecution of Falun Gong on April 27, 2014 when police arrested him. While he was in custody, officers went to his home and arrested three of his family members and two Falun Gong practitioners who were visiting at the time.
Mr. Zhu's family members were later released, but he and the other two practitioners were kept in police custody. The two practitioners were Ms. Liu Yijun (刘宜君) and Ms. He Gaoqiong (何高琼).
On the night of the arrest at Mr. Zhu's home, all the streetlights in the neighborhood were extinguished. Personnel from the Chuxiong 610 Office, the local fire department, and neighborhood security officers were called in. Some hid in the apartment building, while others concealed themselves outside. They then ambushed the visiting practitioners as they left Mr. Zhu's home.
Police also ransacked his home and seized his family's car, a printer, a plaque imprinted with "Truthfulness-Compassion-Forbearance" (the main principles of Falun Gong), and other items.
Officers also ransacked the two other practitioners' homes that night and confiscated their books and a photo of the founder of Falun Gong.
Interrogation
The five people arrested in the ambush were interrogated at the Chuxiong City Police Department.
Mr. Zhu's wife, Ms. Li Weiping, was interrogated by four officers who refused to identify themselves. She was released the next afternoon. Mr. Zhu's brother and his son-in-law were released early the next morning.
Ms. Liu was bound to a chair with her hands tied behind her back during the extended interrogation. She was not allowed to sleep, and her hands were still visibly swollen the day she was transferred to a detention center.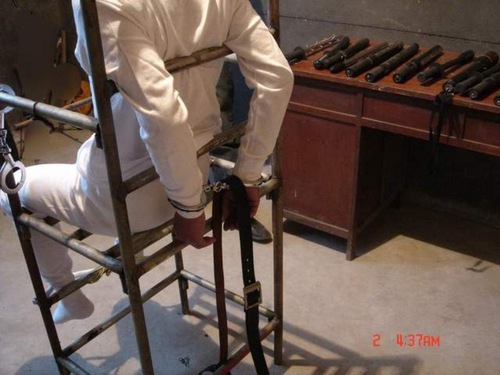 Torture re-enactment: Tied to a chair
"We found a dozen Falun Gong books at your home as evidence. With that, you'll be sentenced," one officer threatened.
Continued Harassment
Upon returning home, Mr. Zhu's family was frequently harassed and questioned by police.
Mr. Zhu's brother discovered that someone had forced open the trunk of his car, stolen a container, and left a few pieces of paper about Falun Gong. He later realized that he was being followed.
Mr. Zhu was an architectural designer before he retired. For distributing fliers exposing the persecution of Falun Gong, he previously served two and a half years in a labor camp.
The Dayao County Court tried the three practitioners on October 29. Minghui correspondents are investigating details of the hearing.
Currently, Mr. Zhu Zhongfu, 59, is detained at Dayao County Detention Center. Ms. He Gao Qiong, 52, and Ms. Liu Yijun, 42, are detained at Chuxiong Prefecture Detention Center.
Perpetrators' Contact Information:
Dayao County Court: +86-878-6228667 , +86-878-6228667 (fax)Dayao County Procuratorate: +86-878-6222106Dayao County Police Department: +86-878-6227404Lu Wenhui (陆文辉), police officer: +86-13708788373
(More perpetrators' contact information is available in the original Chinese article.)