Ottawa: Canadian Prime Minister Urged to Maintain a "Real Commitment to Protecting Lives" During China Visit
(Minghui.org) Canadian Parliament Member and deputy leader of the Green Party, Bruce Hyer, called on Prime Minister Stephen Harper before his trip to China to go with a "a real backbone, a real heart and a real commitment to protecting the lives of not only the Falun Gong, but all of the Chinese people."
MP Hyer made the request with several of his colleagues at a rally in front of Parliament Hill in Ottawa on November 4, before Prime Minister Harper's APEC trip to Beijing, China.
Participants of the rally called upon Harper to help stop the 15-year-long persecution of Falun Gong, and called attention to the state-sanctioned organ harvesting from Falun Gong practitioners in China.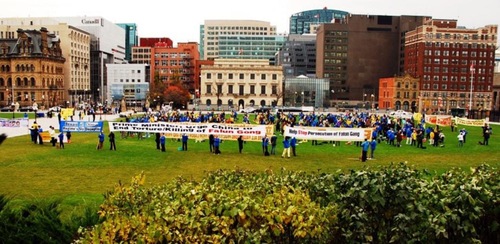 A rally at Canadian Parliament Hill on November 4 calling for an end to the persecution of Falun Gong.
MP Hyer said, "We are shocked and horrified at the behavior of the government of communist China. It's a government of fear. They want you to fear them, but they are the ones who really are in fear."
He said to Falun Gong practitioners that the Chinese government fears the message of Truthfulness, Compassion, and Forbearance, because these are are powerful forces in the world, and that he is very proud of practitioners' commitment to standing up for their values.
"We hope he goes there with not just a brain and a wallet, but a backbone," MP Hyer said, promising that he and the Greens would do everything they could to urge the Prime Minister to stand up for them and not overlook human rights while considering economic gain.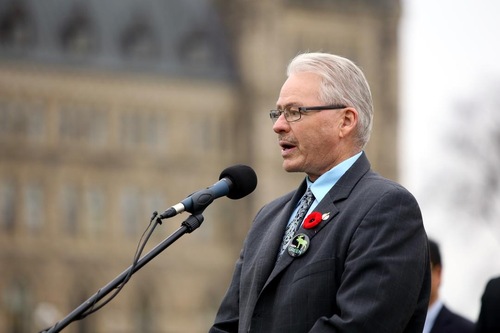 Bruce Hyer, Canadian Parliament Member and deputy leader of the Green Party gives a speech at a rally at Parliament Hill in Ottawa.
Several MPs from different parties expressed their support for Falun Gong at the rally.
MP Judy Sgro (Liberal) called on the Prime Minister to raise the issue of forced organ harvesting, especially now that the threat involves at least 10 family members of Canadians who are unlawfully imprisoned in China for practicing Falun Gong.
She said, "China has repeatedly announced that it has a plan to ban organ harvesting from prisoners, but Falun Gong practitioners know that this has yet to materialize. The practice has been independently verified several times. One report even cites a price list on a Chinese transplant website offering kidneys for $62,000 and lungs for $170,000."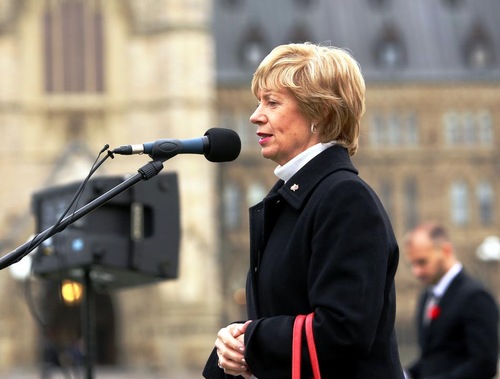 MP Judy Sgro at the rally
Two weeks ago, on October 22, the Parliament Human Rights Committee held a hearing on China's organ harvesting. Later, the host of the program "Current" of CBC (Canadian Broadcasting Corp.), Anna Maria Tremonti, interviewed one of the witnesses, Ethan Gutmann, author of the book, The Slaughter: Mass Killings, Organ Harvesting, and China's Secret Solution to Its Dissident Problem.
In the interview Gutmann warned "people in the West" that going to China in search of organs may lead to innocent persons being killed so that they can have a few years' extension on their lives.
Pointing out that Israel has banned organ tourism to China, European Parliament passed a resolution condemning China's organ harvesting, and the US has a similar one pending (House Resolution 281), Gutmann encouraged the Canadian parliament to do the same.
"The resolutions are good, particularly as they are very detailed and they show this historically, which gives a sort of historical grounding," he said.
At the rally on the 4th, MP. Judy Sgro told the attendees that she and MP Irwin Cotler are working on a draft of such a resolution.
Former MP and Canadian diplomat, David Kilgour, who co-authored two books of compiled evidence on organ harvesting in China, pointed out at the rally that millions of Falun Gong practitioners in China are still at risk of becoming organ sources.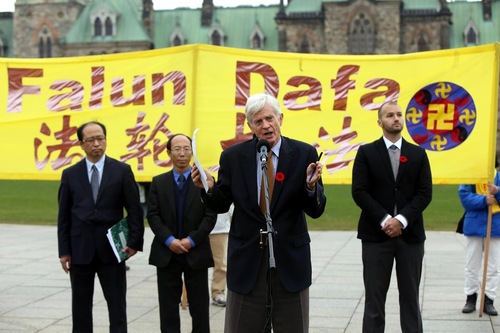 David Kilgour, former Canadian MP, at the rally.
MPs, Elizabeth May (Green) and Garry Breitkreuz (Conservative) also called upon the Prime Minister to raise human rights issues in China, including the persecution of Falun Gong and organ harvesting.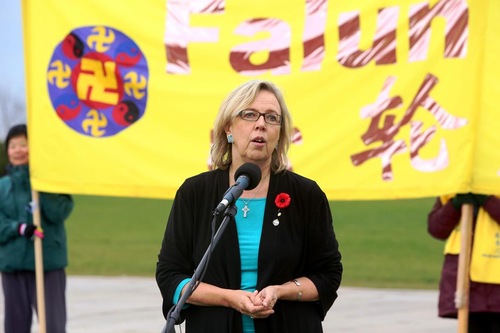 MP Elizabeth May speaks at the rally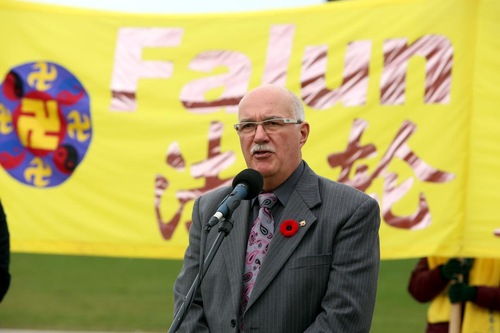 MP Garry Breitkreuz at the rally.
Gary Breitkreuz, a strong long-term supporter of Falun Gong, said to practitioners at the rally: "I think it is one of the blights on our modern age that this is happening. I appreciate the fact that you come out and continue to remind us of this terrible tragedy that is occurring. It is beyond anything that I can imagine. I just want to express my concern and support for the Falun Gong and what they are doing on Parliament Hill here today."
Chinese version available t at http://www.minghui.org/mh/articles/2014/11/6/加总理访华前-议员关注法轮功受迫害-299952.html