Liaoning Prison Denies Medical Parole to Woman in Dire Condition
November 06, 2014 | By a Minghui correspondent from Liaoning Province
(Minghui.org) Her limbs were tied to the hospital bed spread-eagle. Her hands and feet swelled as the ropes cut into her flesh. Merely skin and bones, Ms. Liu Pintong (刘品彤) was so weak that she had almost no strength to greet her older sister, who was brought in to see her by prison guards on October 16 of this year.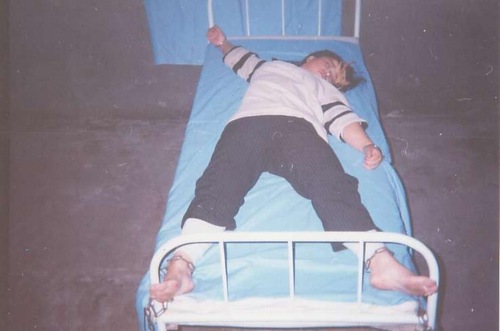 Torture re-enactment: Tied to bed
Ms. Liu had been sent to Hospital 739, a contract hospital for Liaoning Women's Prison, two days earlier. The guards called her sister and demanded 4,000 yuan for medical parole. Her sister managed to borrow that amount the next day, only to be told that an additional 3,000 yuan was required to secure Ms. Liu's release.
Having no way to come up with the additional sum, the older Ms. Liu had to see her younger sister taken back to prison after one week in the hospital.
The guards told the older sister, "We videotaped every move of your sister's for the past seven days. The tapes are evidence that we provided medical care for her. If she dies, it's not our problem. The doctor said she has a kidney problem, and we could use that diagnosis as the cause of death later on."
Arrested simply for telling people about the practice of Falun Gong, Ms. Liu was sentenced to eight years in prison on August 10, 2012, about five months after the arrest. She has been subjected to various forms of torture since her transfer to Liaoning Women's Prison on December 11, 2012.
Despite Ms. Liu's precarious condition caused by injuries sustained as a result of torture, the prison refuses to grant her medical parole.
Tortured and Forcibly "Transformed"
In order to forcibly "transform" Ms. Liu, Liaoning Women's Prison guards put her in the "Correction Division" first, where they forced her to stand still for long hours. Sometimes the guards made her sit on a small stool with thorny bumps on the surface for long periods of time. She was not allowed to wash herself or use the restroom, not even during her menstrual period. The guards deprived her of sleep and beat her.
In addition to abusing Ms. Liu themselves, the guards instigated inmates to monitor and torture her.
She was forced to stand barefoot on a concrete floor during the freezing cold winter and was not allowed to talk to anyone.
Under the unrelenting pressure, Ms. Liu hand-copied a pre-written guarantee statement on December 14, 2012, which she later recanted.
On January 16, 2013 when staff members from the Provincial Prison Management Bureau came to check the "transformation results," Ms. Liu told them about the torture that she had suffered.
In retaliation, she was taken back to the "Correction Division" for further abuse.
She was forced to sit on a small stool from 5:00 a.m. to 10:00 p.m. or later every day, and was forced to watch videos that slandered Falun Gong. Team leader Li Han came to check on her every day and threatened to arrest her son in order to put more pressure on her.
Under extreme physical pain and mental torment, Ms. Liu gave in and signed papers stating she renounced Falun Gong on February 20, 2013. The guards then forced her to write a "thought report" every day to intensify the mental torment.
Related Report:Ms. Liu Pintong Continues to be Persecuted in Liaoning Province Women's Prison
Partial list of parties involved in the persecution of Ms. Liu:
Guo Xiaorui (郭晓瑞), section head of "correction division"Zhang Lei (张 磊) , political instructor of "correction division"Lin Han (李晗), team leaderMa Yiding (马一丁) team leaderXie Lin (谢琳) team leader
Jia Fujun (贾福军), head of prisonXu Min(徐敏), deputy head (female): +86-15698806633 (Cell); +86-024-89296633 (Office)Fang Shuxia (房淑霞), political commissar (female): +86-13390116633 (Cell); +86-024-89296677 (Home)Zhang Xiaobing (张小兵), head of No. 1 Prison Zone;+86-024-89296863, 86-024-89296865Office of political commissar of No.1 Prison Zone: +86-024-89296866
Office of deputy prison head: +86-024-89296655Office of deputy prison head: +86-024-89296688Yang Xiuming (杨秀明), head of the prison hospital:+86-15698806671 (Cell)Office of Liaoning Women's Prison: +86-024-89296895