Falun Gong Practitioners in Mexico Condemn Zhang Dejiang for Violating Human Rights (Photos)
November 29, 2014 | By a Falun Gong practitioner in Mexico
(Minghui.org) Falun Gong practitioners in Mexico held a protest to condemn Chinese Communist Party (CCP) official and chief human rights violator Zhang Dejiang during his visit to Mexico City November 25 to 27, 2014.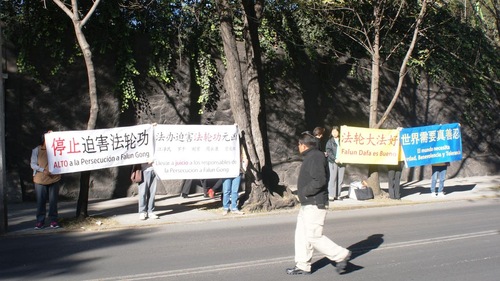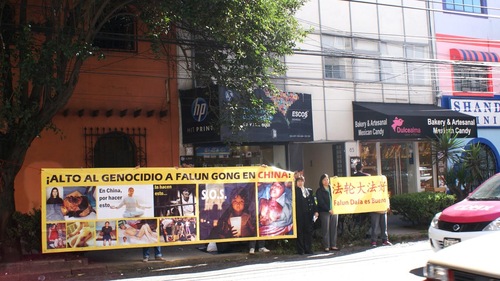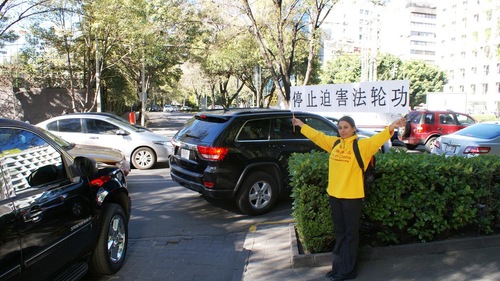 Falun Gong practitioners in front of Zhang Dejiang's hotel in Mexico protest the persecution of Falun Gong in China.
According to an investigation by the World Organization to Investigate Persecution of Falun Gong (WOIPFG), Zhang Dejiang, born in 1946: "is the incumbent chairman of the 12th session of the National People's Congress Standing Committee of the People's Republic of China. He was the secretary of the Zhejiang Provincial CCP Committee from 1998 to 2002; the secretary of the Guangdong Provincial CCP Committee, and a member of the Politburo from 2002 to 2007; the deputy premier of the PRC from 2008 to 2013; and the secretary of the Chongqing Municipal CCP Committee from March to November 2012.
"Since the beginning of the persecution of Falun Gong in China, Zhang Dejiang has been vigorously following Jiang Zemin's persecution policy in Zhejiang Province, Guangdong Province, and Chongqing Municipality, slandering, defaming, and suppressing Falun Gong. Falun Gong practitioners in these areas suffered severe persecution. Zhang Dejiang is suspected of committing the Crime of Genocide, the Crime of Torture, and Crimes Against Humanity."
On November 26, Falun Gong practitioners went to the Mexican Senate, where Zhang was scheduled to meet with Mexican senators. Practitioners brought a copy of their "Notice to Investigate the Involvement in the Persecution of Falun Gong by Zhang Dejiang" to deliver to Zhang in person and caution him to stop the persecution.
At the last minute, the meeting location was changed, because Zhang wanted to avoid Falun Gong practitioners. Practitioners gave a copy of the notice to Senators Miguel Barbosa Huerta and Emilio Gamboa Patron and a media reporter.
On November 27, practitioners held a protest in front of Zhang's hotel to expose his crimes against Falun Gong practitioners. Their banners read: "Stop the Persecution of Falun Gong" "Bring Falun Gong Persecutors to Justice;" "Bring Jiang, Luo, Liu, Zhou,, and Zeng to Justice;" "Falun Dafa Is Good;" and "The World Needs Truthfulness-Compassion-Forbearance."
When they were interviewed by media reporters, practitioners commented, "According to WOIPFG, whoever has committed a crime is responsible for it and that instigating a crime is the same as committing it personally. Anyone who has in any way participated in the persecution of Falun Gong will, ultimately, be investigated and brought to justice."