2014 Indonesia Falun Dafa Cultivation Experience Sharing Conference Held in Jakarta
November 29, 2014 | By a Falun Gong practitioner in Indonesia
(Minghui.org) The 2014 Indonesia Falun Dafa Cultivation Experience Sharing Conference was held in Jakarta on November 23. Practitioners from other Asian countries joined those in Indonesia to listen to 12 speakers.
The speakers talked about their experiences in studying the teachings well, letting go of attachments, improving xinxing, explaining the facts about Falun Gong, and saving sentient beings.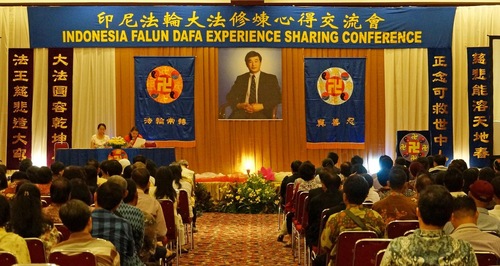 The 2014 Indonesia Falun Dafa Cultivation Experience Sharing Conference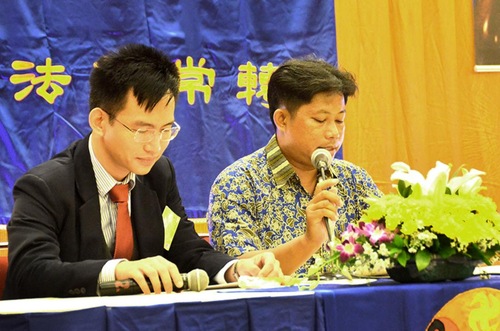 Udy from Depok, a suburb of Jakarta, said that sending forth righteous thoughts in front of the Chinese Embassy felt different from doing it at home.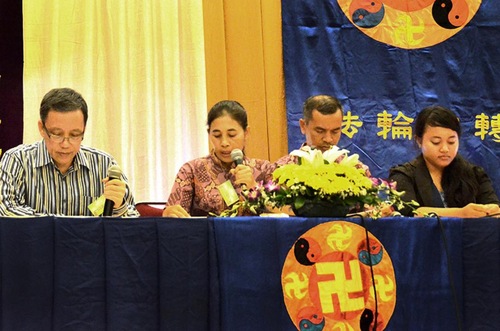 A Balinese family (husband, wife, and three children) all play the waist drums. They often distribute flyers, newspapers, and the Nine Commentaries to Chinese tourists.
Breaking through Notions
Prima from the BSD district of Tangerang talked about joining the Divine Land Marching Band and performing in the presidential inauguration parade. He shared that, at the time, the practitioners in the band were at a low point in their cultivation.
"Should we participate in the parade? Can we do it well?" Prima recalled having such concerns. "What if the performance is canceled at the last minute?" He had a lot of doubts.
With Fa study and sharing, the group's righteous thoughts helped them overcome their notions. Their performance was a great success: they played "Falun Dafa Is Good" in the National Palace, the symbol of the Indonesian government!
Looking Inward to Cooperate
A practitioner who started practicing in 2009 shared his experience of working in marketing on the English Epoch Times in New York City. He wasn't satisfied with the results of their first efforts, so he made some suggestions to his colleague.
However, his colleague didn't want to change their approach. He then looked inward and found that his resistance, desire, and feelings weren't aligned with Truthfulness-Compassion-Forbearance. He realized that, if he insisted on his own ideas, then he wouldn't be following the requirements of the Fa.
To his surprise, his colleague took his advice the next day. The situation changed when he changed. They cooperated better and became more efficient as a result.
A Family That Assimilated to the Fa
A Balinese family talked about how they started to practice and how they validate the Fa and do the three things. The wife took up the practice due to her incurable heart disease. Within two weeks, she recovered. This led to her husband becoming a practitioner, too.
Their three children also began to cultivate. They are all in the waist drum team. The entire family often squeezes onto the father's motorcycle together to go to a tourist site an hour and a half from their home to distribute flyers, newspapers, and copies of Nine Commentaries on the Communist Party to Chinese tourists.
Sending Forth Righteous Thoughts in Front of the Chinese Embassy
Udy from Depok, a suburban area in Jakarta, started practicing in 2006. He talked about coordinating practitioners to send forth righteous thoughts in front of the Chinese Embassy.
He said that, initially, there was a great deal of interference. The unexpected often happened: either things came up so he couldn't go or he forgot to take banners or sitting mats. Realizing that these were interference, he strengthened his Fa study and sending forth righteous thoughts, which helped him break through the situation.
He shared that sending forth righteous thoughts in front of the Chinese Embassy felt different from doing it at home. "Sending forth righteous thoughts nearby is more powerful," he said.
He also shared that, as a coordinator, he had to be responsible and consider others' needs first. Better cooperation enables better results.
Practicing Only One Cultivation Way
Anita has been cultivating for two years. She shared her path of joining Falun Dafa cultivation while still practicing her previous religion. She started doing the Falun Dafa exercises for healing and fitness. Through Fa study and attending experience sharing conferences, she came to realize what true cultivation was and the importance of the principle of practicing only one cultivation way.
She has also started clarifying the truth to her friends and family. She hopes that she can be more diligent and contribute more in assisting Master in Fa-rectification.
The conference ended at 6 p.m. Many attendees said that they had benefited a great deal and were inspired to be more diligent in their own cultivation.