Australians Support Freedom for Falun Gong During G20 Summit
November 22, 2014 | By Minghui correspondents Chen Xinning and Mu Wenqing
(Minghui.org) The G20 Leaders' Summit in Brisbane gave Australians a unique opportunity in mid-November to learn more about Falun Gong and the persecution in China. The peacefulness of Falun Gong practitioners stood out among over 20 protest groups; their cause has won sympathy and assistance from the police force and support from citizens.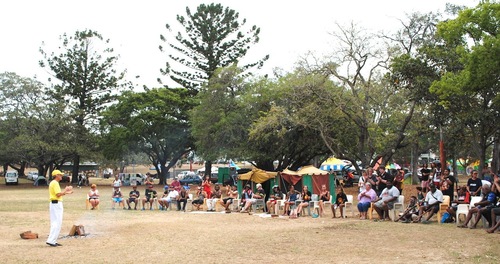 Australian Aborigines invited Falun Gong practitioners to enter their sacred circle to introduce Falun Gong and the persecution in China.
Peace Activist Urges Media to Report on the Persecution
Peace activist Bradley Rankin came across a practitioners' rally in Emma Miller Place. As he learned about organ harvesting from living Falun Gong practitioners, he said, "My insides are turned upside down. It's hard to imagine... It's a shame that our government is doing trade deals with China and not mentioning these sorts of things to the world press... I just heard about this big deal, and our country has the opportunity to bring this to account – human rights stuff."
Mr. Rankin said the rally was "so well organized and spoke so directly about the issue of injustice in China." He said that he could at least witness the speeches there and he was upset by "organ stealing."
Mr. Rankin called out to media staff and asked them to report on the Falun Gong issue. He said that that Falun Gong was being persecuted, and it was important for the world to know.
Australian Aborigines Invite Practitioners into Their Sacred Circle
Musgrave Park, the end point of the parade on November 15, has important meaning for Australian Aborigines. As Falun Gong practitioners arrived at the park, they were welcomed by warm applause, because they weren't shouting slogans or burning flags.
The Aborigines present were touched by practitioners' peacefulness and invited a practitioner representative to introduce the practice and the persecution to their sacred circle. They also set up their holy fire to express their respect during the practitioners' speeches.
Australian Aborigines' sacred circle is very precious to them, and they rarely allow outsiders to step into it.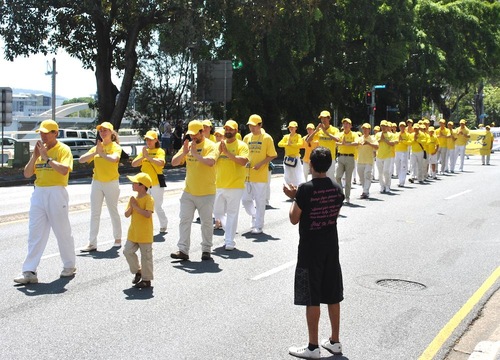 Australian Aborigine Daren Williams applauded Falun Gong practitioners
Australian Aborigine Daren Williams has known about Falun Gong for seven years. He said his impression of the practice was "truthful, compassionate, sharing love and peace."
He said that he hoped that the persecution would end soon: "They [the Chinese Communist Party] persecute you, kill you, take your organs, take your land, and deny you your rights. The Chinese government has no consideration for you. It takes all your things. You need to get the message to the rest of the world. Come to Australia--we are with you. Come and we will help you. Refuse to settle for injustice and evil."
Voices of Support at the Rally
Glenn Brandham asked what was going on at the practitioner's rally. He commented, "I think you are very brave; you have more guts than most men have. Congratulations on what you are doing. I support you.
"[The Chinese Communist Party] is so evil--you guys have such a hard thing to do. I am really, really impressed. If you are getting a new organ and you don't know where it came from, that's sad, I don't want to buy an organ and find out somebody was persecuted and killed for it. That would be such a bad karma."
Milton Conde, student of TAFE NSW, said, "It's wrong. I mean, if people want to do something for their health, then so be it. Don't put up barriers to prevent them. It's supposed to be a democracy.
"That's [organ harvesting] wrong! They are violating human rights... Everybody should start speaking out about it and join together to try to fight this. People are getting afraid of stuff. The media doesn't show the real story," he added.
Milton's brother Sergio, a touch football player, echoed, "Everybody just says, 'Whatever. Go with the flow.' But in that flow, we are all on the same boat, and then it's going to be too late. We'll all have to pay the price. So it's better to do something about this right now, otherwise, later, we will regret it."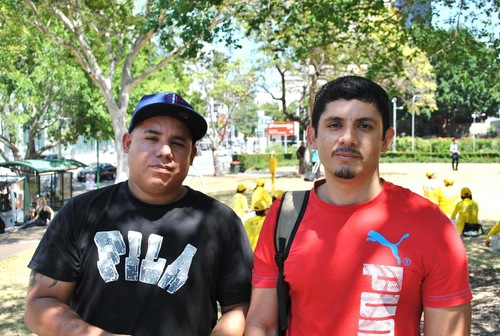 Mr. Milton Conde and Sergio Conde