Chinese Tourist: Practitioners Are the Real Heroes Among Chinese People
November 17, 2014 | By a Falun Gong practitioner in France
(Minghui.org) Several thousand Chinese tourists visit the Eiffel Tower and other major attractions every day in Paris. Local Falun Gong practitioners have been a constant presence at these places and at luxury shopping venues, reaching out to Chinese visitors to tell them about Falun Gong and the brutal persecution in China.
Practitioners in France have shared the observation that now, more than ever, Chinese tourists are open to the truth. More and more Chinese people compliment the practitioners, and more are using their real names to renounce their memberships in the Chinese Communist Party (CCP) and its affiliated organizations.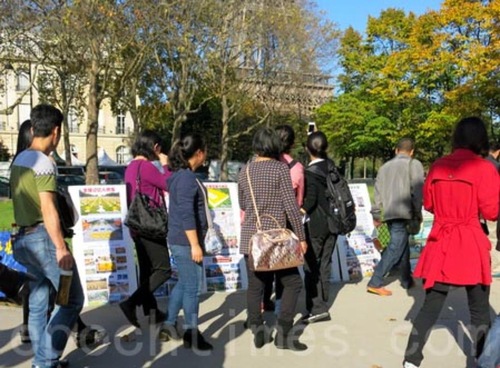 Chinese tourists view Falun Gong display boards near the Eiffel Tower
"You Are the Real Heroes Among Chinese People"
A tourist from Yunnan Province approached two practitioners and said, "You [practitioners] are the real heroes among Chinese people. You are the ones who have let go of life and death. Chinese people thank you!"
Upon quitting the CCP, a tourist in his 30s said to practitioners, "Please pass my thanks to your Master once you see him. Thank you, too. You are remarkable!"
Another tourist, in his 40s, asked, "Can I have two copies of the Epoch Times newspaper? Nine Commentaries on the Communist Party was so well written! I would like to save this newspaper as a souvenir."
Another tourist took the truth-clarification materials and gave practitioners a thumbs up, saying, "I admire you!"
"The CCP Is Bad, So I Didn't Join"
Falun Gong practitioner Ms. Xiao saw a young couple taking pictures at a tourist site in Paris, so she approached them and told them about the persecution in China, including the Chinese regime's state-sanctioned organ harvesting from living Falun Gong practitioners.
They listened attentively. The man said, "I have already known about some of this. The CCP is really very bad. Therefore, I refused to join it."
"Are you a member of the Communist Youth League and the Young Pioneers?" Ms. Xiao asked. The couple renounced their memberships in those two communist organizations, using their real names.
Group Withdrawals
Upon seeing a Chinese tour guide allowing his customers to take newspapers from practitioners, a practitioner said to the more than 20 tourists taking a group photo, "Your tour guide is so nice. He knows that you have a right to independent information and that this trip is a precious opportunity for you. Those who haven't taken a copy of the newspaper, please take one. I can help you quit the CCP and be a Chinese with a clear conscience."
The entire group registered their names and renounced their communist party memberships.
Before they left, the practitioner told them, "You are a lucky group!" Everyone smiled.
"Quick, Quit the CCP. Otherwise It May Be Too Late"
A Chinese tourist in her 60s commented upon withdrawing from the CCP, "I hate Jiang Zemin (former head of the CCP). I hate murderers. They harvest organs from living Falun Gong practitioners. Those are demons' acts. Heaven will punish them. Quick, quit the CCP. Otherwise, it may be too late."
Practitioner Ms. Bao helps over 60 tourists quit the CCP each day. Upon learning that they can quit the CCP for their safety, and that it doesn't cost anything, many Chinese tourists are happy to disassociate themselves from the Chinese Communist Party.
Once, three tourists were taking pictures underneath the Eiffel Tower. A practitioner offered to help them quit the CCP. They all did so and one said, "This is exactly what we wanted!"
A practitioner once saw a young couple taking wedding pictures at the Eiffel Tower. She said to them, "This is the best wedding gift for you: quitting the CCP for your safety." They gladly accepted the offer.
Practitioners in Paris know this well: Chinese tourists are more and more eager to quit the CCP and its affiliated organizations. Over 180 million Chinese people have already made this decision.