Woman Faces Trial for Exposing the Persecution of Falun Gong
November 14, 2014 | By a Minghui correspondent in Henan Province
(Minghui.org) Ms. Sang Shunyun (桑顺云) used to suffer from severe stomach problems and often had trouble eating normally for months on end. No medical treatments seemed to help, but she regained her health shortly after she began practicing Falun Gong.
Having benefited so much, 55-year-old Ms. Sang set out to expose the Chinese Communist Party's persecution of the practice that transformed her life.
Her simple action, however, landed her in a labor camp back in 2000. During her three years of incarceration there, she was made to go through various kinds of torture.
Her family refused to take her in upon her release in 2003. In order to avoid getting implicated, her husband kicked her out of the family home, not even allowing her to take any clothes or other necessities. She had to go from place to place, scrambling to find various odd jobs to make a living. It was not always easy for her to land a decent job or a good rental place since the police confiscated her identification card.
Ms. Sang was arrested again in March this year. She was first kept at a drug rehabilitation center and later transferred to a detention center. Her son and daughter did not dare to visit her for fear of losing their jobs.
The Beiguan District Procuratorate in Anyang City, Henan Province has submitted her case to Beiguan District Court, which means that she likely faces trial and imprisonment.
Humiliation and Torture at Shibalihe Labor Camp
Ms. Sang was humiliated and tortured while detained at Shibalihe Labor Camp from 2000 to 2003.
As soon as Falun Gong practitioners were admitted into the labor camp, the guards cut their hair off and deprived them of their basic human rights.
The practitioners were prohibited from speaking to one another, and they were under close watch by drug addicts around the clock. They had set times for toilet breaks and given a short amount of time to relieve themselves. When time was up, the guards forcibly dragged them out of the restroom. Many practitioners soiled their pants as a result.
Each practitioner was given a meager amount of food each day and had to take cold showers in the winter. They were also made to stay outside in the pouring rain. From time to time, they had to work for over a dozen hours a day without pay.
The guards also used brutal torture on practitioners who refused to give up their belief in Falun Gong. The guards twisted Ms. Sang's arms behind her back and tied them up with thin ropes. They kept tightening the ropes until they cut into her flesh, causing excruciating pain.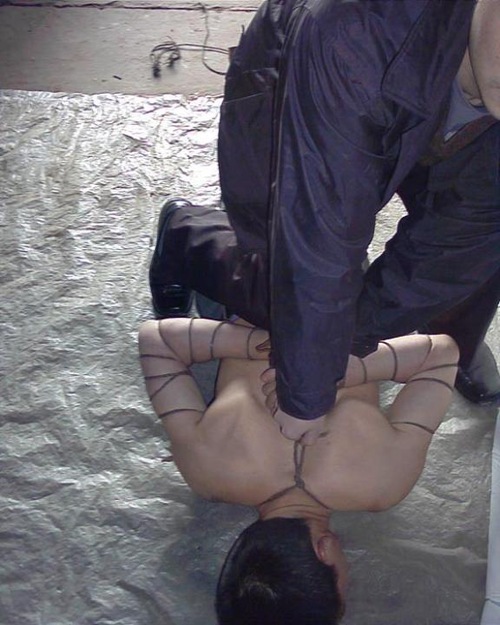 Torture reenactment: Tied up with thin ropes
Parties involved in the persecution of Ms. Sang:
Wei Zhijie (卫芝洁), deputy head of Beiguan District Political and Legal Affairs Committee, and "610 Office": +86-372-3363606, +86-13837258189Liu Yuesheng (刘跃胜), head of Anyang City Political and Legal Affairs Committee, and "610 Office": +86-0372-2550226, +86-372-5162656, +86-13803729596
Beiguan District CourtPhone: +86-372-3163797Fax: +86-372-3163343, +86-372-2938932Address: Yongan East Street, Anyang City, Henan Province, zip code: 455000