Documentary on Organ Harvesting Given Best in Category Award at Canada's Hamilton Film Festival
November 13, 2014 | By a Falun Gong practitioner in Canada
(Minghui.org) Davids and Goliath, a documentary about organ harvesting from living Falun Gong practitioners in China, was recognized as the Best Documentary Feature at this year's Hamilton Film Festival. The event, held from November 3-9, 2014 in Ontario, Canada attracted 140 movie submissions from around the world.
Nathan Fleet, administrative director of the festival, praised the film, "It is a fantastic documentary, really incredibly sad and horrifying. It left a good impression on all of us who watched it. So it was easy to select that one as the best documentary."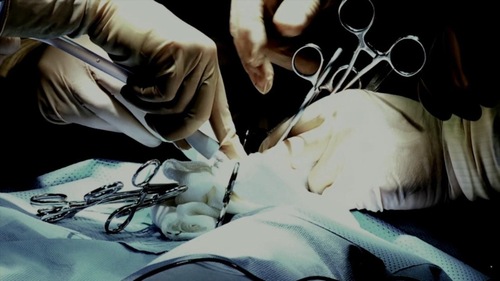 A still from Davids and Goliath, the Best Documentary Feature at the 2014 Hamilton Film Festival
Davids and Goliath focuses on the enormous efforts from David Matas, human rights lawyer, and David Kilgour, former Member of Parliament and former Secretary of State (Asia Pacific). It also contains interviews with a number of patients who received transplanted organs in China.
In March 2006, two witnesses testified against Sujiatun, a secret concentration camp in Shenyang City, Liaoning Province, for its involvement in the systematic organ harvesting from living Falun Gong practitioners. More testimonies followed afterwards.
Matas and Kilgour conducted independent investigations, and published a report in July 2006. Their research continued as additional evidence became available. The third version of their report was published in 2009 with the title Bloody Harvest.
Experts estimate that about 65,000 Falun Gong practitioners became victims of organ harvesting between 2000 and 2008. This was supported by China's rapid increase of transplantation surgeries, whose organ source couldn't be explained by death row prisoners.
Organ harvesting has become a state-sanctioned practice for the military, courts, and hospitals to profit from killing Falun Gong prisoners on demand. The nationwide persecution policy made such systematic operations possible in China without legal consequences.
State Organs, a book compiled by Matas and other experts in this field and published in July 2012, further explored the involvement of Chinese state institutions. By bringing together authors from four continents who shared their views and insights on how to combat these atrocities, this book called on everyone to stop this "form of evil yet to be seen on this planet."
Messrs. Matas and Kilgour were nominated for the Nobel Peace Prize in 2010 for their extensive research and consistent follow-up efforts on live organ harvesting.
Mr. Fleet said, "Like many people in the movie, I couldn't believe something like this had actually happened, and let this kind of thing go on."
"The amount, the number in the movie is just astonishing... A movie like this needs to get out to the public, so that more people are aware of it, know it is happening and how it is happening. That kind of thing needs to stop," he added.
He hoped that this documentary could inspire more "Davids" to work together to end this atrocity.
Li Yunxiang, the documentary director, said he first heard about the forced organ harvesting in 2006. "I found it hard to accept initially because it challenged the baseline of mankind's morality. As time went on, more evidence was uncovered. I knew that this indeed existed."
He later had the idea of making a documentary to raise awareness.
"I urge the audience to watch the movie calmly, from beginning to end," Li said, "Think over the evidence presented in the film and use your own judgment. "
This documentary has also been entered in the Viewster Online Film Festival. It is now available for free viewing on the festival's domain between November 13 and 27.