Western Australia: Falun Gong Practitioners Bring Traditional Chinese Culture to Multicultural Festival Parade (Photos)
November 12, 2014 | By Minghui correspondent Mu Wenqing in Perth, Australia
(Minghui.org) Australia's longest running festival, the Fremantle Festival, has a long standing tradition — this year marked its 109th season. Starting on October 26, the 17-day festival celebrated its finale with a grand multicultural street parade through the city of Fremantle on November 9.
Falun Dafa practitioners were among the scores of parade entries. They presented traditional Chinese performances — a waist drum ensemble, a lion dance and fan dance — adding to the joyous atmosphere. The practitioners were warmly received by locals and tourists alike who packed both sides of the parade route.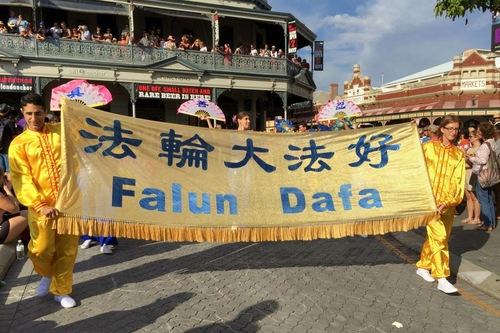 Falun Dafa contingent in the Fremantle Festival Street Parade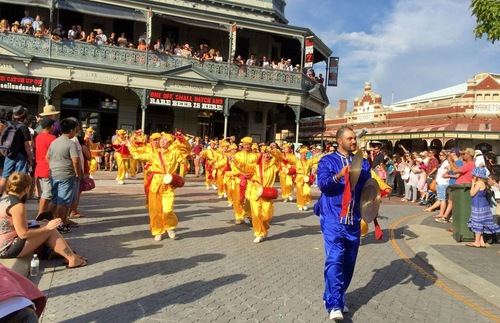 Spectators warmly cheer the waist drummers composed of both Chinese and Western Falun Dafa practitioners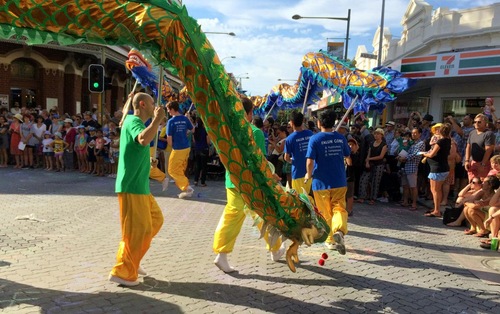 Lion Dance performance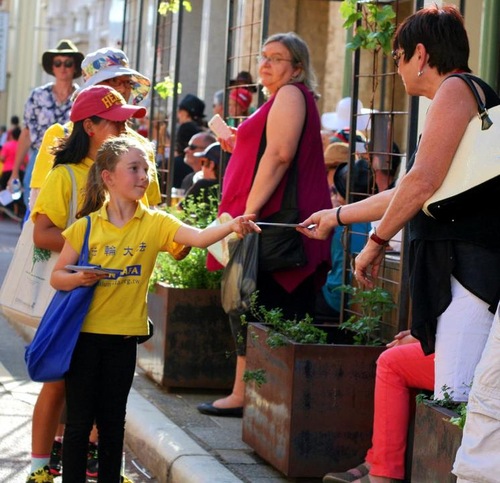 Young practitioners hand out Falun Gong flyers to parade spectators
Mr. Lee, the host of the event, said he found the practitioners' procession fantastic. He added that he hadn't known much about Falun Dafa (also known as Falun Gong), but he felt the practitionerts were a great group just by watching their performances during the parade.
Local resident Swami Yogananda was impressed by the Falun Gong contingent's pure, traditional style. He said it balanced well with the rest of the parade, which was permeated with more modern themes.
Mr. Yogananda likened the Falun Gong contingent to a cool, soothing breeze in the summer. He said he was amazed at the harmony and rhythm found in the waist drumming, the music and lion dance.
Mr. Li, a tourist from Hong Kong, told the reporter that he knew a little about Falun Gong, as he had seen a large-scale Falun Gong march in Hong Kong.
Two young women from mainland China said that they were pleasantly surprised to see Falun Gong in a parade outside China. This was a first for them, as the peaceful cultivation practice is persecuted on the mainland. They were eager to take photos of the Falun Gong performances.
Irene Comino, a local Falun Dafa practitioner, said that she has participated in the Fremantle Festival parade for the past seven years. As a result of practitioners' continued presence, many local people have come to know and support Falun Dafa.
Dafa practitioner Victor Bernal, who moved to Australia from Columbia, said that he made it a point to participate in the parade each year. This year, he performed as part of the Lion Dance team. Mr. Bernal feels that the display of traditional Chinese culture is very important for the local community. He said that it helps people learn about Falun Dafa and that everyone needs Dafa's principles of Truthfulness-Compassion-Forbearance.
Local practitioner Mark Hutchison believes that the Fremantle Festival is a good opportunity to showcase the wonderfulness of Falun Dafa. He said, "People often see us holding activities to raise awareness of the brutal persecution of Falun Gong in China, and collect signatures to call for an end to the Chinese Communist regime's state-sanctioned forced organ harvesting.
"However, many people are still not quite clear on what Falun Gong is all about, and have no idea what a wonderful thing it is and that Falun Gong teaches people to cultivate and improve themselves in every way. In addition, many visitors from mainland China can see us present traditional Chinese culture on behalf of the Chinese community. This may lead them to want to learn more about Falun Gong," he added.