From Unbearable Pain to a New Life
October 06, 2014 | By Minghui correspondent Xia Yun in Taiwan
(Minghui.org) Yu Wei had a happy family. She and her husband loved each other very much, and they had a lovely child. Everything was going well for her except her health, and the pain she had to live with overshadowed everything else.
Yu Wei suffered from a severely herniated disc. She couldn't properly sit or lie down. Just sitting in a chair was agony. If she sat for five minutes, she felt like she was being stabbed with needles. At night, she couldn't lie on her back or her side to sleep, just her stomach, and she suffered from insomnia for a long time. A good night's sleep was a rare luxury.
Yu Wei's son Yan Lin recalled: "At home, there were 18 steps from the first floor to the second floor; it took Mother five minutes to get up the stairs, because she had to stop every few steps."
Yu Wei encountered Falun Dafa when she was desperate. She ended up with a new life.
Yu Wei recalled: "I had all sorts of problems. Besides the herniated disc, my knees, ankles, and elbows hurt. I also suffered from allergies.
"I saw many doctors and tried several qigongs. Although they helped a little, they couldn't touch the pain of the herniated disc. I couldn't see any future for myself."
In 2000 her brother-in-law, who was a doctor, started practicing Falun Dafa. Then he recommended it to Yu Wei.
Her brother-in-law sent her the book Zhuan Falun. Her first thought was: "Doctors couldn't cure me--how could a book?" She put it aside for a half year.
One day she picked up the book and, leaning on her bed, read it from cover to cover. She suddenly wanted to learn to practice Falun Dafa.
"A nine-day Falun Dafa class had just started in our community, and I happened to hear about it. It seemed like things had been arranged, and my predestined opportunity had arrived."
Yu Wei couldn't sit in the lotus position at first, but eventually she could do the sitting meditation for half an hour.
Several months later, she one day realized: "I don't hurt anymore!"
"It was amazing!" she recalls. "Truly a miracle."
She can sit all day now. Her insomnia was cured, and she now sleeps soundly.
Her son, Yan Lin, observed the changes in his mother's energy level: "She only sleeps for four hours a night, but she can work all day."
Yu Wei said, "Dafa gave me a second life!" Her life has changed tremendously, and she feels grateful.
"Falun Gong is an excellent practice, and I've benefited from it so much. However, in China it has been suppressed for many years, and the persecution is severe. Information is tightly restricted, and only those who travel outside of China have a chance to find out the truth."
So Yu Wei has gone to Hong Kong and to Taiwan's Sun Moon Lake, where she tells people her story, so that they too can benefit from Falun Dafa. She hopes more people can understand the truth and no longer be deceived by the Chinese Communist Party (CCP).
Yu Wei, who is now 62, tells many tourists about Falun Dafa every day. From dusk to dawn she tells them about the persecution of Falun Dafa. Seeing how strong and vigorous she is, people cannot imagine that, 16 years ago, she was in so much pain she almost didn't want to live.
Yu Wei (middle) telling tourists about Falun Dafa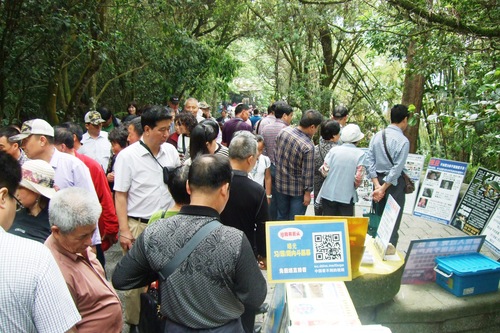 Falun Gong display boards