Ms. Yan Liju Arrested Again after Nine Years of Being Homeless
October 04, 2014 | By a Minghui correspondent from Heilongjiang Province, China
(Minghui.org) After nine years of being forced to stay away from home to avoid further persecution, Ms. Yan Liju was arrested again on September 19, 2014, when she went to Longhualu Police Station in the Tiefeng District to apply for a new identification card.
Ms. Yan was soon transferred to the Zhengyang Police Station in the Longsha District. Deputy head of the Longsha Domestic Security Division Sun Ge and director of the Zhengyang Police Station Xu Zhicheng ordered her to sign the arrest warrant, but she refused. She later started experiencing spasms and foaming at the mouth, and was taken to the Jianhua hospital at around 6 p.m. on the same day.
The police refused to set Ms. Yan free when her family went to request her release the next day. She remains incarcerated at Qiqihar City Detention Center in Heilongjiang Province.
First Arrested in 2005 and Brutally Tortured
Ms. Yan and about 60 other practitioners were arrested at the end of February 2005. She was sentenced to three years in May 2005.
She was hung up with her hands tied behind her back for a long time in the local detention center. Guard Zhao Shimin lit a cigarette and blew the smoke into her eyes and nose.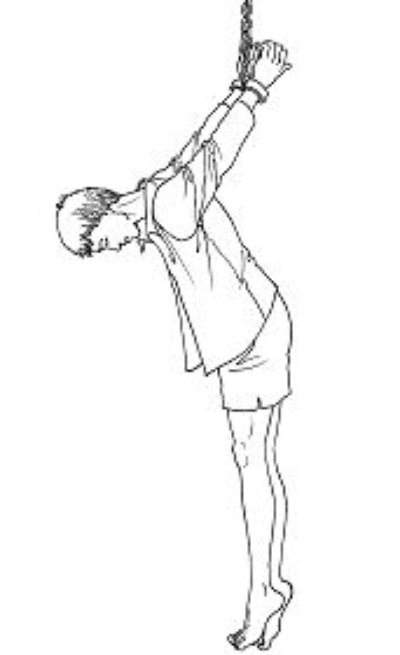 Torture illustration: Hung up
After Ms. Yan was let down, she was put in a small, dark room with no window. Her feet were shackled and she could hardly breathe.
Later she was taken to a basement with her head covered. She was again hung up from a large metal pipe on the ceiling, with her hands tied behind her. A guard then swung her back and forth.
When Ms. Yan ended up in critical condition with symptoms of tuberculosis, her family paid several thousand yuan to bail her out on medical parole.
The local police still went to her home to harass her after she was bailed out, so she left home to avoid being arrested again.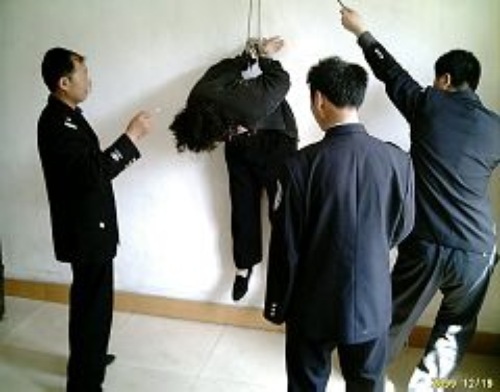 Torture re-enactment: Hung up