From All Over the World to San Francisco: Speaking Up for Those Without a Voice in China
October 30, 2014 | By Minghui correspondent De Xiang
(Minghui.org) Thousands of Falun Gong practitioners from North America, Europe, Asia, and Oceania gathered in San Francisco earlier this month to hold group exercises, an experience sharing conference, rallies, and marches. Many had a powerful story to tell to explain why they made the journey.
From Tiananmen Square to California: 12 Years of Efforts
Ms. Mont from Germany has traveled all over the world to raise awareness about the persecution in China, including to Tiananmen Square in Beijing.
"Chinese practitioners were suffering tremendously for their belief—the same belief I cherish. I felt I had to do my part," said Ms. Mont about her 2002 trip to Beijing. She and her group were detained by Chinese authorities and later released.
Ms. Mont said she had a lot of worries before that trip: "Would the police arrest me? Would they torture me? What if I couldn't get back home? But deep in my heart, a voice told me that righteousness would prevail. With that thought, all the fears and concerns faded away."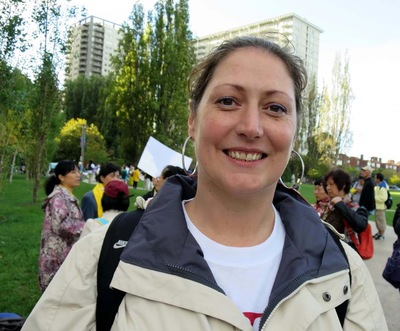 Ms. Mont from Germany joins a parade and rally in San Francisco on October 15, 2014.
She said that the decision to make the trip was not a rash one. "Either inside or outside of China, hardly any voice of support for those innocent practitioners could be heard. That's why we decided to make the trip—at least we could go there to tell the real story of Falun Gong to the police and anyone else we met."
Twelve years on, Ms. Mont continues to do what she can to publicize the CCP's crimes against humanity: "Organ harvesting from living practitioners has been known about for several years. It is one of the themes for our parade today. It is a fundamental issue of right and wrong. Everyone will take a stance, and everyone needs to know the truth."
Ms. Mont hopes that more Chinese people can calm down and see the truth about the persecution of Falun Gong: "The Party has been deceiving people for decades. It does these things for its own interest and survival, not for Chinese people's happiness."
From Hungary to San Francisco: Determination to End the Persecution
Marton Baranyai said that his local group has been going to the Chinese Embassy in Hungary every week for the past three years.
"In China people are detained, tortured, and even killed for this [their belief]. I cannot remain silent. Such a genocide is a crime that needs to be stopped, because it is harmful to mankind," he said in front of the Chinese consulate in San Francisco.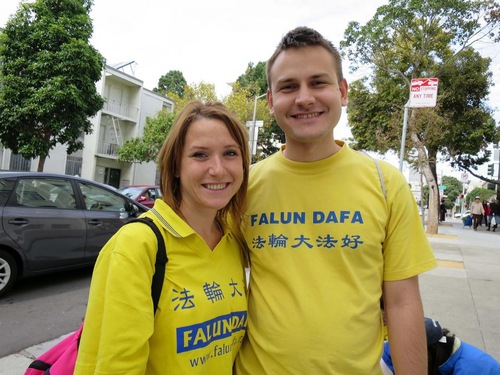 Mr. and Mrs. Baranyai from Hungary
Mr. Baranyai heard about Falun Gong from his wife Kata, who started practicing two years earlier.
"I like the meditation very much. It helps keep me calm. The principles of Truthfulness-Compassion-Forbearance are also unique. The practice has taught me to treat others better," said Kata about ridding herself of her bad temper after taking up the practice.
"Many people, especially Chinese, are still influenced by the CCP's hate propaganda against Falun Gong," said Mr. Baranyai. "By examining things calmly, one can easily tell what is right and what is wrong. I hope everyone knows that Falun Dafa is good."
New York Practitioner: Selflessness Brings Happiness
Ms. Xu learned Falun Gong in Flushing, New York, in 1997. "I had been waiting for something like this for a long time." She said practicing Falun Gong gave her a new understanding of life, people, and society. Her mind and body also benefited greatly. As she said, "It was a new beginning."
Following the principles of Falun Gong, Ms. Xu let go of the attachments to fame and vanity. "I also learned to look within when encountering conflicts. I do not insist on my own ideas anymore. Instead, I trust others more, listen to their opinions, and accept their suggestions." She went on to say that this wouldn't have been so easy for her before practicing Falun Gong.
"I also found that selflessness brings happiness." Ms. Xu said she became more considerate of her family members. They were delighted and surprised, commenting, "You are doing the right thing. Keep it up!"