Divine Land Marching Band Performs at International Festival in South Korea (Photos)
October 27, 2014 | By a Falun Dafa practitioner in South Korea
(Minghui.org) The Divine Land Marching Band, composed entirely of Falun Dafa practitioners, participated in the 11th Annual parade in the City of Gwangju on October 9, 2014. The band received a warm welcome from thousands of local residents and overseas visitors.
The annual Chungjang Festival of Memory started in 2004 as a spinoff of the 1970s and 1980s street festival of culture and art in an old section of the city. The festival began as part of a commercial revitalization of the old town of Gwangju. The festival is centered on two major streets, Chungjang-ro and Geumnam-ro, around the National Asia Culture Complex.
Recognized as one of the best festivals by the South Korean government, this year's event included over 10,000 performers from more than 100 performing groups. Some of the groups traveled from other countries, including Japan, China, and Mexico.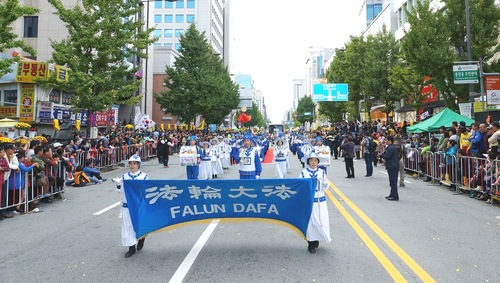 The Divine Land Marching Band in the Chungjang Festival of Memory parade 2014.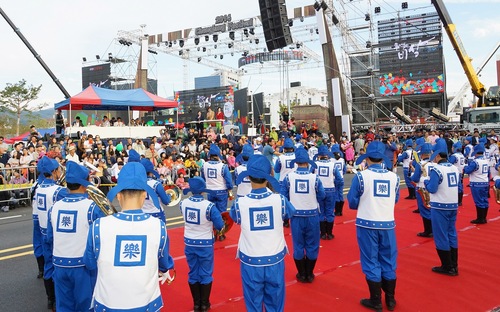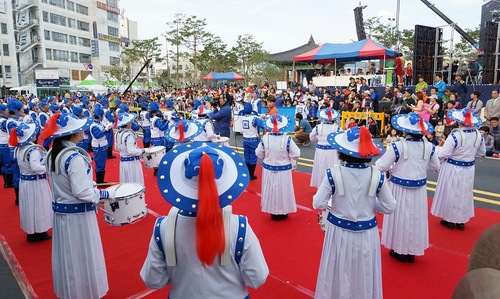 The Divine Land Marching Band performs on the event's central stage.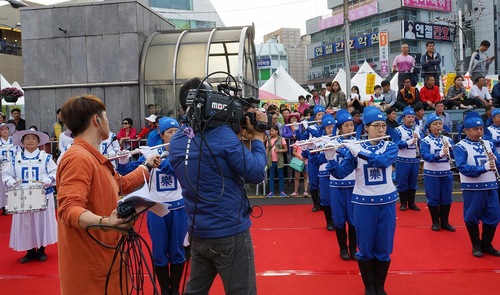 A local TV station captures the Divine Land Marching Band.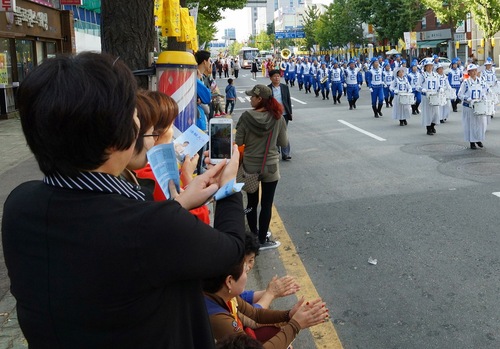 A spectator captures a memory of the Divine Land Marching Band on her phone.
The band members donned striking blue and white uniforms based on ancient Tang Dynasty design. Their orderly procession and beautiful melodies drew warm applause and cheers from spectators.
During the three-hour parade, several Falun Dafa practitioners walked alongside the band to pass out informational fliers. Many spectators took photos and video of the band's performance.
A group of 400 performers from Nanjing, China also participated in the parade. Many Chinese spectators expressed both surprise and intrigue when they saw a Falun Dafa group and a group from Mainland China performing in the same event.
Gazing at the large, blue "Falun Dafa" banner leading the Divine Land Marching Band, Chinese visitors were able to see through the lies propagandized by the Chinese Communist Party and saw with their own eyes that Falun Gong can be freely practiced in Korea. Many of them waved happily and cheered in Chinese, "Falun Dafa hao!" (Falun Dafa is good!).
A representative from the Mainland Chinese performing group protested to the parade organizer and claimed that the Divine Land Marching Band shouldn't be included in media footage of the festival. The organizer gave no credence to the demand, stating that Falun Gong had just as much right to take part in the festival as did the mainland Chinese group.
Background
Falun Dafa, also known as Falun Gong, is an advanced cultivation practice of mind and body. It was first introduced to the public by Master Li Hongzhi in 1992 in China. Since then, millions of people in over 100 countries around the world have taken up the peaceful spiritual practice. There are more than 200 public practice and teaching sites in all major cities of South Korea.