Nanjing Practitioner Illegally Detained at a Mental Hospital for the Fifth Time
October 21, 2014 | By a Minghui correspondent from Jiangsu Province, China
(Minghui.org) Ms. Kong Qingmei, from Xuanwu District, Nanjing City, has been illegally detained at a mental hospital, for the fifth time, since June 2014. She was arrested by officers from the Meiyuanxincun Police Station on June 11, for giving out fliers with information on Falun Gong. Her home was subsequently ransacked.
In addition to forced labor camps and prisons, mental hospitals are often used by the communist regime to detain innocent Falun Gong practitioners. Ms. Kong has been in and out of mental hospitals four times during the past 15 years, held for a total of six years. Though perfectly healthy, she was treated as a mental patient and given forced injections which left many side effects.
Ms. Kong's Ordeal
Ms. Kong, 60, retired from a local real estate company. Because she believes in Falun Gong, she has been targeted by local authorities since the onset of the persecution. She has endured unimaginable suffering for 15 years.
1. Transferred from Prison to Prison
Ms. Kong had previously served a three-year term of forced labor, from 2000 to 2003, at the Judong Women's Forced Labor Camp. She was confined to a small cell, and closely monitored around the clock by two guards on each shift.
Because Ms. Kong never renounced her belief, local 610 Office officials took her to the Arboretum Brainwashing Center after her term ended, and later transferred her to another brainwashing center at the Jiuhuashan Motel. Her family was never notified of these transfers.
After many failed attempts to "transform" her, the authorities sent her back to Judong Women's Forced Labor Camp in summer 2004, and told her that she would not be released if she didn't give up her belief.
She suffered greatly at the labor camp. Inmates poured water over her, and then dragged her on the cement floor like a mop. She was severely beaten by guard Hong Ying and inmates in late 2004. They stomped on the sides of her face, targeting the eyes, and pinched her neck. Hong later denied beating Ms. Kong.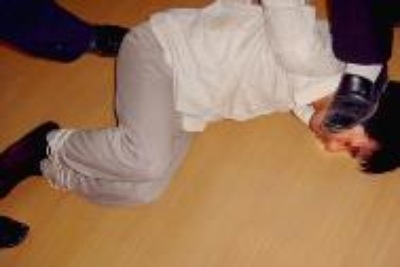 Torture Re-enactment: Beatings
2. From Forced Labor Camp to Mental Hospital
Ms. Kong was transferred from the forced labor camp to Zutangshan Mental Hospital in early 2005. She was given psychotropic drugs against her will, which damaged her mentally and physically. She began to look haggard and older than her age.
The seemingly endless suffering finally broke her. Ms. Kong was eventually "transformed," and renounced her belief in Falun Gong. She was released in May 2005, after spending three months at the mental hospital.
3. Back to the Mental Hospital in Three Months
Three months after her release, Ms. Kong was arrested again for telling people about Falun Gong. She was taken directly to the Zutangshan Mental Hospital, where she was detained for four years.
Ms. Kong was given psychotropic drugs three times a day. The nurses sat on her, grabbed her neck, and forcibly poured drugs down her throat. The liquid drug soaked the front of her clothes. She experienced severe headaches, along with dryness of the mouth and esophagus, and she had trouble speaking due to her tongue being stiff and swollen.
Ms. Kong started having red and itchy eyes in the winter of 2009, and the redness soon spread to her entire eyeball. She was taken to Gulou Hospital and given eyedrops, which actually worsened the symptoms.
Ms. Kong was given two weeks of medical parole in late 2009. She could barely walk by the time she was released.
4. Sent to Zutangshan a Third Time
Ms. Kong was arrested and returned to the Zutangshan Mental Hospital for the third time in late 2010, a year after her release. She started showing symptoms of tuberculosis by the third week, and was released after a month.
5. Fourth Time at Zutangshan
Three plainclothes police officers arrested Ms. Kong and took her to the Nanyuan Police Station on February 16, 2011, only a few weeks after she had been released.
She was returned again to Zutangshan, for the fourth time, the next day and illegally detained for two years. Because she refused to take any drugs, six people, comprised of men and women, sat on her to prevent her from moving, and forcibly injected her with unknown drugs. She was not able to walk after the injection.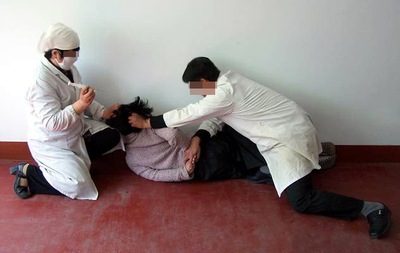 Torture Re-enactment: Injections of unknown drugs
Ms. Kong was released on December 26, 2012, after her son submitted a written statement to the local 610 Office, guaranteeing that she would no longer practice Falun Gong. She was not able to walk when she was released, and also suffered from severe headaches and dry mouth. The local authorities, however, did not let up on her—she was constantly harassed by officials from the local 610 Office and residential committee.
Ms. Kong's current condition is worrisome. We call upon people to pay close attention to her case, and extend a helping hand in rescuing her.
Parties involved in persecution of Ms. Kong:
Huang Yaling (黄亚玲), director of Nanjing City 610 Office: +86-15105186226 (cell)Xuanwu District 610 Office: +86-25-84482044 (office)Yi Bing (易兵), director of Xuanwu District 610 Office: +86-13809027561 (cell)Meiyuan Police Station: +86-25-83683962 (office)Liu Dexian (刘德贤), Meiyuan Residential Committee: +86-25-86896486 (office)Xiong Ran (熊然), president of Zutangshan Mental Hospital: +86-25-52740129 (office)