San Francisco Conference Inspires Practitioners
October 17, 2014 | By Minghui correspondent Brianna Pendleton
(Minghui.org) Practitioners from different parts of the world attended the 2014 San Francisco Falun Dafa Experience Sharing Conference at the Bill Graham Civic Auditorium on October 16, 2014. Many had a lot to share after listening to Master's lecture in the morning.
"Every second counts"
"What really hits me now is that we cannot slack off [in our cultivation] for a second. I think that's what's important for me. Every second counts," said Peter Ebertz from Sweden. "I will constantly remind myself to maintain my state of mind like it was during the lecture."
He talked about this year's Almedalen Week in Sweden. Almedalen is an annual political event, where tens of thousands of people gather to hear political speeches and take part in seminars. "People there are very open. The format of the event and our presentation were a great fit. Everyone else had large public relations setups and support. All we had were practitioners and small flyers, but we had a greater impact.
"The movie theater we rented was full, and we had to run the Free China movie screening four additional times. People were standing in line."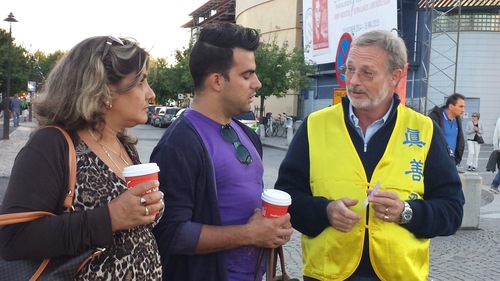 Mr. Ebertz spoke to visitors at Kulturkalaset, an arts festival in Gothenburg, Sweden, in August 2014.
"The European conference was held in Madrid, Spain, just a week ago. The march this time in Madrid was fantastic. So many people were out on the street. They were so willing to listen and take flyers. We were walking yesterday in the march here, and I thought, 'In Europe, it was just as good as it is here this time."
Comparing Sweden and the States, Mr. Ebertz chuckled, "I bought a mug and a towel with the American flag because it's a different society. It's more open here. It's more up to the individual. In Europe, we still have this social thinking that the government should provide for you and help all the time. Here it's a different mentality."
"Stepping Out of Self"
"I thought the march was very well organized yesterday. I thought it was quite spectacular. The band was terrific," said Michael Pearson-Smith from Australia.
He reflected: "I think cultivation is all about releasing attachments. Sometimes the attachments are so deeply ingrained, it's quite hard for people to recognize that they are there at all.
"One of the things I find with attachments is that you maybe do recognize something, and you work on defeating it, but then a couple of years later, it might resurface from a deeper level, so you have to go back and look at it again. It's very much of an ongoing process.
"It's really stepping out of self. The way we grow up in the Western world is very individualistic. It's really all about getting ahead. It's very concentrated on self. To me, this is a real key to try to become more altruistic: 'Putting others first.' It sounds very simple.
"The things that immediately spring to mind for myself are lack of patience and anger." He had to organize the Australians to enter the conference hall. Inevitably, some run late, others are missing, and some are very anxious to get in to get good seats. "I find myself much more patient than I used to be."
Letting Go of Worries
"It is very good. We can always feel Master's compassion when we hear him lecture," said Marton Baranyai from Hungary.
"We have to cultivate diligently. It's very important to save sentient beings and cooperate with each other. And to truly change ourselves. What Master said at the very end is to not hold this Fa conference in vain. We should know at every moment in our daily lives that we are practitioners. We should grasp our opportunities and truly elevate ourselves," his wife Kata added.
"What I understood from Master's Fa teaching is that I also have the problem that I worry about things, such as things will not happen in a good way. I understood that I have to be more compassionate and calm and tolerant. I don't have to worry that I started too late and I might not succeed in my cultivation. I have to be calm, because Master is giving us enough time," Marton said with a smile.
Marton was handed a Falun Gong flyer at the National Day parade four years ago, when the Divine Land Marching Band visited Hungary. He has been practicing ever since.