Police Arrest a Practitioner After Breaking Down Her Bedroom Door
After several hours of standoff with the police, Ms. Tang Min, a Falun Gong practitioner, was illegally arrested from her own home. She was held in a brainwashing center for about two weeks before being transferred to a detention center, where she remains today. Police said that she could face up to five years of prison.
Ms. Tang Min, in her 40's, lived in Changsha City of Hunan Province. She worked as a librarian in Hunan Medical University.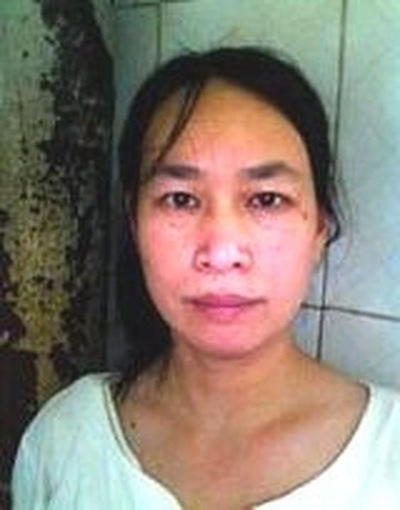 (Picture of Ms. Tang taken while she was held in a mental hospital in 2009
When more than 20 people broke into her home on August 15, 2014, Ms. Tang locked herself inside her bedroom out of concern for her safety. After several hours, during which they ransacked the rest of her home, these people broke down the door and arrested Ms. Tang.
These people, who hadn't identified themselves during the break-in, turned out to be Changsha police, coming from the Yuelu District Police Sub-department, the Yuelu Police Station, and the local police station. Security staff and community staff in her neighborhood also participated in the arrest.Police put Ms. Tang in the Laodaohe Brainwashing Center. This brainwashing center was infamous for its cruel and unusual torture methods. Ms. Jiang Meilan, 65, was tortured to death in September 2012 after being detained there for 23 days. Her body was found full of injuries.
Police transferred Ms. Tang to Changsha No. 2 Detention Center on September 2. Domestic security police officers said that they will sentence her to five years in prison.
Ms. Tang has been arrested and subjected to torture several times in the past.
Her employer, Hunan Medical University, locked her in a mental hospital several times and injected her with medicine that damaged her central nervous system in 2009.
Police beat Ms. Tang and another practitioner on the street and arrested them on November 26, 2011. Police held them in the Laodaohe Brainwashing Center, and later sentenced them to 18 months of forced labor.
Shortly after Ms. Tang was released from the forced labor camp, police arrested her again in September 2013 and put her in the Laodaohe Brainwashing Center for a month.
Police came to Ms. Tang's home to harass her in the summer of 2014. Her employer also threatened to fire her.