Sweden: Falun Gong Offers Tranquility and Inspiration at Culture Night in Norrköping
(Minghui.org) Thousands of people turned out for Culture Night in Norrköping, Sweden, on September 27, 2014. The event was sponsored by the town municipality, and hundreds of artists and performers showed their art in the streets and venues. The event has been held annually for 29 years.
Falun Gong, an ancient Chinese meditation practice, has participated in Culture Night since 2011. This year practitioners again welcomed people from Norrköping and the surrounding area of the Östergötland region.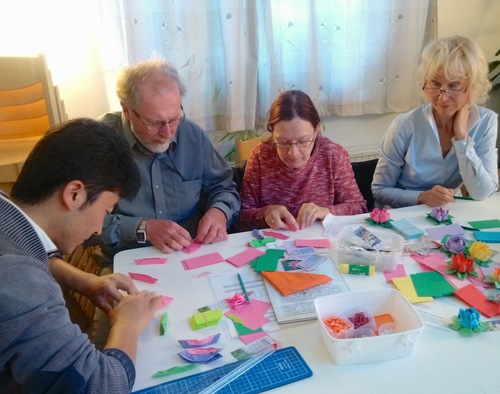 People learn how to make origami lotus flowers. Lotus flowers symbolize the purity and strength of the human spirit. Culture Night, Norrköping, September 27, 2014
Many visitors to Culture Night learned about the practice of Falun Gong, tried the five exercises, and took part in the origami lotus flower workshop.
People seemed to enjoy the peaceful and serene atmosphere. Many expressed appreciation for the principles of Truthfulness, Compassion, and Forbearance, and were curious to watch the video demonstration of the exercises. Several practiced the movements as they watched.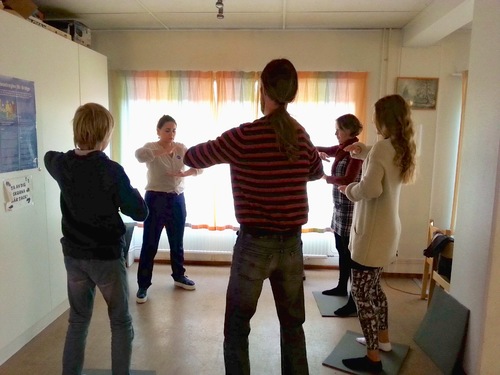 An entire family learns the five Falun Gong exercises at Culture Night.
The culmination was the screening of the award-winning documentary Free China: The Courage to Believe. It tells the story of two people who are trying to raise awareness of the ongoing persecution of Falun Gong by the communist party in China, and their experiences of being tortured in Chinese labor camps.
In the audience during the screening were two Chinese people, who carried on an intense discussion about it. Someone else who saw the movie said he was extremely touched and wanted to organize a screening at a local church. He also said he wanted to spread information about the film in his network.