New Zealand Rally Supports Chinese Movement to Renounce the Communist Party
October 15, 2014 | By a Falun Dafa practitioner in Auckland, New Zealand
(Minghui.org) A rally was held at Auckland's Queen Elizabeth Square on Saturday, October 11 in support of 180 million Chinese people who have withdrawn their membership in the Chinese Communist Party (CCP) and its affiliated organizations.
The Tuidang (Quit-the-CCP) movement, referred to as "one of the largest grassroots movements in the world," is flourishing at a daily rate of 90,000 declarations of withdrawal, according to the Global Service Center for Quitting the CCP.
The movement was triggered by the Nine Commentaries on the Communist Party, a book published by the Epoch Times newspaper. Falun Dafa practitioners have been informing Chinese in and outside of China about the crimes the CCP has committed during the 15-year-long brutal persecution, including the systematic forced organ harvesting from living Falun Dafa practitioners.
Chinese often readily renounce the Party upon learning the facts about the persecution, which have been covered up by CCP propaganda. According to the traditional Chinese view of moral cause and effect, wrongdoers will meet with karmic retribution. The general public doesn't want to carry the CCP's cross when the time comes.
Practitioners demonstrate the Falun Dafa exercises at Queen Elizabeth Square, downtown Auckland.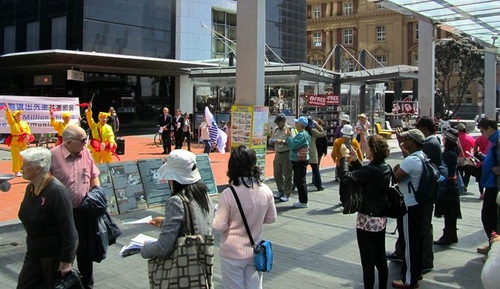 Passersby watch the rally and take photos.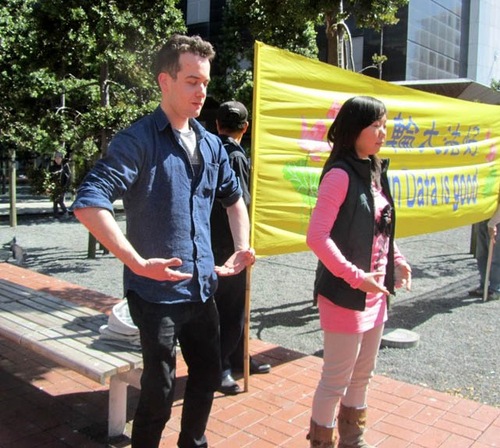 A young man learns the Falun Dafa exercises.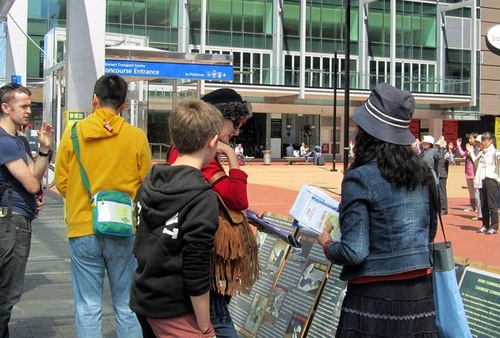 A mother and son from South Africa read the display boards with information about the persecution in China.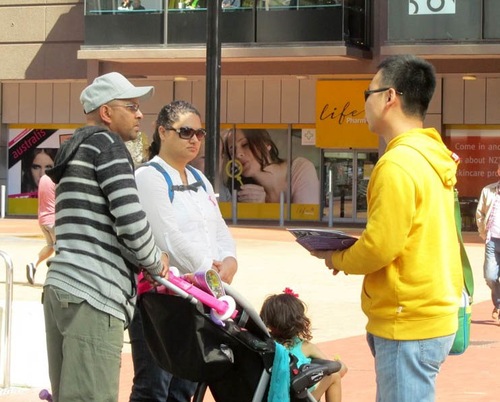 Passersby learn about the persecution of Falun Gong in China.
A Chinese tourist spoke with a practitioner for a long time. She said that she knew about the persecution when she was in China. Although she had really wanted to learn the practice while in China, she couldn't bring herself to try it because of the ongoing suppression.
She told the practitioner that after arriving in New Zealand she felt really relaxed and happy, free of the pressure that exists in China. Before leaving the rally, she withdrew from the CCP and its affiliated organizations.
The rally began with practitioners demonstrating the exercises. One young man joined the practitioners and began learning the exercises. He told a practitioner, "I'm so drawn to this.The exercises make me feel so relaxed."
Speakers at the rally spoke about bringing the perpetrators of the 15-year persecution to justice, including former Chinese leader Jiang Zemin. Behind them, several banners called for an immediate stop to the CCP's state-sanctioned forced organ harvesting from living practitioners.