Italian Society of Organ Transplantation Conference Attendees Condemn Organ Harvesting in China
October 11, 2014 | By a Falun Gong practitioner in Italy
(Minghui.org) The 2014 Italian Society of Organ Transplantation (SITO) conference was held in Siena at the end of September. Illegal organ trafficking was one of the topics of discussion at the conference, as the attendees condemned the forced organ harvesting happening in China.
The issue of a "live organ pool" was raised, particularly in the context of systematic organ harvesting from prisoners of conscience.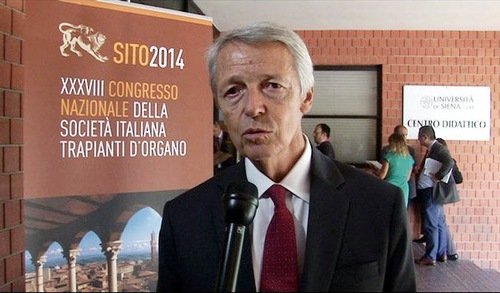 Professor Franco Citterio, president of SITO (Italian Society of Organ Transplantation)
According to SITO, there are at least 10,000 illegal transplants each year with astonishing prices: in China – where the regime controls hospitals and medical staff – a kidney can be worth 70,000 dollars. The removal of organs from death row inmates is a practice that goes against medical ethical standards. In October 2012, the World Medical Association has expressly ruled that "in jurisdictions where the death penalty is practiced, executed prisoners cannot be considered as organ and/or tissue donors."
"The Chinese situation is known to us," Professor Citterio said, "[the country] has been sanctioned by the International Society of Transplantation. The Chinese government made some statements that this would never happen again. In fact, it seems that this is not the case, and that it continues to be implemented."
In November 2013, China signed the Hangzhou Resolution, which received praise from the international medical community, declaring an intent to end organ harvesting from executed prisoners.
Only a few months later though, in March 2014, Chinese officials stated that China will continue to use organs from prisoners, and that the bodies will be entered into a new computerized system for organs.
"In China, donors are killed," said Dr. Katerina Angelakopoulou, spokesperson of the Italian DAFOH (Doctors Against Forced Organ Harvesting). This association aims to protect medical ethics, and was founded in 2007. DAFOH had a stand at the congress.
DAFOH is leading an international campaign against forced organ harvesting in China. A group of doctors decided to establish the organization after the 2006 investigation by human rights lawyer David Matas and former Canadian Secretary of State David Kilgour.
They published a document – "Bloody Harvest" – where they stated that at least 41,500 forced organs have been harvested between 2000 and 2005, from living Falun Gong practitioners, a meditative discipline persecuted by the Chinese regime.
"I believe the international community must strongly condemn and exert pressure against this activity," Franco Citterio suggested, adding that in Italy there is an average waiting list of two years for a kidney, while in China it can be around 1 to 4 weeks.
In March 2013, the Human Rights Committee of the Italian Senate approved a resolution against forced organ harvesting in China. Then, a coalition of Italian Members of Parliament was launched in about two months.
"There are a dozen of MPs who have the desire to cooperate at an international level, so as to stop this unethical practice in China," said Dr. Angelakopoulou.