Rally at UN Headquarters: "The CCP Is Killing Innocent People for Organs"
October 01, 2014 | By a Minghui correspondent in New York
(Minghui.org) Shortly after the United Nations (UN) Climate Summit 2014 concluded, Falun Gong practitioners held another rally at the UN Headquarters in New York on September 27 to continue drawing attention to the severe suppression taking place in China.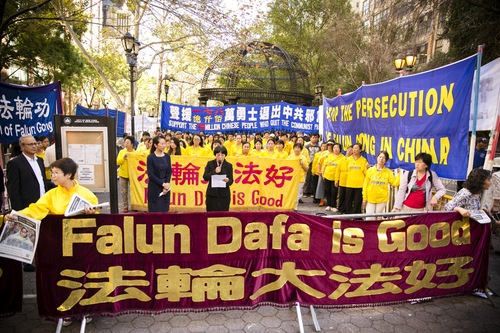 Rally in front of the United Nations Headquarters on September 27, 2014
Joining the noontime rally were representatives from human rights organizations including the World Organization to Investigate the Persecution of Falun Gong (WOIPFG), Doctors Against Organ Harvesting (DAFOH), the Asian Family Alliance and Students for a Free Tibet.
Wang Zhiyuan, spokesperson for the WOIPFG, said that anti-terrorism has become a major focus as more and more incidents have recently unfolded. "We cannot tolerate terrorism, or brutality against civilians, because that undermines the basis of humanity. On the other hand, a [terrorist] regime—of a larger scale and more sophisticated violence—has been largely ignored by Western society.
"And that is the Chinese Communist Party (CCP) regime. Led by former head of state Jiang Zemin, it is carrying out a massive crackdown and severe persecution against Falun Gong practitioners nationwide because of their belief in Truthfulness-Compassion-Tolerance. The scale, severity, and the vicious nature—persecuting people for their belief—is unprecedented."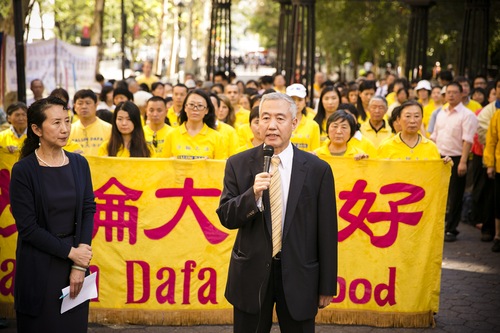 Wang Zhiyuan, spokesperson for the World Organization to Investigate the Persecution of Falun Gong (WOIPFG), speaking at a rally at the UN Headquarters on September 27
Among the CCP's atrocities is its forced organ harvest from living Falun Gong practitioners. According to Wang Zhiyuan, the WOIPFG has collected a great deal of evidence of these crimes. For instance, Wang Lijun, former police chief of Jinzhou City, Liaoning Province, established a research center to study organ transplantation during the height of the persecution of Falun Gong. Large numbers of transplant surgeries were performed, from unsourced donors. Wang Zhiyuan estimated that more than 3,000 instances of forced organ harvesting were conducted in about two years. (additional information: http://www.upholdjustice.org/node/214)
Damon Noto, spokesperson for Doctors Against Forced Organ Harvesting (DAFOH), commented on the extremely short waiting time for organ transplants in China. "Follow-up investigation indicated that the organs were not from voluntary donors, but from detainees, and a large number of them were from [Falun Gong] practitioners imprisoned for their belief.
"The CCP is killing innocent people for organs; we must stop this," Noto said. "To achieve this, we need help from you, me and many others who will stand up to support justice."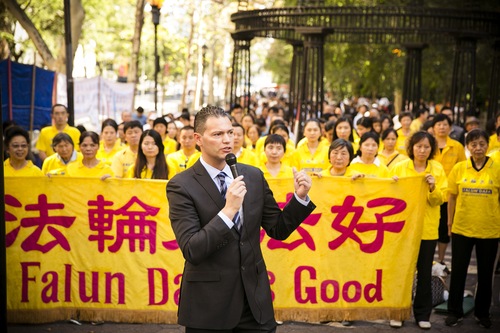 Damon Noto, spokesperson for Doctors Against Forced Organ Harvesting (DAFOH), explaining the findings of his association regarding forced organ harvesting from living Falun Gong practitioners
Asian Family Alliance Executive Director, Jeremy Taylor said that the perpetrators of the persecution will be brought to justice sooner or later. He gave the example of Zhou Yongkang, one of the chief officials responsible for the massive persecution, who has been arrested by the Chinese government. There could be numerous charges against Zhou, but the fundamental reason for his downfall is "crimes against humanity."
Tenzin Dolkar, Executive Director of Students for a Free Tibet, said she felt a great deal of concern for the severe persecution that Falun Gong practitioners have endured for their belief. She said that the many issues that people are concerned about, whether it be Falun Gong, Tibet, or Hong Kong, are all rooted in the totalitarian rule of the CCP. That is why, Dolkar said, "People need to work together on this because these serious problems will persist as long as the CCP exists."
"We are calling on all governments and organizations to pay attention to the harm the CCP has brought to China and the world," said Wang Zhiyuan. He said that this is an issue of whether people are able to safeguard conscience. "Everyone is taking a stance, supporting the upright, or siding with the vicious."