Chinese New Year Greetings Honor the Founder of Falun Gong, Master Li Hongzhi
(Minghui.org)
Background
On special occasions each year, greetings for Mr. Li Hongzhi, founder of Falun Gong, pour into the Minghui website from Falun Gong practitioners across the world. And there's no bigger occasion for Chinese families than the annual Lunar New Year celebrations, a time to rest and reflect upon life's blessings, and to offer thanks to those who have helped along the way.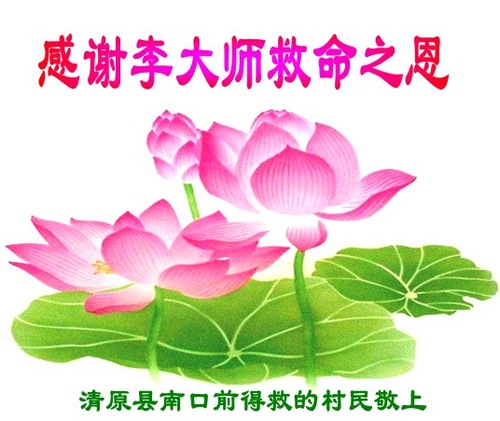 _Thank you Master Li for saving our lives! Respectfully, villagers from Nankouqian Town, Qingyuan County, Liaoning Province who survived the disastrous flood of August 16, 2013
"Respect the teacher and value the Tao," as stated in Hou Han Shu (The History of the Later Han Dynasty, written 1,500 years ago), runs deep in Chinese traditions. Chinese New Year, the most important traditional Chinese holiday, is deemed the best occasion to say "thanks" and show appreciation, especially for a teacher who has provided a mind and body self-improvement path to millions.
Master Li has led practitioners through a remarkable journey of self-improvement, peaceful resistance to the brutal persecution by the Chinese Communist Party (CCP), and restoration of Chinese people's faith in good values Truth-Compassion-Tolerance.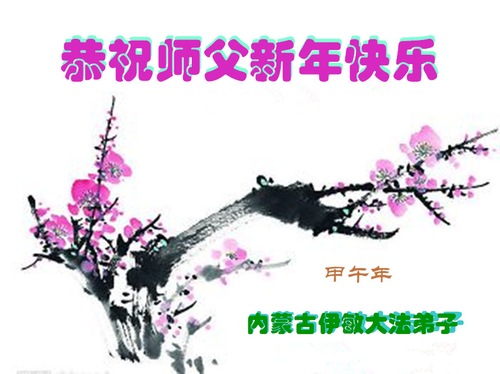 Practitioners from Yimin, Inner Mongolia, Respectfully Wish Master a Happy New Year
An estimated 180 people attended Mr. Li's first lecture in Changchun City, Jilin Province in 1992. Many public "group practice sites," where Falun Gong practitioners gathered to do exercises together, soon followed.
Falun Gong's great health benefit and principles of Truth-Compassion-Tolerance quickly spread by word of mouth. Those who heard or witnessed the marvelous effect of Falun Gong eagerly sought out tickets to Mr. Li's lecture series. Without the need for advertising, his lectures attracted thousands of people and often even filled stadiums. From 1992 to 1994, Mr. Li traveled throughout China, giving 54 talks and Falun Gong lecture series.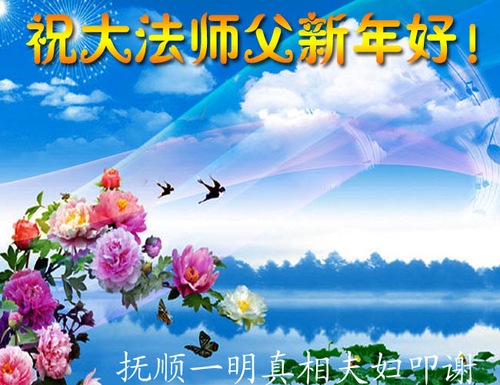 A married couple from Fushun City who have learned the truth about Dafa wish Master Li a Happy New Year
Enhanced Quality of Life
In the 1980s and 90s, Sterling Campbell was a rising star in the music industry, performing and touring as the drummer for Cyndi Lauper, Duran Duran, Soul Asylum, David Bowie, and many more. However, Campbell was heavily involved in drugs and alcohol, and was a two-pack-per-day smoker. His quality of life began to deteriorate. He tried to turn his life around by exploring Tai-Chi and yoga, but no avail.
But one morning in 1998, all that changed. During an early morning walk in a park, Campbell came across a group of people doing Falun Gong meditation, and he was handed a pamphlet with information on the practice. At first, he says, he was skeptical. "I was quite cynical about a lot of these spiritual things due to the fact that I had spent thousands of dollars on people who were putting a price on spirituality and universal matters," he recalls. "So I was pleasantly surprised when I found out that there's no price on Falun Gong – it's totally free."
The next day Campbell began practicing the Falun Gong meditation and reading its primary text, Zhuan Falun. "I felt I was in the presence of something very unique and immense. I knew that I had found the truth I'd been searching for." he says.
To his amazement, within a month of practicing Falun Gong, Campbell no longer had any desire for cigarettes, drugs, or alcohol.
Through consistent and dedicated practice, students of Falun Gong aspire to achieve a state of selflessness, greater insight and awareness, inner purity, and balance—the inner workings of what might be called true health.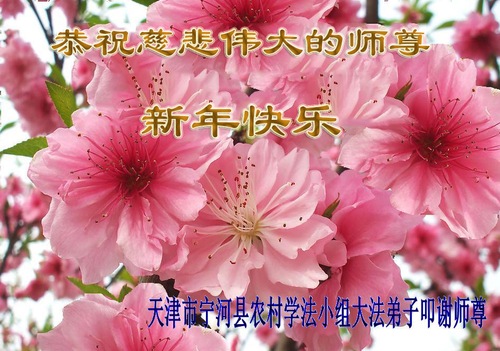 Practitioners from a study group in the countryside of Ninghe County, Tianjin, respectfully wish Master Li a Happy New Year
Weathering a Violent Storm
In 1999, the Chinese regime launched the persecution of Falun Gong. Practitioners in China were arrested in large numbers and hauled off to brainwashing centers, labor camps, and prisons. Thousands died as a result of torture. A nationwide propaganda campaign inundated the public media with slander targeting Falun Gong.
The seeds of Truth-Compassion-Tolerance Mr. Li had planted in the hearts of his students grew stronger and survived the most violent storm.
The Minghui website documents many cases of how practitioners resort to their belief and core principles to deter persecution and even help the perpetrators by changing their hearts .
At the time of the Chinese New Year, practitioners both outside and inside of China, including those incarcerated, wish to say "thanks" to a special teacher who has enriched their lives.
Wishing a Happy Chinese New Year to Master Li, and to all of our readers around the world!