Mr. Li Gangfeng Arrested Five Times
January 26, 2014 | By a Minghui correspondent from Anhui Province, China
(Minghui.org) Mr. Li Gangfeng has been arrested five times over the past 14 years, beginning when he was in college. He has been held in detention centers, forced labor camps, and prisons. His present whereabouts are currently unknown. This is his story and an account of what he has endured.
1. Arrested for Petitioning in Beijing on Behalf of Falun Dafa, 1999
Mr. Li, like many practitioners who were concerned about the persecution, went to Beijing to petition for the right to practice, and to tell government officials the facts about Falun Dafa.
He was arrested, taken to Anhui Province's Beijing Office, and beaten. He was then escorted back to Anhui Province and detained for 15 days in the Luosigang Detention Center in Hefei City. Guards there ordered criminals to verbally abuse and beat him. He was forced to do hard labor for 10-20 hours per day.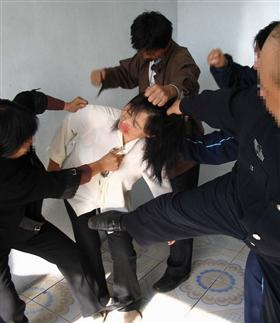 Torture reenactment: Beating
2. Reported by Internet Cafe Owner, October 2000
Mr. Li and a friend went to an Internet cafe in Feidong County so that they could access the Minghui website. The owner, who didn't know the true situation about Falun Gong, reported them to the authorities.
The police arrested them, took them to Chengdong Police Station, and tortured them while interrogating them. They managed to remove their handcuffs and escape before dawn.
3. Arrested, Tortured, and Taken to Feidong County Detention Center
Officers arrested Mr. Li a few days later in the vicinity of the Agricultural University. In order to find out where his friend was, they tortured him in the police station until he was covered with injuries and on the verge of death, but he didn't say anything.
Mr. Li was then taken to the Feidong County Detention Center, where he held a hunger strike to protest the injustice. The guards there force-fed him multiple times. Due to his resistance, the guards used handcuffs and irons to shackle his hands and legs together for many days. He wasn't able to stand up or walk for several days after being released from the shackles.
4. Nanhu Forced Labor Camp, Spring 2001
The Feidong police fabricated charges against Mr. Li and sentenced him to a year of forced labor, after he had been detained for many months, in the spring of 2001. He was taken to Nanhu Forced Labor Camp in Xuancheng City, Anhui Province, where he was verbally abused, beaten, and forced to stand for long periods of time. He was also forced to do farm labor for long periods of time.
5. Fourth Arrest at Agricultural University, October 2002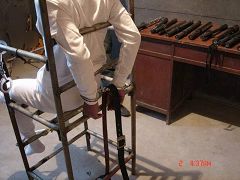 Torture reenactment: Arms handcuffed Behind Chair
The Hefei City 610 Office and Public Security Bureau sent agents to arrest Mr. Li for the fourth time at the Agricultural University. He was handcuffed to an iron chair with his arms behind his back in a secret interrogation room for more than ten days. He was kicked and his eyes poked to prevent him from sleeping.
Mr. Li developed edema throughout his body, and his thinking became muddled as a result of sleep deprivation and torture. The handcuffs bore deeply into his swollen flesh and he looked horrible.
6. Three Years in Suzhou No. 3 Prison
Mr. Li had been detained for almost a year when the 610 Office sentenced him without any evidence to a three-year prison term in August 2003. He was taken to the Suzhou City Third Prison in Anhui Province. Guards there directed collaborators to persecute him because he refused to be "transformed" and give up his belief in Falun Dafa.
He was subjected to beatings, forced labor, brainwashing, solitary confinement, and other forms of inhuman torture. He was handcuffed and his feet shackled for 1-3 months at a time.
After Mr. Li was released in 2005, he had constant headaches.
7. Present Whereabouts Unknown
Mr. Li was arrested for the fifth time by the 610 Office on the afternoon of September 22, 2009. His present whereabouts are unknown.
Summary of Key Persecution Facts:
Name: Li Gangfeng (李刚峰)
Gender: Male
Age: 34
Address: Feidong County, Anhui Province
Occupation: Computer and accessories retailer
Date of Most Recent Arrest: September 22, 2009
Most Recent Place of Detention: Unknown
City: Hefei
Province: Anhui
Persecution Suffered: Sleep deprivation, forced labor, beatings, imprisonment, solitary confinement, torture, force-feedings, physical restraint
Related article:
Mr. Li Gangfeng Endures Endless Brutal Torture during the Prime of His Life