German Newspaper Reports a Practitioner's Story and His Efforts to Rescue a Friend in China
(Minghui.org) Ruhr Nachrichten (Ruhr News), the largest local newspaper in Dortmund, Germany, ran a story on January 13, 2014, about a Chinese Falun Gong practitioner.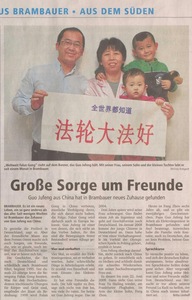 Ruhr Nachrichten reported on Chinese Falun Dafa practitioner Guo Jufeng and his family. In the photo, his family is holding a banner that says,"The whole world knows Falun Dafa is good" in Chinese.
The story, titled "Very Worried about His Friend," started with Mr. Guo Jefeng's new life in Germany, where, unlike in China, he can enjoy great freedom. But he was very worried about his friend back in China, who shares his belief and is still subject to the torture and suppression he once experienced.
Mr. Guo's journey started back in 1995, when he began to practice Falun Dafa. He was 22 years old and a college student. The tyrannical Chinese Communist Party saw the practice as a threat to its rule and banned it in 1999. Those who refuse to give up that belief are persecuted. But the persecution in China has made Falun Dafa well known throughout the Western world. Mr. Guo is one of those who are against the ban, because the practice has already become a part of his life.
The story shared with readers the torture Mr. Guo was subjected to in China. The electrical engineer said he was held in forced labor camps four times. Those were frightening times. He was locked in a small cell and shocked with electric batons.
He had a girlfriend at the time. A lot of people tried to persuade her to leave him, but she was brave and sided with him every time. They married in 2004. Three years later, his wife was pregnant, and Guo found a new job. His company sent him on a business trip to Germany in 2008.
"It was when the persecution of Falun Gong peaked before the Beijing Olympics." the young man said. He struggled with the idea for a long time and finally decided to stay in Germany, hoping that his family could come in the future.
On June 22, 2009, his son jumped into his arms and the family reunited at Frankfurt International Airport.
Mr. Guo embraces the German culture by learning the language and making friends. After some effort, he found an engineering job and the family added a lovely daughter. But he can't forget his friend Mr. Lu Kaili in China. Lu has been jailed for years. Mr. Guo is looking for help to rescue him.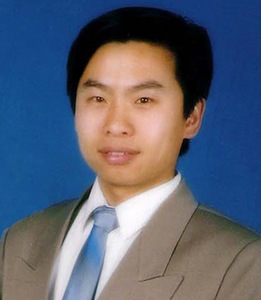 Falun Gong practitioner Lu Kaili is still illegally detained by the Chinese regime.
A Frankfurt German Human Rights Organization, IGFM, confirmed that Mr. Lu Kaili is an engineer in Dalian City, China. He started to appeal for Falun Gong in 2000. He was jailed in several forced labor camps, where he was mistreated and tortured.
In 2006, he was sentenced to ten years in prison. He was initially sent to Ying Kou City Prison in Liaoning Province. Later, he was transferred to the Pan Jin City Prison, where he was shocked daily with electric batons for hours until almost no good skin could be found on him.
During the beatings, his spinal cord was severed, paralyzing him from the waist down and making him incontinent. In 2012, he was transferred to Jin Zhou City Prison. For the four years he has been paralyzed, his family visited the prison 23 times but wasn't allowed to see him.
Background
Falun Dafa (also called Falun Gong), founded by Mr. Li Hongzhi, is an advanced self-cultivation practice based on Buddhist teachings. The foundation of the discipline is assimilation to the highest qualities of the universe—Truthfulness-Compassion-Forbearance.
Master Li's teachings are set forth in a number of texts, among which are Zhuan Falun, Essentials for Further Advancement , and Hong Yin. These and other works have been translated into 38 languages and are published and distributed worldwide.