Accomplished Artists Praise Shen Yun for Its Power to Awe
January 22, 2014 | By Zhang Yun, a Minghui correspondent
(Minghui.org) In addition to 10 performances in New York, Shen Yun Performing Arts concluded 19 additional shows between January 11 and 19 in Hamilton, Kitchener-Waterloo and Mississauga, Canada; Chattanooga, Tennessee; Baltimore, Maryland; and Portland, Oregon.
Artists sang high praises for Shen Yun's techniques as well as its genuine, in-depth expression of traditional Chinese culture.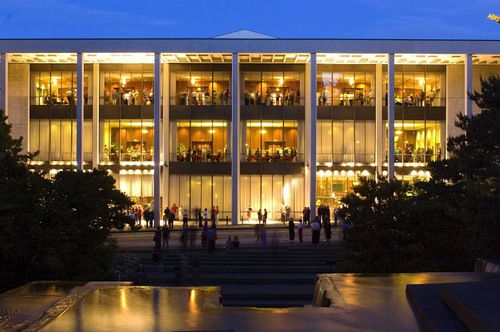 Exterior of the Keller Auditorium in Portland, Oregon, where Shen Yun performed January 17-19.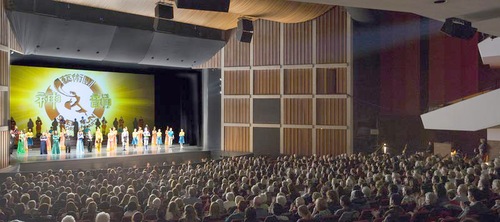 A scene at the Hamilton Place Theatre in January 2014
"The Power to Awe"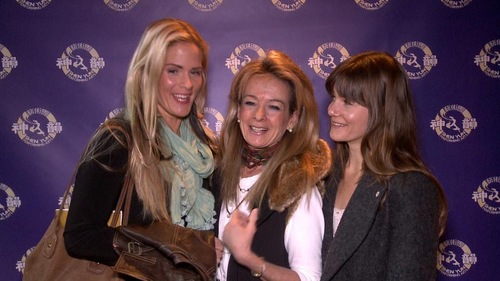 Left to right: Tanya Jean Peterson, a painter and sculptor; her mother, Trisha Romance, an acclaimed painter; and her sister, Whitney Peterson, a musician, attended Shen Yun Performing Arts at Hamilton Place on January 12, 2014.
Accomplished painter Trisha Romance took in Shen Yun's final 2014 performance at the Hamilton Place Theatre on January 12, leaving with a new-found affection for China's cultural heritage.
"It was true art and true artistry because it had color, it had form, it had, of course, amazing storytelling, and awe. It had the power to awe. That is great artistry—art at its best," she said.
Ms. Romance is a member of the Order of Ontario and winner of the Canadian Artist of the Year Award four consecutive years from 1995 to 1998. In 2010 she carried the Olympic Torch through her adopted home of Niagara-on-the-Lake, where she also owns an art gallery.
Ms. Romance said the rainbow of colors presented by Shen Yun was stunning. "These are things we see in our dreams. It's not something you normally see on stage."
"I was blown away first of all by the use of animation," Ms. Romance said. "In fact, this is really funny: After intermission, I kid you not, I came back and I almost went to put my seatbelt on... That goes to show you how much it was capable of lifting you out of your seat... It felt like you're on a ride."
Rather than one or two dancers on stage for a piece, Shen Yun features large-scale dances. Overall, the entire cast of performers includes some 100 dancers, singers, and musicians. That scale of talent impressed Ms. Romance.
"We are used to seeing a principal dancer, one principal dancer in a ballet, but to see all of them principal dancers… they are so identical in their movement. I said, 'How can humans do this?' It was superhuman, it was amazing."
"It gave me a deeper sense of Chinese culture," said Ms. Romance. "Very spiritual message, actually. It was wonderful to see the freedom that they were able to express about spirituality and I appreciated that as well."
Celebration of Life and Honoring China's Traditions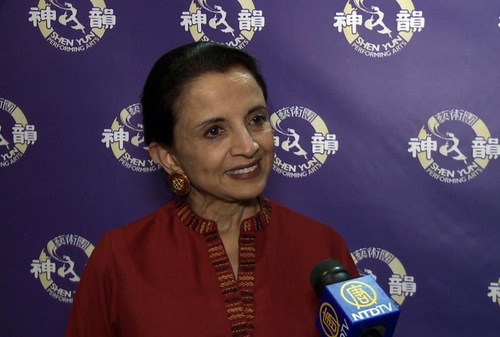 Acclaimed dancer Lata Pada described Shen Yun Performing Arts as "spectacular, enriching, and truly, truly beautiful" after seeing Shen Yun at its sold-out performance at the Living Arts Centre in Mississauga, Canada on January 17, 2014.
Lata Pada, the artistic director and principal choreographer of Sampradaya Dance Creations, as well as the principal teacher of Sampradaya Dance Academy, is among Canada's foremost experts in South Asian dance.
"I think what they conveyed is a sense of peace, a sense of meditation, and celebrating life and acknowledging and honoring China and its traditions," Ms. Pada said. "It's about human dignity and it's about human spirit, that in spite of all the challenges and obstacles, that people should be given the freedom to practice what they believe in."
She described Shen Yun as "spectacular, enriching, and truly, truly beautiful." She commented, "There's so much variety that nothing was predictable and nothing got monotonous. Every piece was so different."
Ms. Pada was made a Member to the Order of Canada in 2008, the first South Asian artist ever to receive that honor. In 2011, the President of India awarded her the Pravasi Bharatiya Samman to honor her "exceptional and meritorious contribution" to the arts. In addition to teaching at her own academy, she is an adjunct professor in the Master's Program of Dance at York University.
Ms. Pada said Shen Yun's dancing was both unique and exceptional. "It was beautiful, the choreography was lovely and it was so different from anything that I've seen before."
"The technique of Chinese classical dance is also very unique because it has this very light lifting of the body and yet very dynamic acrobatic body movements—very beautiful," she added.
She also appreciated the expressiveness of the dramatic element of the performance, something that marks a significant difference from Western and other dance forms, though Indian dance is unique for its own facial expressions. "Incredibly graceful, the movement was lyrical and yet physical and that is the combination that was so wonderful."
"As a dance choreographer I kept thinking, 'How do they travel with all of this and keep it straight so that the right dancer gets the right costume?' So many accessories also that were used. It was just beautiful."
"Exquisite" and "Perfect"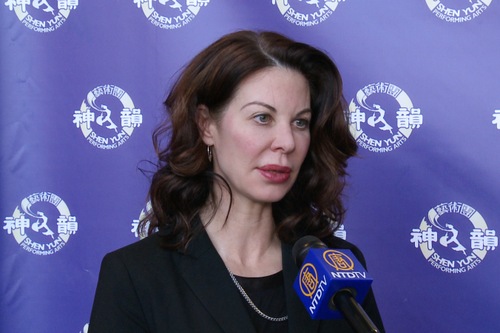 Katherine Latcham, a former dancer with the National Ballet of Canada, was impressed by the precision and professionalism of Shen Yun's performers at the Living Arts Centre in Mississauga on January 18, 2014.
As a former dancer with the National Ballet of Canada, Katherine Latcham appreciated the grace and beauty of the dance pieces presented by Shen Yun Performing Arts at the Living Arts Centre in Mississauga on Saturday, January 18.
"It was an absolutely exquisite performance, the lines were so clean, the dancers so focused, the costumes very authentic historically, the music was just brilliant," she said. "The symmetry was right on, it was spot on, it was perfect—everything was just brilliant."
"It was just beautiful, the rhythm, everything was perfect. It was just such an experience, so delightful," she added.
Enchanted by Shen Yun's Depiction of Chinese Culture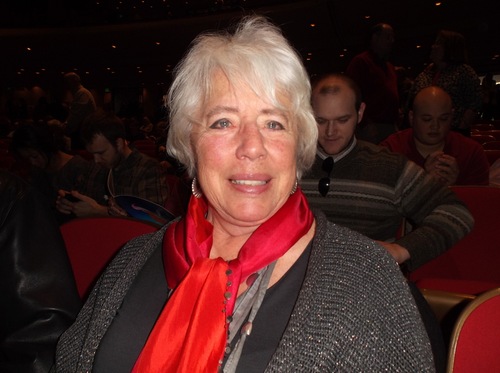 Ms. Ann Bullwinkel saw Shen Yun at the Keller Auditorium in Portland, Oregon on January 18.
"I'm very, very enchanted with the depiction of the history of Chinese culture," said artist Ann Bullwinkel after seeing Shen Yun Performing Arts at the Keller Auditorium in Portland, January 18.
As an artist, Ms. Bullwinkel specializes in Oregon's classic landscapes on large canvases. Her work has been featured in over a dozen corporate art collections. She has also travelled to China six times, but said she sensed a part of the culture in the New York-based Shen Yun she had not found in the present day China.
"I sensed there was a much deeper—much more meaning to the whole country," Ms. Bullwinkel said. "It's very rich and very penetrating."
She added that the entire performance emanates "the feeling, tone and the beauty, just sheer beauty of the history."
The traditional values, like good-versus-evil, are present in the stories told through Shen Yun's mini-dramas as well. Ms. Bullwinkel said she particularly loved the stories told through dance and found them delightful: "The whole way through, the performance is just magnificent."
"Incredible Dancers"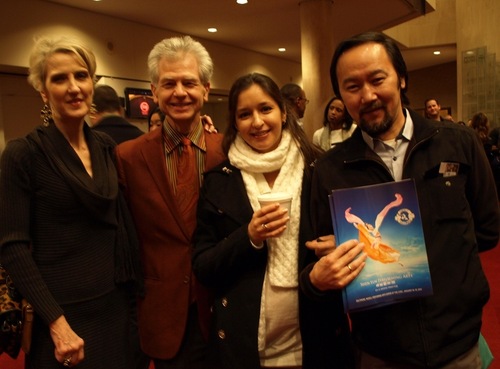 Experienced dancers Mr. Bat Udval (right), Ms. Evgenia Singur (second right) and Ms. Lucy Henningfield (left), attended Shen Yun in Baltimore, Maryland with Mr. Jack E.Henningfield (second left).
Seasoned dancers Bat Udval, Evgenia Singur and Lucy Henningfield attended the Shen Yun performance on January 18, 2014.
Mr. Udval is a former principal dancer with the Russian Ballet Theater and was inducted into the Hall of Fame as one of the world's greatest male dancers. He praised Shen Yun dancers as "incredible dancers."
Ms. Singur, Mr. Udval's wife and a former principal dancer for the Russian State Ballet in Moscow, liked the show and complimented the quality of its techniques.
Lucy Henningfield is on the board of Baltimore Ballet and formerly Artistic Director at the Ballet School of Glyndon. She considered the spiritual elements of Chinese culture very important: "I think it's a really quite important aspect of telling what is identifiable with the culture. That's an important part of it. I like the way they have the spirits come down from the sky."
Shen Yun performances at the Kennedy Center Opera House in Washington DC start Tuesday, January 21 and continue through Sunday, January 26. For more information about Shen Yun, including all 2014 tour dates and locations, please visit ShenYunPerformingArts.org.