Ms. Liu Fang Sentenced to Seven Years in Prison
January 21, 2014 | By a Minghui correspondent from Jilin Province, China
(Minghui.org) Ms. Liu Fang from Dehui City, Jilin Province, was illegally arrested for practicing Falun Gong in 2012. She was secretly sentenced to seven years in prison on December 20, 2013, after being detained for over a year. She is still held in a detention center.
Ms. Liu's father, Mr. Liu Decai, was arrested the same day as her, but was released five days later. He has not been able to see his daughter for over a year.
After receiving the unlawful verdict, Ms. Liu filed an appeal and asked her father to defend her. The court told her father to provide a certificate from the local Domestic Security Division to "to certify that he does not practice Falun Gong."
Father and Daughter Arrested and Detained
Ms. Liu used to work at the Agricultural Bank of China (Dehui Deda Sub-Branch). After she started to practice Falun Gong, her work ethic improved and she was recognized for her contribution as an exemplary employee.
After the communist regime launched a nation-wide suppression of Falun Gong, however, Ms. Liu was repeatedly arrested for her faith. She was arrested in 2005 and 2008 by the Dehui City Railway Police Station and Domestic Security Division, and sent to a forced labor camp twice—for one and a half years each time. While detained, Ms. Liu was subjected to torture.
On the afternoon of October 8, 2012, Ms. Liu was arrested again while walking on a street. Agents from the local Domestic Security Division made the arrest. Around 5 or 6 p.m., two police officers came to her house and knocked on the door. As soon as Ms. Liu's father opened the door, they rushed in and ransacked the place. When her father asked to see a search warrant, they said they would bring it later.
The police confiscated all of Ms. Liu's Falun Gong books, Shen Yun Performing Arts DVDs, the portrait of the founder of Falun Gong, an MP4 player, and 5,000 yuan in cash.
When Ms. Liu's father asked for the MP4 player back, one of the officers smashed it hard on the floor so that it broke. When he asked for the money back, Domestic Security Division head Wang Wei refused to give it back.
The police then arrested Mr. Liu and took him to the police station. Officers Lou and Zhang punched him in the head and confiscated 100 yuan and the house key from him. Then they went to search his house again.
Mr. Liu was detained at the Dehui City Detention Center. Both he and his daughter went on a hunger strike to protest the persecution.
On October 12, four days after the arrest, they were taken separately to the Dehui City Hospital for a physical examination. Mr. Liu was then brought back to the same detention facility, while his daughter was taken to another detention center.
The next day, the Domestic Security Division notified his other daughter, Ms. Liu Yang, to take him home. They kept the 5,000 yuan confiscated from his house as "bail."
Previously, Mr. Li was arrested on February 28, 2008, when Long Taiping, head of the Xinhuijie Police Station led more than 10 agents to his house. They confiscated many of his personal belongings and ransacked the place. Mr. Li was detained for 15 days and then sentenced to one year of forced labor. He was allowed to serve the term outside of prison.
False Charges, Fabricated Evidence
Two months after Mr. Li's and his daughter's most recent arrest, the Dehui City Police Department filed a case against Mr. Liu, accusing him of "breaching the laws by utilizing a cult organization." However, the prosecutor dismissed the case a month later.
Ms. Liu continued the hunger strike while being detained. She was brutally force-fed and tortured so severely that much of her hair turned gray.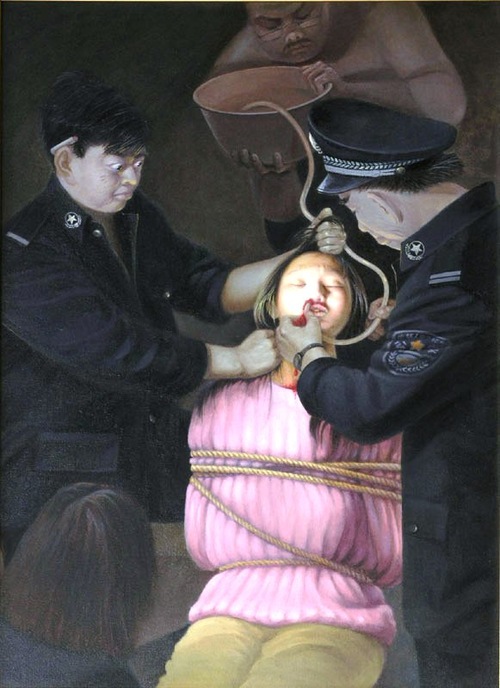 Torture re-enactment: brutal force-feeding (painting)
In December 2012, Domestic Security Division head Wang Wei plotted to intensify the persecution. The police department then filed a case against Ms. Liu with the Dehui City Procuratorate. However, the case was not accepted due to insufficient evidence.
Mr. Liu went to the Dehui Police Department many times to ask about his daughter's situation. However, the officers involved with the case refused to meet with him. He then went to the Procuratorate, but was refused entry by the guards at the gate.
The Dehui Police Department and Procuratorate colluded with each other to fabricate evidence against Ms. Liu. The Procuratorate then filed a case in court in March 2013. The court held a hearing on August 15, but only asked if the confiscated personal belongings were those of Ms. Li—without revealing what the items actually were.
Around November 20, 2013, Ms. Liu was transferred to No. 3 Detention Center in Changchun City. Without notifying her family, the court secretly sentenced her to seven years in prison.
Ms. Li has been detained for over a year. During the entire period, she's never been allowed any family visits.