Playing with Fire: Chinese Tycoon's Hidden Agenda to Rekindle Decade-Old Propaganda in New York
(Minghui.org) "If he was a philanthropist who cared so much about others, how could he ask the two severely disfigured women involved in a self-immolation case, whose identity has yet to be independently investigated, to make public appearances for the media? This was my first reaction upon seeing Hao Huijun and Chen Guo at the Chen Guangbiao press conference in New York on Tuesday."
This was the comment of Fang Bing, a reporter of Voice of America, in an article published on January 7, 2014: "Mother and Daughter disfigured in self-immolation step on the stage for Chen Guangbiao."
The Minghui website reported in January 2005 that Chen Guo and her mother Hao Huijun had been held under house arrest at the Beijiao Welfare Home in Kaifeng City, Henan Province. Zhan Jingui, a retired officer from the Kaifeng City Police Department was in charge of guarding the two.
The police watched Chen Guo and her mother around the clock to prevent any contact with the outside world. The police have privately revealed that the government is trying to take care of the two and not let them die so they can be used to attack and discredit Falun Gong at any time. Chen Guo appeared in 2002, over a year after the self-immolation in January 2001, on a CCTV (China Central Television, a major CCP mouthpiece) program, and again now in New York.
How could Chen Guangbiao so easily and casually take the two women to New York for plastic surgery? What hidden agenda did Chen bear on his trip to the U.S.? Why does the CCP keep Chen Guo and Hao Huijun alive at the risk of leaving evidence of a huge scandal?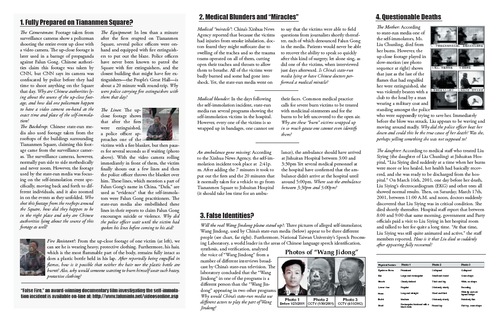 Let's take a look at an article written by an intellectual in China back in 2004: " Why did I hate Falun Gong ?"
When the author's friend pointed out that he hated Falun Gong, he was shocked. He realized that he had hated Falun Gong unconsciously and looked for the reason. It suddenly came to him: His memories of the bloody scenes attributed to Falun Gong in China's state-run media.
"I don't really watch TV, but the TV is turned on every day at home and Falun Gong is attacked all the time. I don't believe the newspapers, but who knows how many times the front page carried articles criticizing Falun Gong. In this way, and together with the fact that books related to Falun Gong could not be found in public since that July many years ago, the Falun Gong that I know about became the image portrayed by CCTV and People's Daily," Mr. Feng said. (China's state-run TV and newspaper networks)
"Thus after several years, I developed two extreme views about Falun Gong, absolute ignorance and strong negative notions. Ignorance because in my life I have read Buddhist scriptures, several parts of the Bible and even Muslim texts, but not a single word about Falun Gong's principles. Strong negative notions because I know all the so-called 'evilness' related to Falun Gong, most of them being bloody scenes not appropriate for children."
Mr. Feng came to realize, "My hatred has come from what the Communist Party told me, and my hatred towards Falun Gong actually helped Jiang Zemin's hatred towards Falun Gong. To be more direct, I became an accomplice!"
It was difficult for Mr. Feng, an intellectual with highly independent thoughts, to discern lies in the propaganda and be free of its control. It would only be more difficult for others who might not have questioned the propaganda at all. Of course, the "self-immolation incident," as it has widely been come to be known in China, was the most effective hate campaign of all.
Within a half year after the persecution launched in July 1999, CCP-controlled media published over 300,000 different reports and commentaries slandering Falun Gong. But the "self-immolation incident" – and all the horrific images broadcast in the media over and over for years – were the most tragic, not to mention the most effective.
The immolation hoax occurred 13 years ago. With that many years of grassroots efforts to inform the public that the "incident" was nothing more than a propaganda stunt staged to turn public opinion against Falun Gong, a lot more Chinese and people in the rest of the world know the facts. And independent investigations agree - it was an elaborate hoax.
This effort to resurrect the same old lies that were debunked years ago will prove futile.