Exposing the CCP's Crimes Against Humanity at Austria's Most Famous Music Festival (Photos)
September 05, 2013 | By Zheng Qing
(Minghui.org) The annual Salzburger Festspiele, which is held in the city of Salzburg for five weeks starting in late July, is Austria's most famous classical and contemporary music festival.
Top artists from around the world, including opera and theater stars, as well the world's top orchestras, flock to Salzburg to give their best performances. The festival attracts die-hard music lovers, politicians, business community leaders, and celebrities.
On August 24, several practitioners in Austria went to the festival to expose the Chinese Communist Party's (CCP) persecution of Falun Gong in China, including the crime of forced organ harvesting from living Falun Gong practitioners. They also collected petition signatures, calling for an immediate end to the persecution.
A passerby listens to a practitioner clarify the truth
In August, Salzburg Old Town is packed with tourists attending the festival. Practitioners set up informational display boards replete with photos of the Chinese regime's atrocity of live organ harvesting.
The practitioners' peaceful exercise demonstrations attracted a lot of attention, with some people asking for informational materials on the practice. Others expressed an interest in learning Falun Gong and asked for the contact information of the local practice sites.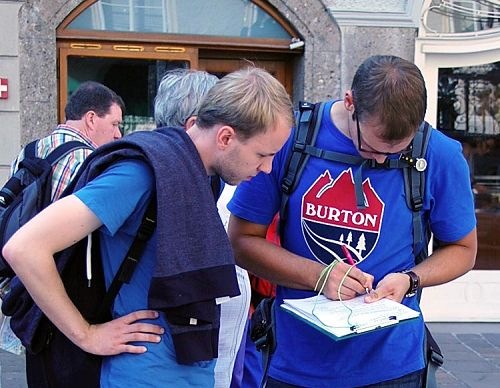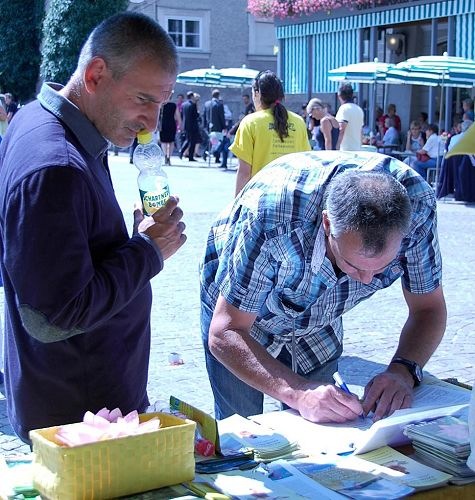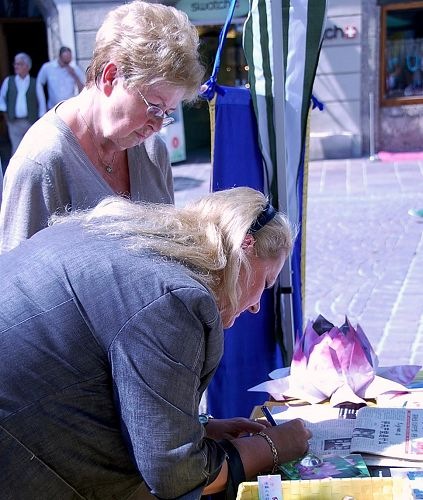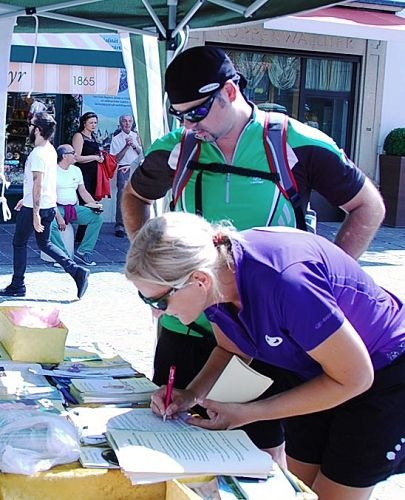 Passersby sign a petition calling on the CCP to stop organ harvesting
Most people were shocked when they heard that the entire state apparatus in China is directly involved in harvesting organs for profit. They did not hesitate to sign a petition condemning the Party's immoral and illegal actions. There were many instances of one family member signing the petition then the whole family joining in.
Ms. Jirkal, the chair of a women's club in Salzach City, told a practitioner that she had heard about the CCP's brutal persecution of Falun Gong in China. She said that she came to the festival specifically to sign the petition form, calling for an end to the Chinese regime's persecution of Falun Gong.
She left her business card with the practitioners, asking them to email her the URL of the online petition form. She said that she was going to tell her 500 colleagues in Austria about the petition and ask them to sign it online.
"It is already a well-known fact that China's state-run media only disseminates lies and disinformation; however, the issue of organ harvesting is truly horrifying!"
Some Chinese tourists accepted the booklet, Nine Commentaries on the Chinese Communist Party, while others silently read over the display boards, deep in thought.
Michael, a university student, said that during his recent six-month visit to China, he was able to clearly see through China's facade of prosperity and progress.
"I had visited many big cities in China and they all have first-class hotels and shopping centers, which are very luxurious and modern," he explained.
"But when I traveled a little into the suburbs, it's quite different. Rural areas in China are so poor and backwards that some people cannot even afford window curtains. It is a world of difference!"
He said that the practitioners efforts were essential to people finding out the true nature of the CCP.