Raising Awareness about the Persecution of Falun Gong at the University of Michigan (Photos)
September 04, 2013 | By a Falun Gong practitioner in Michigan
(Minghui.org) August 29 was the first day of fall semester at the University of Michigan and for the freshmen, it was their first day of college life.
It was a bright and pleasant day. On the University of Michigan's main campus in Ann Arbor, UM DIAG square was a bustling place. Falun Gong practitioners gathered here to raise awareness about the persecution. Many students and faculty who came across the practitioners on campus were shocked to learn that the Chinese Communist Party is forcefully harvesting organs from imprisoned Falun Gong practitioners and signed a petition calling for an immediate end to this atrocity.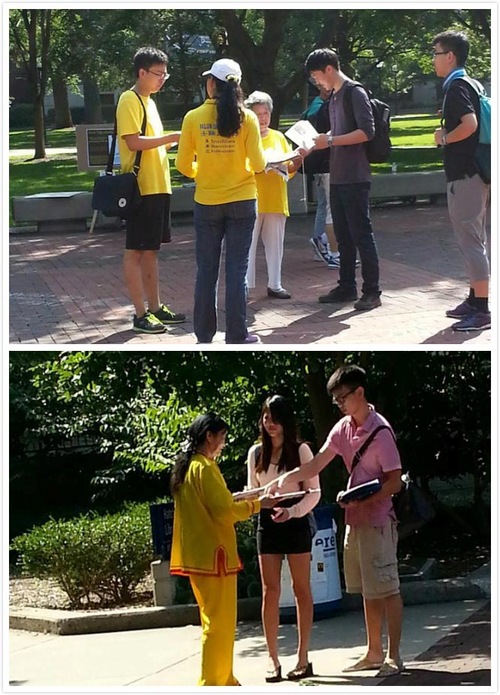 Chinese international students sign a petition to end the persecution of Falun Gong.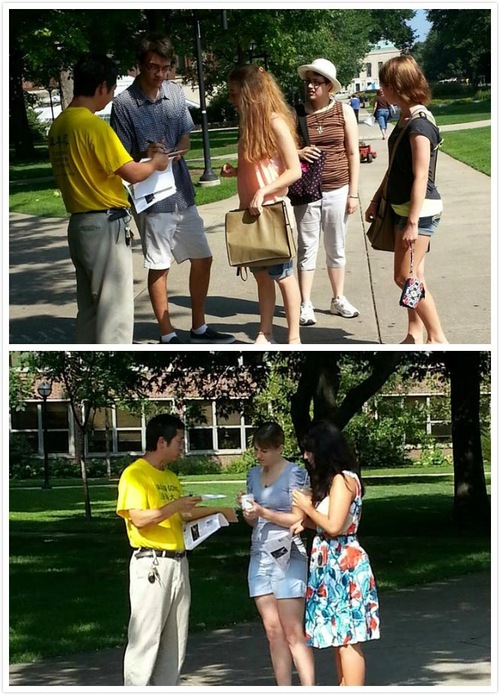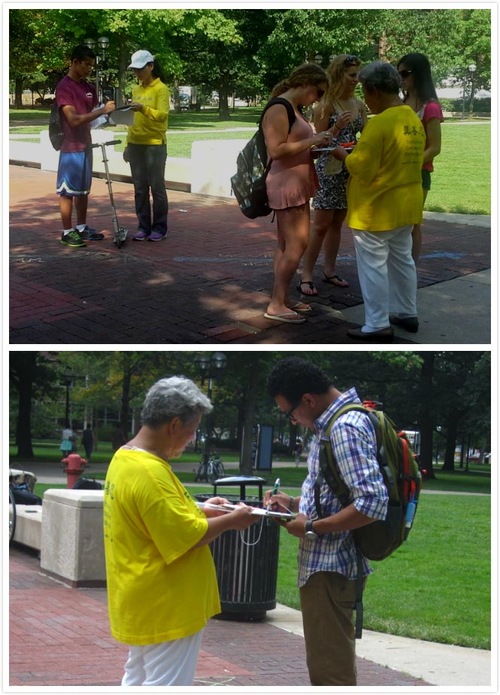 Students sign a petition to end the persecution of Falun Gong.
"I Will Email My Representative"
When engineering student James Kachman heard about the Chinese Communist Party's organ harvesting crimes, he said, "To be honest, I'm not that surprised. I know the Chinese government does a lot of terrible things. But I didn't know they even take people's organs.
"I will check out House Resolution 281. I will try to write to my representative to express my concern over this issue."
Chinese International Students Thanked Practitioners
A Chinese student took a flier and began to read it. He then talked to a practitioner for about an hour. From the conversation, he learned that Falun Gong teaches higher moral principles and that it is nothing like what the Chinese government portrays. He said that he respected the practitioners for their perseverance and courage. He shook hands with the practitioner and thanked him.
There were also many international students from Taiwan and Hong Kong who stopped to ask about the persecution in China. Two students from Hong Kong saw the display boards and asked, "What is it about?" The practitioners told them it was about the live organ harvesting crimes in China and the signature drive to stop this atrocity. They studied the information and then signed the petition to show their support.
I Want to Read Zhuan Falun
In addition to learning about the persecution, many students were interested in learning more about Falun Gong.
A female student from Hong Kong asked, "Can you please tell me what Falun Gong is? What is its origin?" A practitioner explained a little about the history of Falun Gong, how Falun Gong is rooted in ancient Chinese culture, and how the teachings are based on the universe's fundamental principles of Truthfulness, Compassion, and Forbearance.
Two students listened carefully. They took some fliers and said that they wanted to read the book Zhuan Falun.