Nine Hundred Wuhan Residents Sign Petition to Rescue Falun Gong Practitioner Liu Jinzhi
September 24, 2013 | By a Minghui correspondent from Hubei Province, China
(Minghui.org) Ms. Liu Jinzhi from the Jiangxia District in Wuhan City, along with three other practitioners, Wu Mei, Hu Dongsheng, and Sun Zuying, were arrested on June 1, 2013, by Shanpo police. The four practitioners were driving to Shanpo to distribute information explaining the facts about Falun Gong.
Ms. Liu's family hired an attorney to defend her, but the National Security Police and the Chinese Communist Party (CCP) judicial system obstructed justice. Nine hundred people in the Jiangxia District of Wuhan City have so far signed a petition calling for Ms. Liu Jinzhi's release.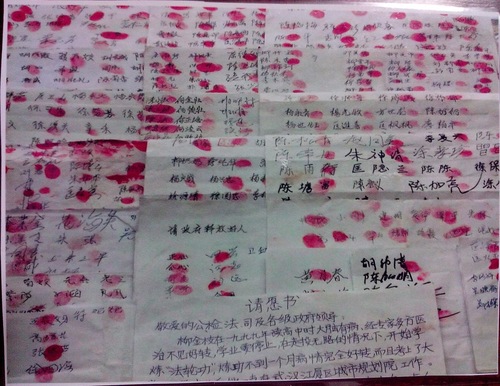 Signatures and fingerprints of 900 people from the Jiangxia District
Grassroots Resistance
The CCP has brutally persecuted Falun Gong practitioners for 14 years. As more and more people have come to understand the truth about Falun Gong, and see the reality of the persecution, the CCP has become increasingly unpopular. Local residents sign and give their fingerprints to support Falun Gong practitioners and call for an end to the persecution.
Sharing the Benefits
Ms. Liu discovered Falun Dafa when she was ill in high school. The practice enabled her to regain her health, go on to study at a university, and then secure a job at the Jiangxia District City Planning Institute in Wuhan City. She followed the principles of Truthfulness-Compassion-Forbearance in her daily life, and had a very good reputation for her excellent work and kind nature.
As a Falun Gong practitioner, Ms. Liu strived to think of others first, and wanted to share the greatness of Falun Dafa with everyone. On the morning of June 1, 2013, she and three other practitioners went to Shanpo Town to clarify the truth about Falun Dafa, but were arrested by the Shanpo Police.
Arrested
On June 2, Ms. Liu, Wu Mei, and Sun Zuying were detained at the First Detention Center in Dongxihu, Wuhan City. Practitioner Mr. Hu Dongsheng was detained at the Jiangxia District Detention Center and his car was seized for 40 days. Two packs of expensive cigarettes were extorted from his family before they finally got the car back.
Families Harassed
Ms. Liu is now in danger of losing her job. To rescue her, her family visited the district government, courts, and Procuratorate. Not only were they not admitted to these offices, they were threatened, and money was extorted from them. Some family members were detained and denied any food while they were in custody.
A young police officer from the National Security Team (+86-13871269108 (Cell)) told them to bring money and talk to him if they wanted to get Ms. Liu released.
When practitioner Wu Mei 's sister-in-law argued with the Zhifang police, she was beaten, and suffered a broken rib. She is still hospitalized and the police are refusing to pay her medical expenses.
For over two months, family members kept going back and forth between the Jiangxia District CCP Political and Legal Affairs Committee, 610 Office, National Security Team, and Shanpo Police Station, but they haven't been able to see the practitioners.
Attorney Given the Runaround
Mr. Hu Dongsheng's family hired an attorney to defend him. The attorney went to the detention center to visit Mr. Hu on the morning of July 24, but the detention center notified the judicial department to prevent the attorney from seeing him. The attorney had to conduct complex negotiations before he was allowed to see Mr. Hu.
On the afternoon of July 24, the attorney asked to meet with the prosecutor from the Jiangxia District Procuratorate in charge of the case. This was a normal and reasonable request, but the prosecutor refused to see the attorney. The attorney had to call the prosecutor to find out if the case was still in the police investigation stage, and if the Jiangxia District Procuratorate had approved the arrests.
To avoid being held responsible, the prosecutor told the attorney and the family to talk to the Jiangxia District National Security Team. When they went to the National Security Team, the person in charge of the case would not communicate with them rationally, was very rude, and walked away.
The same thing happened with Ms. Liu's family. They tried for many days to secure her release, but got no response from the judicial system. They finally wrote a petition letter and collected signatures and fingerprints from people in Jiangxia District. Approximately nine hundred people offered their support by signing the petition with their fingerprints.
Petition Letter:
Officials of the police department, Procuratorate and court, and government leaders of all levels,
Liu Jinzhi had a brain illness in 1999 while still in high school. She went through many expert medical treatments but did not improve. She was desperate and about to drop out of school, when she heard about Falun Dafa's miraculous ability to heal and strengthen the body. She started to practice, and in less than a month she had recovered. She passed her exams and was admitted to a university. After graduation, she worked at the Jiangxia District City Planning Institute in Wuhan City. She followed the principles of Truthfulness-Compassion-Forbearance to be a good person, and gained a very good reputation for her excellent performance and kind demeanor.
She and three other practitioners were arrested on June 1, 2013, by the Shanpo police, for explaining the facts about Falun Gong in Shanpo Town. She has since been detained at the Dongxihu Women's Detention Center in Wuhan City. It is not easy for a girl from the countryside to be admitted to a university and find a job. She is now in danger of losing her job. In order to safeguard her basic human rights and the justice and conscience of society, we beg the leaders to release Liu Jinzhi as soon as possible. Please free her and let her return home!