Malaysia: A Weekend of Sharing and Learning Together (Photos)
(Minghui.org) Cherished as a major part of Falun Dafa cultivation practice are regular gatherings among practitioners, where they study the teachings of Falun Dafa together and share their cultivation experiences. These meetings help practitioners learn from each other and encourage each person on their individual cultivation path.
Falun Gong practitioners in Malaysia held their annual group Fa study and experience sharing conference at Genting, in the Malaysian Highlands on September 14-16, 2013. In a number of prepared speeches at the gathering, practitioners shared how they do the three things, search within in the face of conflicts, eliminate selfishness, and develop compassion in the process of clarifying the truth.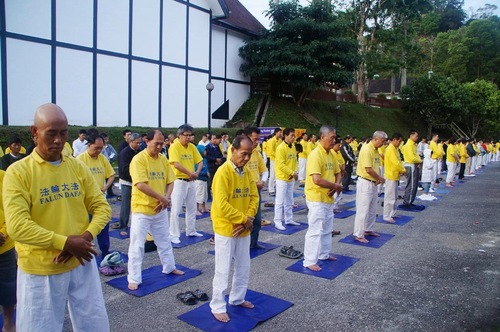 Practicing the Falun Gong exercises together at the Falun Dafa Cultivation Experience Sharing Conference in Genting, Malaysia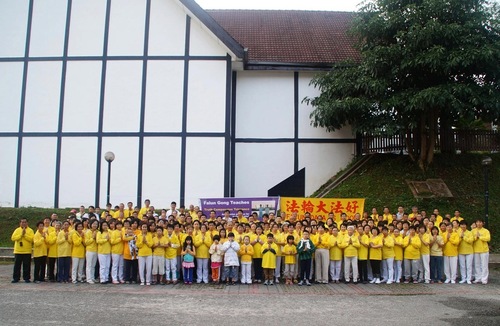 Practitioners wish Master Li Hongzhi a happy mid-autumn festival.
Every practitioner at the conference has a different story. Diana, from Kelantan, Malaysia, brought her son and daughter to the conference. She started practicing Falun Gong last May. Diana shared that before she began practicing, she often had severe pain in her feet, and sometimes she could barely get around. She said, "Every time I practice the second Falun Gong exercise, I feel heat in my feet, like I'm standing on a stove top. After practicing a while, the pain in my feet disappeared completely. My husband, a Buddhist, was amazed by it and supports my Falun Gong practice. He bought airplane tickets for us, and encouraged me to take our children to the conference."
Ms. Liu Yuming, from Vietnam, began practicing Falun Dafa two years ago. She shared her story in a prepared speech at the conference. She said that before she began practicing Falun Gong, she had no strength in her arms. She could not even wash her clothes, and her parents and sister had to take care of her. After practicing Falun Gong, Ms. Liu could eventually handle all kinds of housework. She can sometimes work as much as 12 hours a day. She has been amazed by the tremendous power of the practice.
Ms. Liu moved to Malaysia after she started practicing Falun Gong. When she first arrived in Malaysia, she didn't know any local practitioners. But she studied the Fa, did the exercises, and sent forth righteous thoughts every day. Many of her friends didn't understand her, and some even tried to pressure her to stop the practice. But she persisted, as this was the path she had chosen. Five months later, Ms. Liu found local practitioners in a park, and now greatly enjoys the positive cultivation environment.
Mr. Yang, one of the organizers of the Fa conference, said that there were many more new practitioners at the conference this year. He added, "The experience sharing speeches were even better than prior years, and I can tell that practitioners' understanding of the Fa has truly improved."
Mr. Lin, another organizer, was also struck by new practitioners' mature understanding of the Fa.
Near the end of the conference, practitioners posed for a group photo and wished Master Li Hongzhi, the founder of Falun Gong, a happy mid-autumn festival.
After the conference concluded, practitioners shared how much they benefited from getting together. Several said that they could see where they fell short in cultivation, and now felt encouraged and determined to continue improving.