Detroit, Michigan: Widespread Public Support to Stop Forced Organ Harvesting in China (Photos)
September 02, 2013 | By a practitioner in Michigan, USA
(Minghui.org) The Woodward Dream Cruise, held in Detroit, Michigan, is the largest classic car event in the United States. About 50,000 classic cars cruised down a 17-mile stretch of Woodward Avenue on August 17, 2013, attracting 1.3 million spectators.
Falun Gong practitioners in Michigan used this opportunity to raise awareness about the Chinese communist regime's horrific crimes against humanity, including forced organ harvesting from prisoners of conscience.
Thousands of Falun Gong practitioners in China have been killed for their organs, which were then sold for transplantation surgeries, raking up the profits for the communist regime. According to eyewitness accounts, some had organs extracted while they were still alive.
Practitioners, wearing yellow T-shirts, stood along the main intersections and sidewalks of Woodward Avenue to collect petition signatures to put an end to forced organ harvesting in China.
Many people were shocked at the brutality of this crime and gladly signed the petition to show their support of the practitioners' efforts.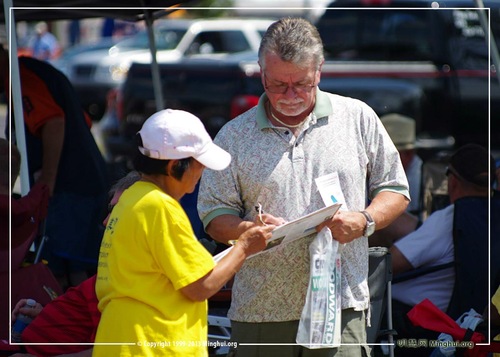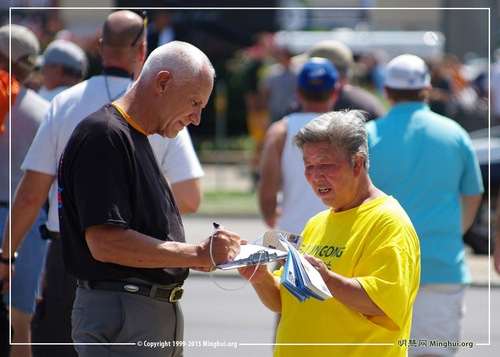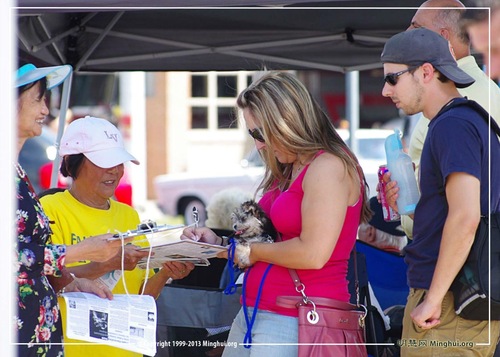 Falun Gong practitioners in Detroit, Michigan, collect petition signatures to stop forced organ harvesting in China.
"You're Doing Something Remarkable!"
"It's horrible!" was heard many times throughout the day, as people learned about and condemned the practice forced organ harvesting deployed by the Chinese communist regime.
Many thanked practitioners for their efforts to raise awareness about this issue, and some took the initiative to encourage family members and friends to sign the petition after signing themselves.
Kathleen Williams works for General Motors. After signing the petition, she praised the practitioners' signature drive and said they were courageous.
"It's disgusting!" exclaimed another woman in reference to the crime of forced organ harvesting in China. After placing her signature on the petition, she brought over her husband so that he could also sign.
Several women sat on the roadside admiring the parade of classic cars when a practitioner approached them to ask if they would like to sign the petition. Upon learning the facts, one lady immediately said, "I certainly have to sign! It's terrible! We must stop this crime!" She took the paper from the practitioner and quickly wrote down her name and address.
Five of her companions also signed the petition. The lady made a thumbs-up gesture and said to the practitioner, "You're doing something remarkable!"
People Support Practitioners' Tireless Efforts
A young man walked up to a practitioner and asked to sign the petition. He said he was from Toronto, Canada, and had seen Falun Gong practitioners holding peaceful protests in front of the Chinese Consulate in Toronto for years. He expressed his admiration and support for practitioners' tireless efforts to stop the Chinese communist regime's brutal persecution of Falun Gong.
A firefighter was eager to learn about Falun Gong. He signed the petition and asked many questions about forced organ harvesting and the persecution of Falun Gong in China. He expressed interest in learning Falun Gong and said that he would read more information online.
The Detroit News Publishes a Practitioner's Letter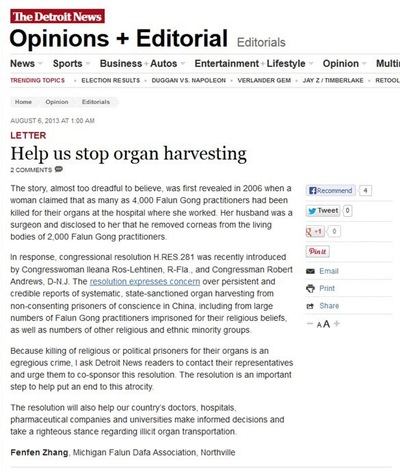 The Detroit News published a Falun Gong practitioner's letter, calling to end forced organ harvesting in China.
Falun Gong practitioners in Michigan have attended various public events throughout the summer to collect signatures to end forced organ harvesting from living Falun Gong practitioners in China. Local residents have been very supportive of these efforts.
The Detroit News, the second largest newspaper in Michigan, published a letter from Ms. Zhang, a local Falun Gong practitioner, on August 6, 2013. The title of the letter is, "Help us stop organ harvesting."
In her letter, Ms. Zhang called upon readers to contact their congressional representatives and urge them to co-sponsor House Resolution No. 281. The resolution, which was recently introduced in U.S. Congress, calls on China to immediate stop the practice of organ harvesting from prisoners of consciousness, most of whom are Falun Gong practitioners.
The resolution is "an important step to help put an end to this atrocity," said Ms. Zhang, and will help people "make informed decisions and take a righteous stance" on this issue.
A reader wrote the following comment after viewing the article online: "I'm a graduate of the University of Michigan. I fully agree. I believe that in the near future, this thing [the truth about illicit organ harvesting in China] will be spread in the United States."