Finland: Exposing Chinese Regime's Crimes During Human Rights Awareness Day (Photos)
September 16, 2013 | By a practitioner in Finland
(Minghui.org) Finland's annual Human Rights Awareness Day was held in the city of Rovaniemi on September 7, 2013. Falun Gong practitioners in northern Finland used this opportunity to expose the Chinese regime's14-year-long persecution of Falun Gong and to collect signatures condemning the regime's crime of harvesting organs from living Falun Gong practitioners.
The city of Rovaniemi lies at the confluence of two majestic rivers, on the northern border of the Arctic Circle. Featuring eight different seasons, it is often referred to as the "hometown of Santa Claus," who can be met at any time of year in the city's Santa Claus Office.
Senseless Persecution Continues Today
The Chinese communist regime launched a brutal persecution of Falun Gong in 1999, aiming to eradicate the practice. Since then, Falun Gong practitioners worldwide have used community events to raise awareness of the regime's crimes against humanity and call for international support to end the persecution.
The regime's hatred stemmed from the fact that followers of Falun Gong—and its main principles of Truthfulness-Compassion-Forbearance—had outnumbered members of the Chinese Communist Party.
The senseless persecution has continued to this day. Thousands of imprisoned Falun Gong practitioners have been tortured, subjected to slave labor and killed for their organs to profit the communist regime.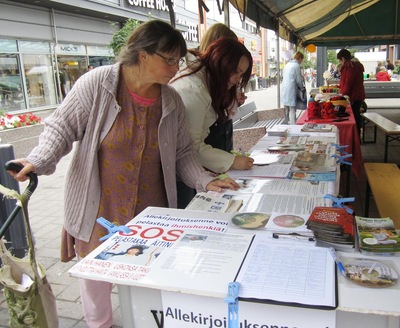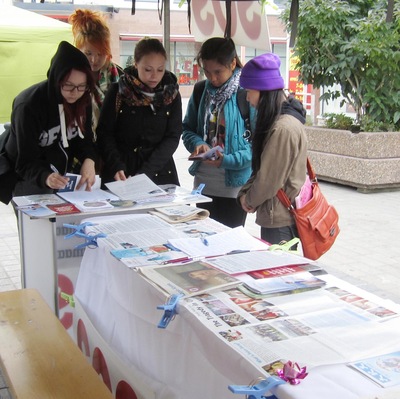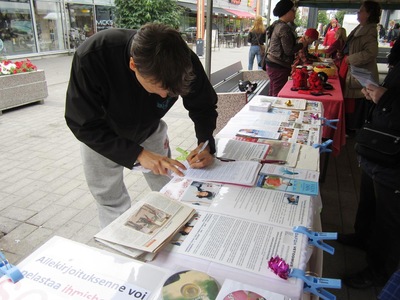 Passersby sign a petition supporting Falun Gong
Widespread Support for Falun Gong
"Why can't a group of people in China be allowed to practice Truthfulness, Compassion, and Forbearance?" asked a local resident incredulously. "It is amazing that something as evil as live organ harvesting is still allowed to exist!"
After he signed the petition, he asked for several fliers so to share the information with friends and family.
A primary school teacher, who had already heard about the persecution of Falun Gong in China, also signed the petition. She also asked if practitioners could visit her school and talk to her students about Falun Gong and the persecution.
A large group of students eagerly signed the petition and then called on their classmates to add their names to the petition as well.
An elderly man signed the petition and returned an hour later to say that he wholeheartedly supported Falun Gong and thought the Chinese regime "is composed of the most vile beings on Earth."
A mother and her two children carefully read the practitioners' informational display boards. "Nothing is more evil than live organ harvesting!" she exclaimed.
In one conversation, local Falun Gong practitioners Zhaoyu Jin and her sister Zhaohuan Jin told a woman how their mother, Zhenping Chen, is currently serving an eight-year term in Xinxiang Women's Prison in China for practicing Falun Gong.
"You must keep appealing!" said the woman as she hugged the two sisters. "You must be strong!" She signed the petition and took some fliers in Chinese to give to her Chinese friends.
Chinese version available at:http://www.minghui.org/mh/articles/2013/9/8/芬兰人权周上揭露中共活摘罪行-279257.html