Falun Gong Practitioner Mr. Feng Xingji Sentenced to a 4-Year Prison Term in Shanghai Tilanqiao Prison (Photos)
September 13, 2013 | By a Minghui correspondent from Shanghai, China
(Minghui.org) Falun Gong practitioner Mr. Feng Xingji, a material analyst from Pudong, Shanghai, was illegally sentenced to a four-year prison term by the Pudong District Court in November 2011. He was taken to the 10 th Prison Area of Tilanqiao Prison on February 21, 2012, and tortured. The guards forced him sit on a small stool and beat him mercilessly.
Mr. Feng was born in 1982 in Baiyin City, Gansu Province. He graduated from the Material Science College of Zhongnan University and has been working at Sanyi Heavy Industry Material Research Institute since March 2008.
Because he cultivated Falun Dafa, he did his job well and treated others respectfully. The director of the institute told others, "Although Mr. Feng only finished undergraduate studies, after just six months of training, he performed as if he had a graduate degree."
Arrested and Sentenced to Prison
Lu Xiaojun and others from the 610 Office of the Pudong District informed Mr. Feng's supervisor on June 29, 2011, that Mr. Feng had to report to the 610 Office for questioning. Instead of being questioned, he was arrested. They claimed that he had produced banners that said "Falun Dafa Is Good."
Pudong District Court put Mr. Feng on trial on November 22, 2011. Judge Shi Yaohui rejected the defense attorney's innocent plea and refused to let Mr. Feng's wife, Ms Liu Juan, testify on his behalf. Ms. Liu demanded that she be heard, so Shi Yaohui threatened her, saying, "If you insist on speaking up for your husband, I will have you removed from this hearing." Ms. Liu replied, "As a citizen I have the right to freedom of speech." Shi Yaohui ordered the defense attorney to talk some sense into Ms. Liu. The defense attorney, with tears in his eyes, said to Ms. Liu, "It will be better for you leave the defense to me." Ms. Liu refused, so Shi Yaohui had two bailiffs forcibly remove her from the courtroom.
Mr. Feng was sentenced to a four-year prison term on November 30, 2011. He was transferred to the 10 th Prison Area of Tilanqiao Prison on February 21, 2012.
Tortured in Tilanqiao Prison
Guard Ge Zhunyang ordered Mr. Feng to watch television programs that slandered Falun Gong. Mr. Feng refused to, so Ge tortured him mentally and physically.
During the first 40 days, he had to sit without moving on a small stool for 16 hours daily and not allowed to speak with anyone. The inmate who monitored him beat and kicked him three times because he moved.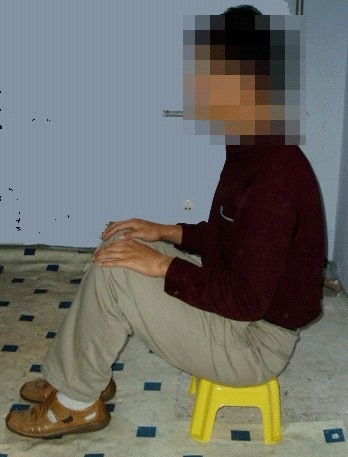 Torture reenactment: Sitting on a small stool
Ge Zhunyang continued to threaten Mr. Feng in the hope of "transforming" him, but was unsuccessful. Mr. Feng remained steadfast in his belief in Truthfulness-Compassion-Forbearance.
Ge order inmate Lu Jingen to torture Mr. Feng. He brutally beat Mr. Feng until the end of May 2012.
Lu Jingen boasted that he had tortured Falun Gong practitioners Fa Zhengping, Ying Zhiming, and others, at the orders of the head of the prison.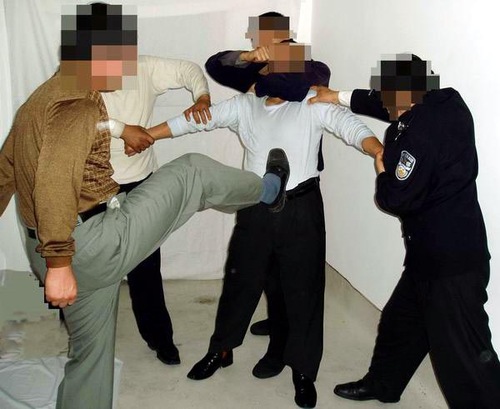 Torture reenactment: Brutal beatings
Treated Miserably in Tilanqiao Prison
The food in Tilanqiao Prison is very poor quality, often prepared in unsanitary conditions, and contain only a little bit of meat or a meatball twice a week. The meals consist of boiled vegetables and sometimes have bugs.
Three inmates are held in 3.3 square meter cells with a visible toilet bowl. On a hot day, the cells are very hot and smell bad
Mr. Feng was not allowed family visits at the beginning of his term. Only after his wife had a meeting with the Prison Management Bureau was she allowed to see him.
He is doing labor without pay. Letters from his family are withheld frequently.
Guard Ge Zhunyang's phone number is 86-13817692100 and his identification number is 3101316.