(Minghui.org) Falun Gong practitioner Ms. Chen Shulan from the Changping District in Beijing was illegally put on trial for the second time in the Changping District Court on August 1, 2013. On August 5, 2013, her daughter was informed that Ms. Chen was taken to the hospital to treat thoracic spinal fractures. The detention center did not allow her daughter or her attorney to see her.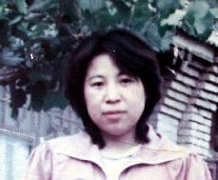 Ms. Chen Shulan
Ms. Chen was arrested by officers from the Songyuan Police Station in the Changping District for explaining the facts about the persecution of Falun Gong to people on December 16, 2012. She had previously been tried in the Changping District Court on May 23, 2013.
Guards Pushed Ms. Chen's Head Down
The August 1, 2013, trial began at 9 a.m. During the trial, guards kept yelling at Ms. Chen and did not allow her to turn around to look at her daughter, who was sitting near the back entrance. After the trial, the guards dragged Ms. Chen to the elevator. Her daughter was also waiting for the elevator. The guards quickly pushed Ms. Chen into the elevator, and several strong guards then pushed Ms. Chen's head and shoulders down, preventing her from talking to her daughter.
At 6 p.m. on August 5, 2013, a Changping Detention Center official called Ms. Chen's daughter, asking that her attorney schedule a visit with Ms. Chen at the police hospital. On August 6, Ms. Chen's daughter and attorney went to the hospital to visit her. They were told that they were not allowed to see her because she had thoracic spinal fractures and could not sit in a wheelchair or walk to the meeting room.
The attorney said that Ms. Chen was able to walk by herself at the trial on August 1, so what had happened since then? A receptionist said that the fractures were caused by the bumpy car ride back to the detention center from the courthouse.
Her daughter and attorney were outraged. How could a bad road cause spinal fractures? Why did only Ms. Chen end up with injuries? What really happened on the ride from the courthouse to the detention center? Her family demands to know the truth!
A United Nations Human Rights Council Case: Five Members of One Family Tortured to Death
Ms. Chen's parents had four children, all of whom practiced Falun Gong. Ms. Chen's parents, both of her brothers, and her sister were tortured to death. Ms. Chen, the only survivor, was sentenced and imprisoned by the Chinese Communist Party (CCP) to seven and a half years. The plight of her family was brought to the attention of the U.N. Human Rights Council as a typical case of CCP persecution of Falun Gong practitioners.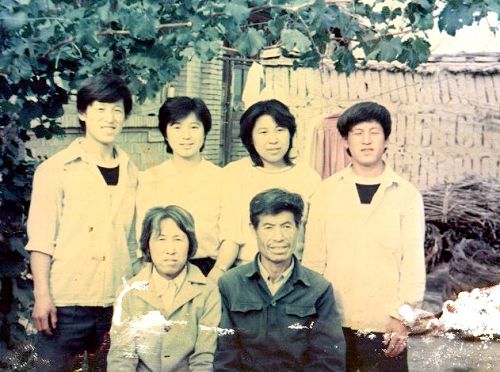 Mr. Chen Yunchuan's Family: Father Chen Yunchuan, Mother Wang Lianrong, Daughter Chen Shulan, Son Chen Aizhong, Son Chen Aili, and Daughter Chen Hongping
Ms. Chen was the eldest child. The second eldest, Mr. Chen Aizhong, died as a result of torture on September 20, 2001 in Hehuakeng Forced Labor Camp, Tangshan City, Hebei Province. The youngest sibling, Ms. Chen Hongping, had both of her legs broken during severe beatings by the CCP police. She died from torture while in Gaoyang Forced Labor Camp on March 5, 2003. The third eldest, Mr. Chen Aili, died in Jidong Prison, Fengnan County, Tangshan City on November 5, 2004. Their mother, Ms. Wang Lianrong, died on August 4, 2006, after she was forced to leave home and move from place to place to avoid persecution. Her father, Mr. Chen Yunchuan, also left home and moved from place to place.
The father tried to visit Ms. Chen Shulan at Beijing Women's Prison in the fall of 2007, but the guards refused to let him in because he would not show his ID card. The guards also did not allow him to bring clothes and money for her. Later Mr. Chen Yunchuan died in a car accident. The police have not arrested the driver of the other car.
The tragedy of Mr. Chen Yunchuan's family is heartbreaking: Five deaths due to persecution, three sentenced to prison terms, two sentenced to forced labor camps, five taken to brainwashing centers, 39 imprisonments or detentions, 48 arrests, and three forced into hiding.
When Ms. Chen Shulan was sentenced to seven and a half years in prison in 2002, her daughter Li Ying was only ten. After Ms. Chen was released in 2010, she went through many difficulties to find her daughter, who had been separated from her for almost eight years. Even though she had suffered such unfair misery, she did not hate the CCP officials who had persecuted her family. She calmly told people how good Falun Gong was and that no one should persecute it. Nevertheless, she was sentenced to prison again and beaten until she was severely injured.
The impact of the persecution on Ms. Chen's family has been devastating. Five out of the six members of her parents' family have been persecuted to death. She was sentenced to seven and a half years in prison and then held in a brainwashing center for three months. She has now been sentenced to four more years in prison. Her daughter had to live without her parents starting at the age of ten. She lived with her mother for only a year and a half after Ms. Chen was released and before she was sentenced to four more years in prison. Now Ms. Chen has sustained spinal fractures and is in critical condition.
Related articles:
Long-term, Bloody Persecution Reduces a Seven-member Family to Two (Photos)
After Seven Years of Imprisonment, Ms. Chen Shulan Taken to a Brainwashing Center (Photo)
Ms. Chen Shulan from Beijing Illegally Detained Again after Eight Years of Imprisonment