Paris: Exposing the Chinese Communist Party's Forced Organ Harvesting under Eiffel Tower (Photos)
August 03, 2013 | By a Falun Dafa practitioner in France
(Minghui.org) On July 28 2013, Falun Dafa practitioners in Paris held a signature drive at Human Rights Plaza under the Eiffel Tower. The signature drive was initiated by the Doctors Against Forced Organ Harvesting (DAFOH) organization.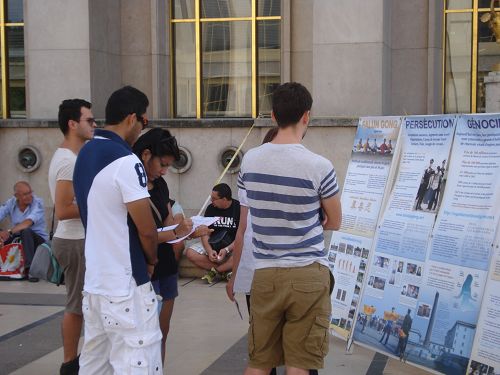 Signing on the petition form.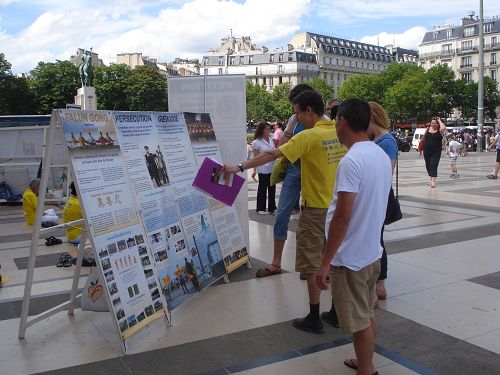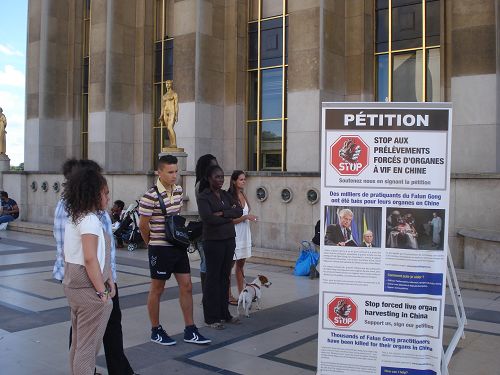 Tourists watching the display boards.
The Eiffel Tower is a tourist hot spot. The practitioners provided flyers in different languages, and the display boards were in English, French and Chinese. The tourists and local residents watched the peaceful Falun Gong exercise demonstration and read the display boards. After learning the facts about the forced organ harvesting in China, people signed the petition to show their support for stopping these atrocities.
Some Chinese tourists took photos with the display boards and exercise demonstration in the background. Some also took flyers to read.
A French lady signed her name and said that she would read more about Falun Gong on the Internet. She encouraged the practitioners to continue their endeavors.
Michelle, a French man, signed his name and said he wished his signature could contribute to stopping the persecution.
A French lady Natalie said she had some knowledge about Qigong exercises and watched the exercise demonstration for a long time. She was angry and upset at the Chinese Communist Party's persecution of Falun Gong. "Such a good health-improvement exercise is just what this society needs." She said. She also took down the address of the local Falun Gong group practice site to learn the exercises later.
Two older men read through the display boards and signed their names while holding back their tears.
Tourists from the United Kingdom, Germany, Spain and Australia signed their names.