Falun Dafa Club of Arizona State University Welcomes Freshmen Students (Photo)
August 28, 2013 | By a Falun Dafa practitioner in Arizona USA
(Minghui.org) On the evening of August 21, 2013, the Falun Dafa Club of Arizona State University participated in and demonstrated the exercises at the annual freshmen welcome event.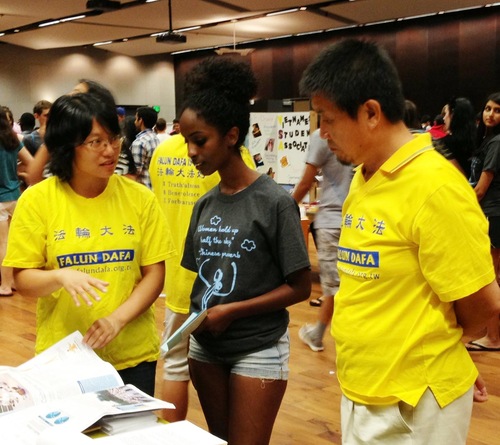 _Introducing Falun Dafa to new students at Arizona State University
The event was held to introduce new students to the diverse culture and rich activities on campus. It attracted a lot of American students as well as international students. Many students came to the Falun Dafa booth to watch the video introduction and exercise demonstration, and took informational materials.
Visitors to the booth were shocked to learn that the Chinese Communist Party is forcefully harvesting organs from jailed Falun Dafa practitioners in China. Many of them signed the petition forms supporting US House Resolution 281 calling on the Chinese Communist Regime to stop forced organ harvesting. A student from mainland China signed his name in Chinese characters, showing that he is unafraid of the Chinese government discovering his support for Falun Gong. He said that he had software to break through the "Great Fire Wall" of China and has learned a lot about the persecution of Falun Gong and forced organ harvesting from the websites hosted overseas. "I cannot stand by and do nothing," he said. "I hope more people will take a stand against the Chinese Communist Party."
That evening, practitioners demonstrated the exercises in the gym and on the stage of the student welcome event. Five practitioners each demonstrated one of the five sets of exercises accompanied by the music "Pudu."