Poland: Over 3,000 Sign Petition Against Forced Organ Harvesting in China (Photos)
August 19, 2013 | By a practitioner in Poland
(Minghui.org) On August 9-11, 2013, practitioners in Poland gathered in the seaport cities of Gdańsk and Sopot to introduce Falun Gong and to collect signatures to help stop the Chinese Communist Party's (CCP) practice of harvesting organs from living Falun Gong practitioners under persecution in China.
The events drew the support of both local residents and tourists alike. Over 3,000 people signed the petition to express their support for Falun Gong and their contempt for the Chinese regime's crimes against humanity.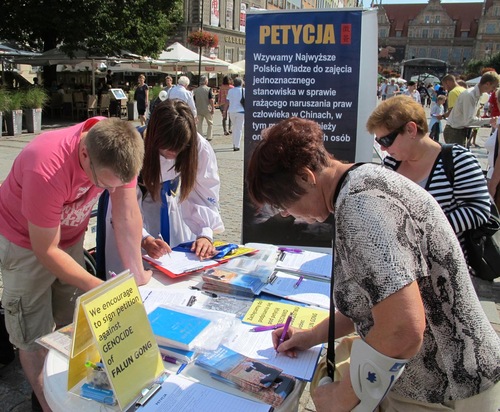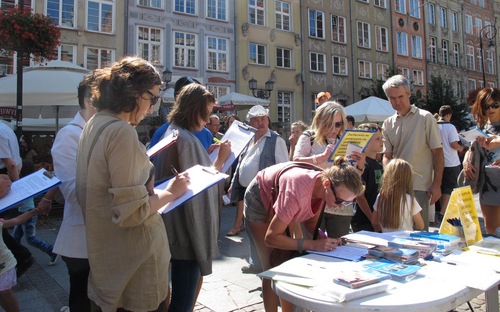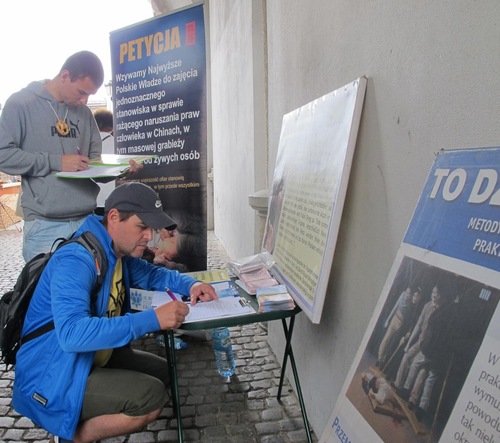 Passersby in Gdańsk sign a petition denouncing the CCP's crimes against humanity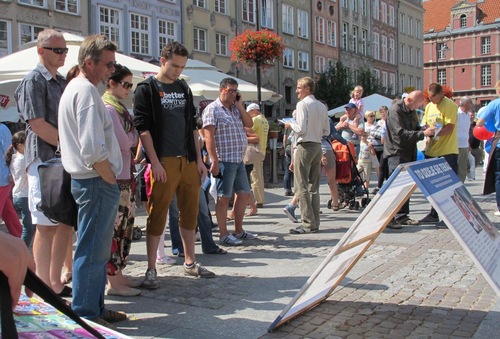 Locals and tourists read the practitioners' informational display boards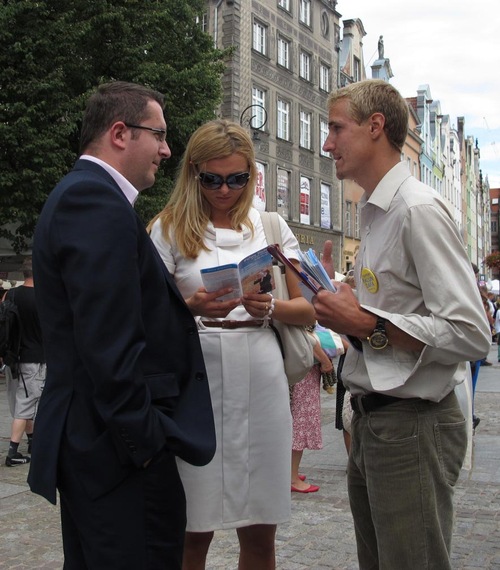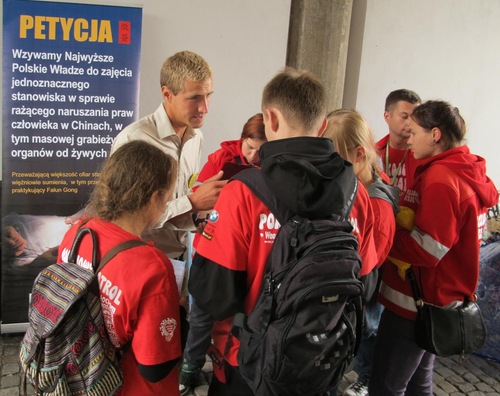 Practitioners in Gdańsk talk to people about Falun Gong
A tourist from China carefully listened to the practitioners clarify the facts about Falun Gong and the CCP. He then asked the practitioners to help him quit the CCP and its affiliated organizations. He said that he wanted to rescind the vow that he once made "to struggle until death" for the Chinese communist regime.
"It's my duty to sign this"
Two women from Germany wanted to donate some money to show their support for Falun Gong. "I don't understand the [Polish] words on your display boards," said one of the women, "but I do know the words,'Falun Dafa' on your T-shirts. We found out about the persecution when we were back in Germany." A practitioner thanked the two women, then told them kindly that Falun Gong does not accept donations.
"This is a global campaign initiated by Doctors Against Forced Organ Harvesting to help stop the CCP's live organ harvesting," explained a practitioner, pointing to a petition form. "It would be good if you could sign the petition to show your support."
One of the women read every word of the petition. "I am a medical doctor, and it's my duty to sign this to express my support for Falun Gong" she said.
"I'm not a doctor," said her friend, "but I still have to sign it." Before they left, they wished the practitioners good luck in their efforts.
"This is the most evil and heinous of atrocities!"
"The Communist Party is a killing demon," said a 69-year-old Polish woman to the practitioners. "They have reached the height of evil by harvesting organs from living practitioners This is the most evil and heinous of atrocities!
"However, I know that this evilness cannot defeat you. I can sense your enormous spiritual energy, and I can tell you that no one can deter you from your goal. I would be happy to sign this petition to show my support for Falun Gong."
A Polish man and his family were taking a leisurely stroll through Gdańsk's Old Town when they saw the practitioners' informational display boards in the distance. "I heard about the persecution on satellite TV," the man explained. "It's frightening to think that the CCP's persecution of Falun Gong has progressed to the point where they're actually harvesting organs from living practitioners! How can the world tolerate such terrible things going on in China? Really, how can they do that?
"You know about the rise of fascism in Europe, right? Well, this is much more serious than that; it's worse than anything Hitler did! My whole family will sign your petition to denounce the Chinese regime. We must stop this evil!"
"I just came back from Hong Kong where I learned about Falun Gong," another man told a practitioner, "But, unfortunately I didn't see this petition form there. I'm glad you have a way for me to voice my feelings about the Chinese Party's base and cruel nature."
As he was walking away, he said, "God will bless you; keep it up!" From a long distance away, he turned around and gave the practitioners two thumbs up.
"Falun Dafa is good!"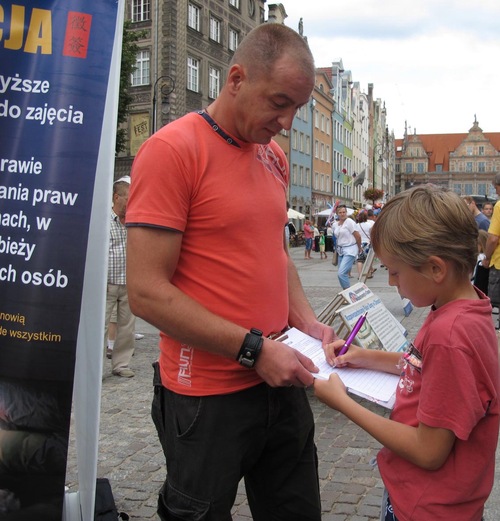 A nine-year-old boy signs the petition
As a nine-year-old boy's family was signing the petition, he kept asking his father if he could sign it as well. "Do you know what this is about?" his father asked him. "I do, Dad," replied the boy. "Falun Dafa is good!"
His father then gave him permission to add his signature to the petition. After the boy signed it, he said in Chinese, "Falun Dafa is good! Falun Dafa is good!" which the practitioners had taught him just minutes before.
"I have to read this book very carefully!"
After Przemek Chylewsk, 30, signed the petition, he went home, did a search on the Internet, then started reading Zhuan Falun, the main book of Falun Gong, online.
When he got to the second chapter, he felt like his body was being purified. The next day, he went back to see the practitioners and bought a printed copy of the book and an instructional DVD on how to do the five Dafa exercises.
"It's amazing," he exclaimed. "I read the book online and could clearly feel the effects it was having on my body. My wife didn't read the book but she, too, had the same feeling. Incredible, incredible! I have to read this book very carefully!"
"When you keep reading the book, your body will naturally go through tremendous changes," explained one of the practitioners. "People who read the book will experience all kinds of changes and insights. You are welcome to join our local group practice site and share your experiences."
Przemek said that he appreciated the practitioner's kind offer and would take him up on it.
The practitioners were greatly encouraged by so many people's well-wishes during the three-day event. They plan to continue holding similar events to help more people learn about the goodness of Falun Dafa.