Practitioner Wang Shenghua Ruthlessly Tortured in Shandong Second Forced Labor Camp
August 13, 2013 | By a Minghui correspondent from Hebei Province, China
(Minghui.org)
Summary of Key Persecution Facts
Name: Wang Shenghua (王胜华)
Gender: Male
Age: Unknown
Address: Huanghua City, Hebei Province
Occupation: Unknown
Date of Most Recent Arrest: February 2, 2012
Most recent place of detention: Shandong Second Forced Labor Camp
City: Zhangqiu
Province: Shandong
Persecution Suffered: Unlawful detention, forced labor, long periods of sitting on small stools, beatings, face slapping, hanging by handcuffs, electric shocks, force-feeding, boiling water poured over him.
Practitioner Wang Shenghua is from Huanghua City, Hebei Province. Last February he was unlawfully arrested and taken to a forced labor camp by the Shandong Police. He was detained in the Shandong Second Labor Camp in Zhangqiu. Over a short period of time he was tortured so viciously that he could no longer use his legs, and was disabled. His family members were so furious that they asked the labor camp to take responsibility and provide treatment for his health. The labor camp finally temporarily released Wang Shenghua for medical treatment.
Arrested at a New Year Gathering
The Dezhou City Police Department and the Qingyun County Police Department used a cell phone on February 2, 2012, to locate and follow more than twenty practitioners who were having a new year gathering in a Xiangyun restaurant. Thirteen practitioners were soon unlawfully sent to forced labor camps. Practitioner Wang Shenghua was sentenced to one year and nine months.
Wang Shenghua was taken to the Shandong Second Labor Camp on February 20, 2012. Guard Zhang Yuhua tortured Wang Shenhua with the "sitting on small stool" torture, and the "hanging up in the air" torture for a long time. Both these tortures are extremely cruel and painful, and designed to make practitioners renounce their faith in Falun Gong.
Wang Shenghua once again announced, on April 12, 2012, that he would always believe in Falun Dafa. That night, the guards took him into a cell that was used for storing bedding, where Wang Shenghua was slapped, kicked, and beaten. His arms were stretched straight and he was hung by handcuffs. This painful torture lasted until 11:30 p.m.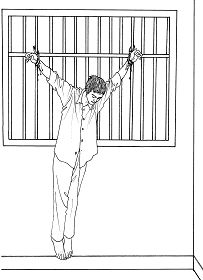 Torture reenactment: "Hanging up in the air"
Wang Shenghua began a hunger strike on the second day to protest the persecution. Guard Zhang Yuhua punished Wang Shenghua with the cruel torture of "sitting on small stools." For three days and nights, Wang Shenghua was not allowed to move. The cheeks of his bottom turned black and blue, and his legs became very swollen. Wangs' right leg would not hold up his body and when he walked, his body gave way as the muscles could no longer support him. Guard Zhang Yuhua chose prisoner Wang Baiwan to beat Wang Shenghua.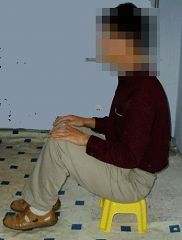 Torture reenactment: "Sitting on small stools"
Guard Sun Fengjun shouted, "Let him die in the labor camp!"
Wang Shenghua was threatened by Captain Sun Fengjun in his office, and tortured with electric batons. Wang Shenghua held a hunger strike to resist the persecution, and Sun Fengjun ordered certain prisoners to force-feed Wang Shenghua by inserting a tube into his stomach. The tube was left in his stomach for a long time and was not allowed to be pulled out.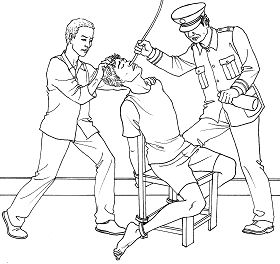 Torture reenactment: "Force-feeding"
Captain Sun Fengjun realized that those torture approaches could not make Wang Shenghua give in, so he ordered guard Yue Zhenyu to torture Wang Shenghua with the "hanging up in the air" torture while Wang still had a tube inserted into his stomach and was extremely weak. Wang Shenghua's wrists were cuffed and his arms raised above his body, and hung from the iron rails of a window. The weight of his entire body fell on his wrists. Wang Shenghua was semi-conscious and extremely weak from the torture. His wrists could subsequently no longer move and his thumbs were numb. His back and legs could not move. He had to stay in bed, and was not able to take care of his daily needs.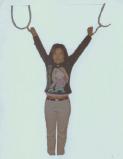 Torture reenactment: "Hanging up in the air"
Captain Sun Fengjun shouted, "No one should help him. Do not clean up the stuff he throws up (after being force-fed). Let him defecate and urinate on his bed. Let him die in the labor camp."
Wang Shenghua had a high fever during this long-term torture. He was sent to the Basan Hospital in the labor camp, where it was determined that he was severely deficient in potassium. He was force-fed in the health center every day, however even under this circumstance, guard Zhang Yuhua still forced him to watch videos that slandered Falun Dafa. He was also physically tortured and verbally abused and threatened.
Guard Liu Ling Force-fed Vomit Back to Wang Shenghua
When guard Liu Lin was on duty, he tortured Wang Shenghua in a storage room. He forcefully inserted Wang's right arm between a heater and a wall, and cuffed Wang's right hand to the heater at the bottom. Mr. Wang could not stand or squat. The torture continued for the entire night, and Wang Shenghua was not allowed to use the bathroom.
Liu Lin also tortured Wang Shenghua using other approaches. He did not allow prisoners to carry Wang Shenghua to the force-feeding; instead, he ordered two prisoners to drag Wang Shenghua by the arms, with his head facing backwards, to the health center. Mr. Wang's feet were scratched by the cement pavement and became bloody. His pants were also torn.
An even more inhumane order was given. During the force-feeding, Liu Lin instructed prisoner He Haijun, "To get Wang Shenghua give up Falun Gong you can use any approach, and you will be rewarded with a reduced prison term." Lured by the benefits promised by Liu Lin, He Haijun had other prisoners drag Wang Shenghua back and forth in the hallway. They tied Mr. Wang's arms with sheets to a bunk bed. Wang Shenghua could not stand, and his entire weight was on his arms, causing them to turn purple.
During one of the force-feedings, Liu Lin instructed He Haijun to collect Wang Shenghua's vomit from the ground, put it into a jar, then force-feed it back into Mr. Wang's stomach.
The long term torture caused Wang Shenghua's lower body to become cold and unresponsive. While he was hospitalized for treatment, doctors suggested that Mr. Wang's legs be kept warm. However, guard Liu Lin used a pot full of boiling water to directly injure the skin of the inner side of Wang Shenghua's thighs. During this period of time, Wang Shenghua was also tortured by guard Chen Lei.
Wang Shenghua Disabled by Torture
In the labor camp, Mr. Wang's lower back and legs were disabled by the torture. He could no longer walk properly, and multiple hospital treatments were all in vain. The guards told the hospital that Wang Shenghua was pretending to be ill. They monitored him around the clock in his cell with a high-resolution camera. They also tried to coerce the doctors into believing that Wang was not ill.
Since Wang Shenghua firmly refused to give up Falun Gong, the police had to isolate him from the rest of the practitioners by detaining him in a separate room with a person on duty.
Wang Shenghua's family saw during visits that he could not walk properly. They were furious, and insisted that the labor camp take responsibility for the mistreatment. Finally, the labor camp had to temporarily release Wang Shenghua for medical treatment.
Wang Shenghua has still not fully recovered.
Those who participated in the persecution of Wang Shenghua include Sun Fengjun, Liu Lin, Yue Zhenyu, Zhang Yuhua, Chen Lei, and others.