Falun Gong Celebrates Canada's 146th Birthday (Photos)
July 09, 2013 | By Ying Zi reporting for Minghui.org in Ottawa, Canada
(Minghui.org) Falun Gong practitioners celebrated Canada Day on Parliament Hill with a Falun Gong exercise demonstration and live performances of traditional Chinese dance and music.
An estimated 350,000 people descended on the nation's capital to celebrate the country's 146th birthday and enjoy the festivities.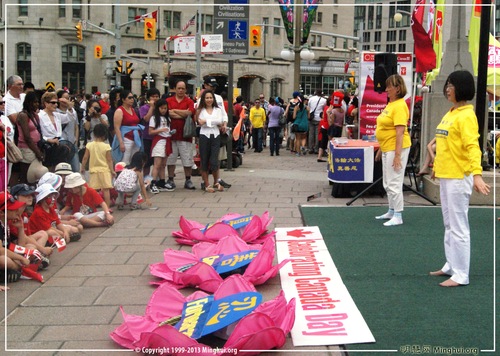 A demonstration of the Falun Gong exercises on Parliament Hill in front of crowds celebrating Canada's 146th birthday
A staple of the annual festivities on Parliament Hill since 2000, Falun Gong is a traditional Chinese cultivation practice based on the principles of Truthfulness-Compassion-Forbearance. Besides demonstrating the exercises, practitioners performed classical Chinese dance, a dragon dance, and marching band pieces, drawing a crowd that was in the mood to celebrate.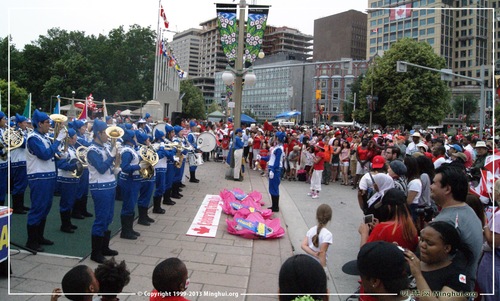 Celebrating Canada Day with the Divine Land Marching Band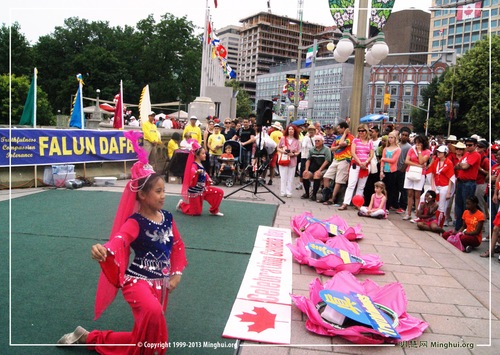 Young Falun Gong practitioners perform classical Chinese dance on Parliament Hill
Many asked to learn the exercises after the live demonstration of the Falun Gong exercises. Some even imitated the movements during the program.
Bryan Boyle of Ontario, who came to the capital city for the festivities, said he was an enthusiast of traditional Chinese wellness practices. He asked to learn Falun Gong after the demonstration and was given Falun Gong's website for free books and video instructions.
Sue Masson, who suffers from chronic back pain, asked where the group's exercise sites were located after a Falun Gong practitioner told her about the practice.
Allen Davidson, an agriculture researcher before retirement, has developed a special interest in China since he started reading the Epoch Times , a weekly newspaper that reports uncensored news from China, including news about Falun Gong, a cultivation practice banned by the regime in July 1999. He hopes that the Canadian government will do something to end the regime's suppression of Falun Gong.
And Canada has done just that.
Canada has granted asylum to many who escaped China's suppression of Falun Gong, providing them with safety and shelter, since the regime banned the practice in 1999.
Canadian Prime Minister Stephen Harper remarked on Canada Day: "When floods forced so many from their homes, communities dug deep, neighbours helped neighbours and people sheltered complete strangers."
Yuqing Chen, a Montreal man who immigrated from China, is the embodiment of the spirit of Canada. He saved a local girl from drowning in an icy hollow and was recognized with an award for "Outstanding Citizen for Self-Sacrifice for the Sake of Others" at the Quebec parliament in November 2003. The first Chinese in Quebec history to win this honour, Chen credited his heroic act to the teachings of Falun Gong.
As Harper said, "That's the spirit that makes Canada the best country in the world."