Divine Land Marching Band is Grand Finale Event in Montreal's Canada Day Parade (Photos)
July 09, 2013 | By Xiao Yan
(Minghui.org) On July 1, the city of Montreal held a Canada Day parade, marking the 146 th anniversary of the country's founding. The parade was led by the Royal Canadian Mounted Police and moved through the primary commercial artery of downtown Montreal.
The Falun Dafa Divine Land Marching Band was invited to participate in the parade for the eighth year in a row. Parade organizers had asked the band to line up at the end of the procession, so as to serve as the grand finale to this popular holiday event.
"I have watched the parade for the past several years now," said a Chinese spectator. "Falun Gong is the grand finale of the procession every year."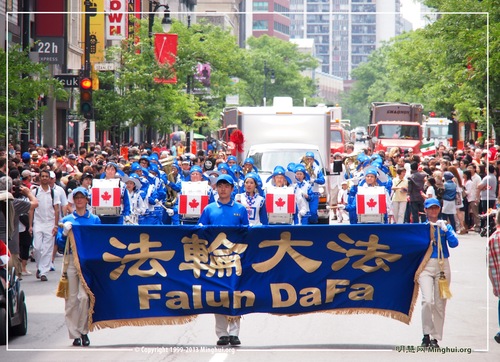 Falun Dafa's Divine Land Marching Band participates in Montreal's Canada Day parade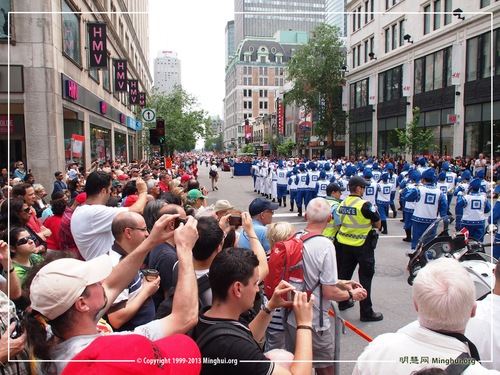 Divine Land Marching Band is well received
The marching band performed the songs: "Falun Dafa is Good," "Drums and Trumpet Shake the Ten Directions," "Fa Rectifies the Universe," "Delivering Treasure," and "Maple Leaf Forever." Spectators waved at the band members and took photos of the procession.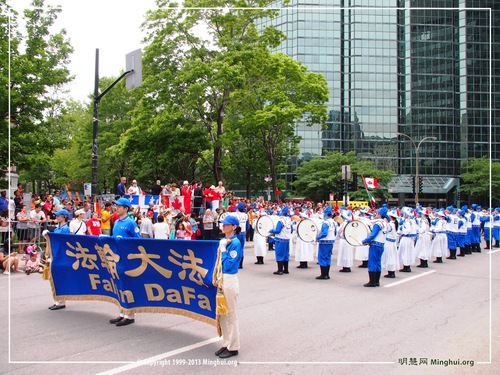 Falun Dafa band performs in front of the judges' platform
When the band passed by the judges' platform, a member of the parade's organizing committee handed the director of the band a letter, thanking them for their participation in the Canada Day parade. In 2007, the band won first place and received the prestigious President's Award.
Norma O'Donnell, a spectator, said that the Divine Land Marching Band was "outstanding" and that she felt "refreshed after watching it." She said that she had seen the band perform in other locations, too. She wanted to learn more about the practice and the persecution in China.