Corrupt Authorities Profit from Forced Labor at the Expense of Falun Gong
July 05, 2013 | By a Falun Dafa practitioner in Hebei Province, China
(Minghui.org) The Shijiazhuang Second Detention Center has been taking advantage of its enclosed environment to coerce the detainees, through the threat of torture, into doing forced labor. Many of the detainees are Falun Gong practitioners.
This article will discuss facts that have been verified, and exposes the forced labor practices at this facility.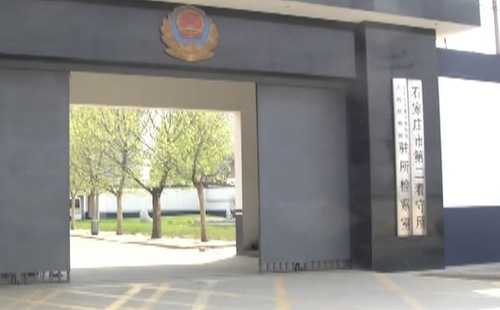 Shijiazhuang Second Detention Center
Illegal Profits Secretly Earned Through Slave Labor
As with other forced labor camps, the guards at the Shijiazhuang Second Detention Center have been taking contracts to do handwork that is simple in technique but labor intensive. This has included forcing detainees to make paper and silk flowers, sealing paper bags, sticking tags and catalogs, packaging chopsticks, and folding foil paper. Through forced labor, these facilities have covertly earned a lot of money.
The guards have recently forced detainees to make cloth flower arrangements for Baoding Funeral Supplies, to process and package bags of sweet roasted chestnuts for retailers in Xinle City, to make cake packing boxes, and to apply labels for a series of products by the brand "Tong Fu Wan Zhou." The roasted chestnut bags were delivered by a truck (plate number – "JiA WP267") from Xinle City, Hebei Province.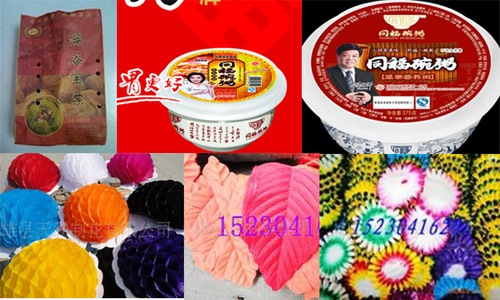 A selection of products made by slave labor at the Shijiazhuang Second Detention Center
Prison detainees were forced to do heavy work for more than 14 hours every day. For example, each detainee was forced to reach quotas of 10,000 cloth flowers per day, or to produce 3,600 cake boxes.
In order to force the detainees to finish their workloads, the guards created various methods to stimulate production. They held so-called "labor emulation" sessions in which they slandered and punished whoever fell behind and continuously raised their workloads. Because the workload was extremely heavy, the detainees had to work from 6:00 a.m. to 8:00 p.m., with very short breaks for meals.
If someone didn't finish his workload, the guards abused them, forbid use of the restroom or shower, and denied family visits. Due to the mistreatment, some detainees became ill, but the guards ordered them to resume their work as soon as they took medication. One detainee said, "You have to endure extreme conditions here in order to survive."
Detainees Tortured
The guards often tortured detainees by handcuffing them to metal shelves that were usually affixed to the wall of the cells. The handcuffed detainees were not released, even when they needed to eat or use the restroom. The suffering was excruciating, as the detainee had to stay in the same position for days. They couldn't turn over or even change clothes. They could not even relieve themselves without others' help. Moreover, the guards installed monitoring cameras in the cells, which deprived the detainees of their human dignity.
Dr. Li Huiyun, about 50, is an associate professor at the School of Mechanical Engineering, Hebei University of Science and Technology. She was illegally arrested for her belief in Falun Gong and sent to this detention center in March 2011. She refused to do the forced labor and was tortured by being handcuffed to a metal shelf for days. The torture was very brutal. Other detainees could hear her cries of agony from far away.
Due to the long-term torture, Dr. Li suffered a mental collapse. Nevertheless, the prison authorities kept her detained, and recently transferred her to the Hebei Province Women's Prison.
A detainee named Li Fenglan was unable to do forced labor because of an illness. However, the guards still tortured her, claiming that she was pretending to be ill, and handcuffed her to a metal shelf for a day.
Under the threat of such torture, the detainees had to follow the guards' orders. Many detainees' hands and fingers had become deformed from the forced labor. They also suffered from lumbago, backaches, and neck pain. Due to long-term sitting on small stools, layers of skin peeled off from every detainee's bruised buttocks.
Facts Falsified to Hide the Existence of Forced Labor
It is impossible that the higher authorities knew nothing about the detention center's profiteering from slave labor. When someone reported their illegal deeds, they falsified facts to hide the existence of the forced labor.
Practitioner Ms. Sun Tao was sent to this detention center on February 25, 2012, and has been detained there for more than a year. She previously suffered from liver disease and recovered after practicing Falun Gong. While detained in the Shijiazhuang Second Detention Center, she was forced, under threat of torture, to perform intensive labor under horrendous conditions, causing her liver condition to reoccur.
Ms. Sun then filed a charge against the guards and doctors of the detention center. A higher authority had to send some officials to the facility for an investigation. However, the detention center was tipped off before the investigation, so the guards were able to hide all the tools and materials used for forced labor. They even changed the prison diet to provide good food, and pretended to show concern for Ms. Sun by asking her if the food was OK, and telling her not to work anymore. As soon as the investigator left however, the abuse and slave labor practices resumed.
Contact information of the perpetrators:
Shijiazhuang Second Detention Center: +86-311-87782024 Wang Shuting, deputy Party Secretary: +86-311-87755213, +86-13931171888 Wang Yuedong, head of the Shijiazhuang Procuratorate's office at the Shijiazhuang Second Detention Center: +86-13700319115 (For more perpetrators' contact information, please refer to the original Chinese article)